Milan
Donnarumma has potential to surpass Buffon as world's greatest ever goalkeeper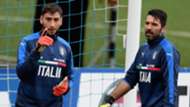 ---
COMMENT
---
Gianluigi Donnarumma grew up fast. So fast, in fact, that his mother Marinella used to have to bring his identity card to games with her when he was 11 to prove that he wasn't actually older than the opponents he towered over. 
The aspiring goalkeeper always looked like he belonged in the big leagues but even Marinella and her husband Alfonso were taken aback by the phone call they received from their son on the evening of October 24, 2015.
NxGn: World's top 50 teenage talents
"Dad! Mum! I'm playing tomorrow," Gigio enthused. "Will you come and watch me?!"
"I thought he was joking with us," Alfonso admitted. "My boy, at 16, in Serie A, playing for Milan against Sassuolo!"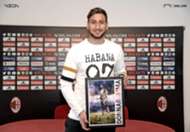 It was no joke, though. Less than 24 hours later, the proud parents travelled north from their family home just outside of Naples and watched their son make his professional debut at San Siro.
Donnarumma brother reveals all
"We were so happy and had tears in our eyes," the AC Milan goalkeeper's father told La Stampa. "It was an unforgettable moment."
But only the first of many. Since making his debut 18 months ago, Donnarumma has already established himself as the most exciting young talent in the game today - and, thus, a most worthy winner of NxGn, Goal's list of the top 50 players born on or after January 1, 1998.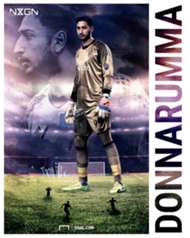 Agent Mino Raiola claims that the 18-year-old is worth €170 million and while that may be open to debate, what is beyond dispute is that Manchester United, Chelsea and Real Madrid would all dearly love to sign Donnarumma.
Milan, though, are intent on building an entire team in front of a childhood fan who could, conceivably, tend goal at the Giuseppe Meazza for the next two decades.
Donnarumma crowned NxGn winner
Indeed, those within the trade are in no doubt as to Donnarumma's incredible potential. Joe Hart, presently on loan to Torino from Manchester City, has been astounded by what he has seen of his fellow shot-stopper, claiming that the teenager is already among the best players in his position.
"Donnarumma is incredible, full stop," the England international told Gazzetta dello Sport. "His age is almost irrelevant and just adds extra gloss to the situation.
"Time can only make him better but he acts as if he's already got a long career behind him."
And a long one ahead of him, according to former Milan No.1 Giovanni Galli, who is convinced that Italy has another goalkeeping great on its hands.
"Gigio is a phenomenon," he declared. "As I've said for some time, keepers like him are only born every 30-40 years. I'd put him in the same category as Dino Zoff and Gigi Buffon."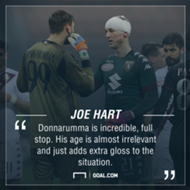 Such talk would seem ridiculously premature were it not for the fact that World Cup winner Zoff believes that Donnarumma is capable of surpassing his own remarkable achievements.
 
"I see him as even better than myself," confessed the man who skippered the Azzurri to victory at Espana 82 at the age of 40. "He's doing extraordinary things and he looks set to have a fabulous career.
"My only advice for him is that he remains humble and tries to improve, especially in terms of his technical skills, as some goalkeepers forget about [working on] them."
There seems little chance of that, for two reasons. Firstly, he is impressively dedicated to his trade and self-improvement, as underlined by the rigorous training drills that have gone viral.
Secondly, Donnarumma's role model is Buffon and the youngster no longer just views the Italy captain from afar, he now gets to work alongside him.
NxGn: Stars who failed to fulfil potential
Donnarumma has already been capped twice by his country and relishes each and every training session with the man he is destined to succeed as his country's No.1 after next year's World Cup.
"[Buffon] is special," the Neapolitan says. "He's a wonderful person and he helps me a lot."
Buffon, for his part, is revelling in his role as the master to Donnarumma's apprentice. There may be 21 years between them but they have much in common.
Like Donnarumma, Buffon was only a teenager when he was thrust into the Serie A spotlight, handed a surprise start for Parma against the AC Milan of George Weah and Roberto Baggio when he was still only 17. The world's most expensive goalkeeper has been making history ever since.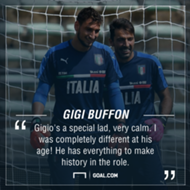 Consequently, few others know better what it takes to sustain a career at the highest-level, particularly in such a pressurised position and Buffon believes that his "little brother," as he calls him, is even better equipped to cope with the demands of being the last line of defence.
Indeed, while Buffon sees some similarities between his younger self and Donnarumma on the field - both share a remarkable ability to appear utterly unflustered, regardless of the enormity of the occasion - he says that his protégé is far more mature than he was at the same age.
'Ginger Pirlo' & the worst comparisons ever
Staunton on Donnarumma

Peter M Staunton has some valuable advice for our #NxGn winner, AC Milan goalkeeper Gigio Donnarumma. Do you agree?

Posted by Goal.com on miércoles, 22 de marzo de 2017
"He's a special lad, very calm," the 39-year-old explains. "I was completely different at his age! He's thoughtful, intelligent and has extraordinary quality.
"He has everything to make history in the role. We'll just have to wait 20 years to make conclusions."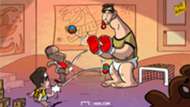 Obviously, there is no need to rush things, particularly from the perspective of Donnarumma's parents. As Alfonso says, "For us, he's still a boy."
The boy has already become a man, though, and it is already clear that he has what it takes to one day become a legend too.