Transfers
Arsenal midfielder Xhaka responds to Bayern transfer talk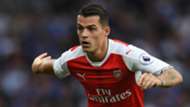 Arsenal midfielder Granit Xhaka has sought to distance himself from reports suggesting that he could join Bayern Munich this summer.
The Switzerland international only moved to England in 2016, with a big-money deal taking him to Emirates Stadium from Borussia Monchengladbach.
Xhaka: Critics make me look stupid
Xhaka has endured a testing time adjusting to the demands of life in the Premier League.
Disciplinary issues that have plagued him throughout his career have followed the 24-year-old to north London, with two red cards and eight yellows picked up with the Gunners.
Xhaka has also been sent off for his country this season, with his tenacious approach continuing to get him into trouble.
In spite of that, he has offered enough in the past to keep Bayern interested in his services, although the £35 million man insists he is giving no thought to heading back to the Bundesliga at present.
Xhaka told Blick on the transfer rumours: "I have read that too. But I have not heard anything.
'Wenger has final word on his future'
"I am in an outstanding city, an outstanding club. The only thing that Arsenal has been missing is a league title. 
"I believe that will change soon."
While happy to persevere at Arsenal for now, Xhaka admits he does miss German football and could return at some stage in the future.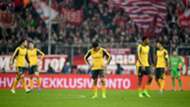 He told Tagesanzeiger: "Yeah, but it's not like I want to go back tomorrow. Maybe the day after tomorrow."
Xhaka remains convinced that he joined a positive project at Arsenal, with it his belief that the Gunners remain on a par with the best sides in Europe despite suffering a humbling 10-2 aggregate defeat to Bayern in the last 16 of the Champions League.
Lehmann slams 'sulking' Sanchez
He added: "From my view they are [on the same level]. That's how I feel. The defeats annoy me particularly because I have had good memories against Bayern. 
"We were able to beat them three times with Gladbach. And I don't think Gladbach are on the same level as Arsenal."