Al Jazira v Al Wahda
Al Wahda thrash Al Jazira in Abu Dhabi Derby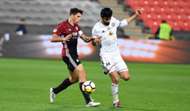 After the game was postponed from early December due to Al Jazira's participation in the FIFA Club World Cup, Al Wahda managed to thrash their Abu Dhabi rivals 4-2 during the 11th matchweek of the UAE Arabian Gulf League at the Mohammed bin Zayed Stadium.
Sebastian Tagliabue was the star of the outing with a hat-trick against the defending AGL champions to cut their title hopes short and push them back into fifth place with 16 points, while Al Wahda moved very close to joint league leaders Al Wasl and Al Ain, with 23 points.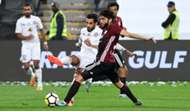 Al Jazira started off the match in quick fashion and attempted to cause damage to Al Wahda early on but young goalkeeper Mohammed Al Shamsi held on for a good 43 minutes, saving shots here and there, before Balazs Dszudszak's cross found Sebastian Tagliabue to tap in the opener.
In the second half, Al Wahda continued to take advantage of Al Jazira's high defensive line when a through pass found Tagliabue to finish past Khaled Al Senaani in the 51st minute. Chang Woo Rim found Tagliabue in the same way Dszudszak did in the first goal, with a left sided cross for the Argentinian to tap in just 20 minutes later.
The low crosses once again hurt Al Jazira, with the third of its kind being scored in this match when Mohamed Alakberi scored the fourth of night in the 83rd minute.
This led to an Al Jazira attempted comeback when a powerful header by Ahmed Al Attas in the 89th minute was sent into the far corner to make it 4-1. Romarinho added the second during injury time after a slick through pass from Mbark Boussoufa, but the match ended just seconds later to ensure Al Wahda went home with a valuable 3 points.