Arabian Gulf League
Al Ain FC boss Zoran Mamic confident of three points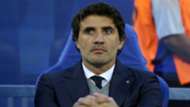 Al Ain FC face Hatta in the second round of the Arabian Gulf League on Saturday and will once again have to make do without their talisman Omar Abdulrahman.
The club have put their captain on a special treatment program as he continues to make his way back from injury.
Club doctor Jurika Rakitić stated: "Amoory showed a great desire to sacrifice for the team and burden himself with an injury he previously suffered from in the ankle of his left foot by participating in certain important matches.
"Therefore, we decided he should be subject to medical treatment program and not to participate in the coming match against Hatta."
Despite the absence of the playmaker, head coach Zoran Mamic remains confident of securing three points.
"I trust my team's ability to earn three points from Hatta," the Al Ain boss told reporters on Thursday.
"It is part of my work to find a plan for Amoory's absence."
Hatta play hosts on Saturday after a 4-1 defeat away to Shabab Al Ahli Dubai in the opening week while Al Ain are coming off the back of a 2-2 draw at home to Al Wasl.