United States
USA vs. Honduras: Who will Arena name in the starting XI for World Cup qualifier?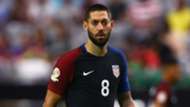 SAN JOSE, Calif. — U.S. national team coach Bruce Arena has some tough decisions to make with regards to his starting lineup for Friday's crucial World Cup qualifier against Honduras, but a week of training should help make things more clear.
Jordan Morris didn't take part in training on Wednesday, the team's final full practice session, making the likelihood of him starting remote. Without the young speedster, Arena may be forced to rush Clint Dempsey back into a starting role, something the coach sounded against doing just last week.
Is Honduras match a must win for USA?
It may sound like a no-brainer to plug Dempsey into the lineup considering he has started three matches for the Seattle Sounders to open the MLS season. But a starting role for the U.S. in a World Cup qualifier will bring a more physically demanding task than Dempsey has had to face in MLS, which is why Arena was hoping to ease Dempsey back into the national team.
The U.S. doesn't appear to have that luxury anymore, and it just might force Arena into a decision that works out better for the Americans, especially against a Honduras side expected to set up in full bunker mode. Arena is likely left with the choice of either starting Dempsey or being forced into playing Jozy Altidore as his lone striker. It wasn't difficult to tell which option Altidore preferred based on his glowing remarks about Dempsey's national team return.
"Clint, I'm so happy he's back personally. It's really fun playing with him," Altidore said. "He scores a lot of goals, he opens up a lot of space or people. He's just a good player to play with."
Deciding on whether or not to start Dempsey is just one of a handful of decisions Arena must make. Another is where to play Geoff Cameron. Capable of handling three different roles, Cameron looks like a strong bet to play right back, despite the fact he hasn't played there much in the past year and that he has stated repeatedly that he feels it's his third-best position.
Chicharito needs to put record behind him
On Wednesday, the Stoke City man made it clear he was capable of, and committed to, handling any role Arena gives him.
"I've played 60 something (games) in the Premier League (at right back)," Cameron said on Wednesday. "I've played 40 something games at center mid and center (back), and I'm playing against the best players in the world in the best league in the world. My play speaks for itself. I can go into a number of positions. For me, it's a plus because I'm on the field. I don't think there's many players that can play those three positions consistently every single weekend.
"But if the team needs me, if Bruce needs me to play at right back because he believes in me that I can perform and shut down one of their good players, then I'll do it because I'm helping the team," Cameron added. "But he knows that, and I've told him, that my best position is either center (back) or defensive midfield. That's where I rate myself, but I also rate myself as a right back and I can do the job and I've done it before for Jurgen [Klinsmann], and I'm sure I'll do it for Bruce when he needs me."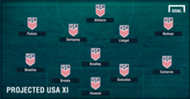 Cameron's response may have given away the role he is likely to play. Right back is a key role for the U.S. against Honduras because of the talented speedsters the Catrachos can deploy on the left wing. Honduras' top player, Andy Najar, could be stationed on the left wing, making a Cameron shift to right back a very sensible decision.
If Arena goes that route, then a center-back pairing of John Brooks and Omar Gonzalez appears to be the leading option in the middle of the defense. Brooks has taken part in full training and appears to be over the knee ailment that jeopardized his participation, while Gonzalez's experience should give him the nod as Brooks' partner.
Left back should also be handled by another veteran, with DaMarcus Beasley looking like the safer bet ahead of Jorge Villafana.
As important as Arena's back-line selections are, figuring out the best attacking options remains a top priority given Honduras' likely formation of a five-man defense with two defensive midfielders in support. Christian Pulisic is the most sure bet among midfield starters in the front four, most likely as a winger, while deciding on a creative midfielder to play centrally is a bit more difficult. Sebastian Lletget only made his national team debut in January, but Arena likes his game, and he has the attacking attributes to help unlock the Honduras defense.
Arena could choose to play Lletget on the wing, but a central-midfield role seems more likely for the LA Galaxy standout.
"I'm more comfortable in center midfield, but I've played many, many times out wide and I know what I need to do so I'm comfortable there," said Lletget, who could also be deployed a bit deeper in central midfielder, behind another playmaker, to give the U.S. more creative options to try and break down the Honduras defensive wall.
Sacha Kljestan is another option in central midfield, especially if Arena decides not to start Dempsey. Even if Dempsey plays, Kljestan could be installed in an attacking midfield role in a 4-4-2 formation, where his ability to deliver the killer pass could prove invaluable against Honduras' stingy defense. Though he wasn't part of the original squad chosen for the upcoming qualifiers, Kljestan is still confident he can step in and start if called upon.
"That was my attitude basically. For me, it doesn't matter if I was the first guy called in or the last," Kljestan told Goal. "The first time Jurgen [Klinsmann] brought me back in I think it was like last August, I wasn't on the original roster but then I played 30 minutes off the bench in the first game and ended up starting in the second game and making a difference, so whatever role I'm handed I'm fine with.
"If I play 180 minutes I'll be happy, if I play zero  I'll still be happy as long as we get some points," Kljestan added. "I'm just here to help the team and help us get back on track."