One year ago yesterday,
Liverpool
wandered into Old Trafford with the eyes of the world upon them and a title race to salvage, and dished out a 4-1 mauling to a strutting
Manchester United
side.
Fernando Torres
destroyed
Nemanja Vidic
,
Steven Gerrard
was on the rampage, offering a kiss for the camera, and even
Andrea Dossena
looked a
Premier League
player. What went wrong?
If you had told any fan inside the 'Theatre of Dreams' that day that the Reds would encounter such an alarming dip in form, to the extent that a defeat to Portsmouth at Anfield tonight would open up the genuine possibility of the club missing out on European football entirely next season, then most would have scoffed. The cynics might have foretold such doom and gloom, but then who listens to the cynics when Fabio Aurelio is bending free kicks in like David Beckham?
The reasons for the Reds' failures this season have been argued, debated, speculated upon and repeated more times than enough, but one thing is for sure: if Liverpool learnt nothing from the reign of Gerard Houllier, it is that allowing a downward slump to carry on too long can do more damage than any short-term upheaval.
Rafael Benitez's future has been
the
hot topic on Merseyside for the majority of the season, and with Liverpool having suffered two single-goal, class-free defeats in a week - to Wigan Athletic and Lille - the Spaniard once again finds his head on the chopping block. Liverpool may have a struggle to find the money to sack him, but can they afford to keep him?
The Reds welcome to Portsmouth to Anfield tonight knowing that nothing short of victory will suffice if they are to salvage any kind of consolation from the wreckage of a season in which they were tipped by many as potential Champions.
Instead, they are 18 points off the league leaders, struggling to qualify for the Champions League, and playing the kind of turgid football which so blighted the latter years of Houllier's reign.
Houllier was allowed to carry on too long at Liverpool; that much is clear. By the time he departed in 2004, Liverpool were 30 points off the Premier League summit, with a squad littered with inadequate or under-performing players. It would take Benitez the best part of four seasons to repair the damage, but he now finds himself facing the same kind of questions - and it should also be noted that Houllier collected four major trophies in his Liverpool career (though Benitez's 2005 European Cup success certainly trumps any of those).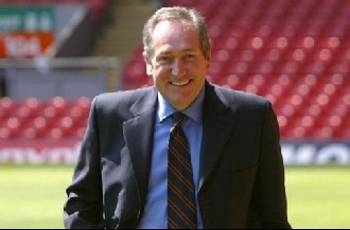 Familiar Face | Rafa's reign mirroring Houllier's
The current situation is not exactly the same, but the similarities are obvious. Critics of Benitez feel that, like Houllier, his early success has afforded him too much room for failure at Anfield. And whilst that is a tad harsh, it is also true to say that plenty of Liverpool's failings this season can be placed at the manager's door.
It isn't his fault that the financial goalposts have been moved over the past 18 months - something Houllier never had to contend with - but Benitez has not helped his cause.
Liverpool's performances this season have been largely dire, and when you consider that of the eleven that started at Old Trafford a year ago, only Sami Hyypia has left the club, questions must be asked.
Why, for example, does Steven Gerrard appear to be playing with the weight of the world on his shoulders? The skipper went public over his dismay at seeing Xabi Alonso leave the club in the summer, but that alone cannot explain why his trademark dynamism and passion have been so subdued for so much of this season. Plenty inside Anfield believe Gerrard lacks confidence in his manager, and if the captain is in doubt, then the club is in trouble.
Of course Benitez's supporters will feel, with justification, that one poor showing should not seal the fate of a manager who, it must be pointed out, came as close as any Liverpool manager since Kenny Dalglish to delivering the elusive 19th league title. Benitez's win percentage, even allowing for this current season, is still higher (56 per cent) than any Liverpool manager since Dalglish - Houllier's stood at just 50 per cent during his six-year reign.
But on the other hand, failure to secure Champions League qualification, whilst not the Armageddon situation painted by some, will have a massive effect on Liverpool. Sure, they have failed before - most recently under Houllier in 2003 - but the Premier League landscape is different this time, and the likes of Tottenham and Manchester City have the capacity to elbow the Reds out of English football's elite group - in the short-term at least.
Avram Grant would claim Rafa Benitez doesn't know the half of financial and political turmoil within football. Anything less than a win for Liverpool this evening against truly-in-crisis Portsmouth doesn't even bear thinking about, but even those three points won't change the fact Rafa seems more Gerard than Gerrard, and is looking more and more beyond redemption with each passing week.
Become a fan of Goal.com International on Facebook! Just click onto Facebook.com/Goal to join the beautiful game's leading fan community...