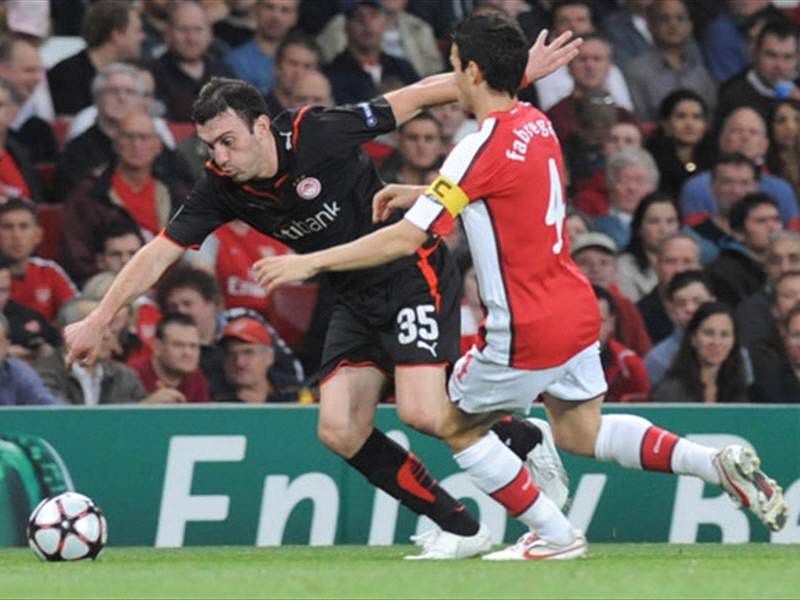 By Tim Collings

Much was made in the immediate aftermath of Arsenal's hard-won victory over Olympiakos about the huge number of chances they created.

In all, they had 22 shots, 13 coming in the first half. It is an impressive statistic that only hints at Arsenal's sublime creative forward play.

And nobody could argue with that. There were beautifully-made chances that followed flowing passing moves, there were chances from through passes and crosses and there were zig-zag combinations that carved out openings.

And at the centre of many of their best moves was Cesc Fabregas, the Spanish midfielder and team captain, whose darting runs, sharp turns and instinctive understanding of angles and space pulled the Greek defence apart.

He combined especially superbly with Andrei Arshavin, on the left, and Robin van Persie, from the right, as he went in pursuit of the goals that would have turned Arsenal's superiority into a dominant triumph.

But the goals did not come until the closing stages, and not until after Eduardo and Carlos Vela had come on to change the shape of the Arsenal team, and the match.

Eduardo made the decisive goal and his contribution demonstrated that, great player that he is, Fabregas is not a withdrawn centre-forward, a la Alfredo di Stefano, nor is he even a withdrawn second striker, as Steven Gerrard played often last season for Liverpool.

No. In truth, Fabregas is a creative, dominant, play-making central midfield player who needs to be at the heart of Arsenal's play – not making well-timed runs into the penalty area for shots that hit the bar or land in the visiting goalkeeper's midriff.

And therefore he should be positioned deeper, so that more of the game is in front of him and so that men like Arshavin and Van Persie have the space and freedom required to exploit their own talents fully.

There is no doubt that Fabregas is a fabulous footballer. His technique and his imagination demonstrate that while his verve in combination with Arshavin in particular promises so much more.

But he is also a good tackler with the vision and discipline to play in a fully-engaged midfield role alongside a defensive lynchpin like Alex Song.

In that kind of role, he could not only dictate the pace and shape of a game, but also orchestrate his team-mates' attacks – and allow Wenger to pick a specialist finisher in attack to improve the ratio of goals converted from chances created.

Cesc's strengths have been clear for long enough – he was never going to be a player to match Lampard or Gerrard for goal returns, nor does he need to – so perhaps it is Wenger and Arsenal that need to adjust the shape in order to produce the kind of consistent results needed to reach the Barcelona heights, not just for style, but consistent substance.