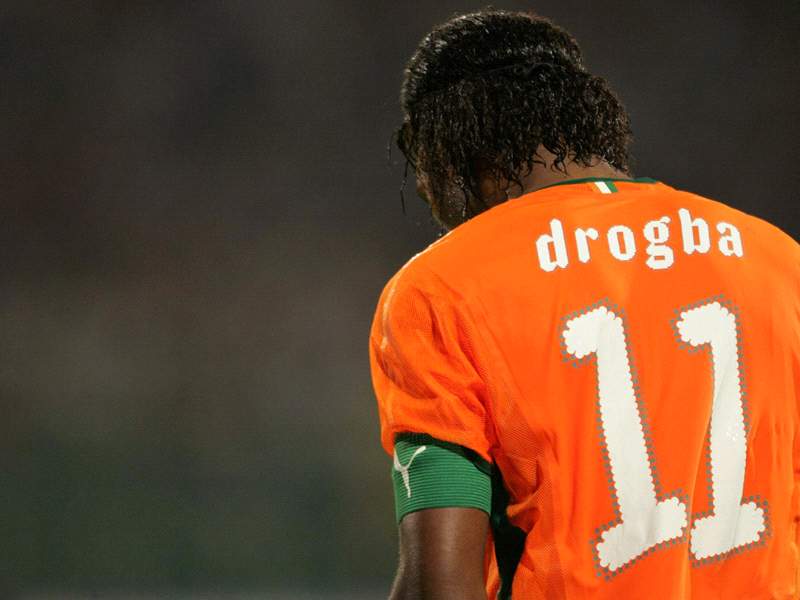 Kick-off: Wednesday, March 3, 2010 at 14:30 GMT, Loftus Road Stadium, London, England
The Elephants In a Double Mission To Appease Fans And Learn New Things
Crashing out of Angola 2010 with a big yoke of disappointment, Ivory Coast's national team still finds it hard to lure support from local fans, who had grudgingly hung their hopes on Didier Drogba and co. during the continental tournament.
The Elephants' superstar status may seduce only a few in Abidjan at the moment, and the players know it. What can they do to restore that love and trust millions of fans once showered on them? Can a simple friendly match against South Korea do this? Well, only a few fans are even aware of Wednesday's London encounter.
Despite, Ivory Coast are qualified for South Africa 2010 which is three months away, and they must do their best to prepare no matter what. Wednesday's friendly against South Korea may dissipate the general fear or uncertainty Ivory Coast have always nursed against Asian formations.
It is believed here that Asian sides are terrible to play, that when you think they are weak and dead, they surge forth to stab you.
But how well are the Elephants preparing at the moment? With the sacking of Coach Vahid Halilhodzic three days to the friendly match, we can't say Ivory Coast are all sound. Assistant coach Georges Kouadio, who will be leading the team to London, is local and inexperienced, and he's interim awaiting the probable arrival of Dutchman and former Chelsea tactician Guus Hiddink.
Will Kouadio put enough seriousness into a squad he'll be ceding in few days to a new coach?
Much of the work and its importance will surely lie on the players who need to eke something out of this match, which may serve them in their World Cup Group G clash against North Korea.
The Tigers Of Asia Come Cool-Headed
South Korea are better composed to handle Ivory Coast. Asia's most successful team is out fully for a real test match. Little or no pressure weighs on them, whether from local fans or their FA, unlike the Elephants.
Park Ji-Sung and mates will concentrate to learn how to aptly move with African opponents and how to man them, using one of the continent's strongest sides in this experiment.
The Taegeuk Warriors have their eyes focused on Nigeria, their World Cup Group B African obstacle, even as they sweat it out with the Ivory Coast on Wednesday.
A good fight against Ivory Coast on Wednesday will ensure a better fight against Nigeria come June in South Africa, because the Elephants are assumed to be potentially stronger than the Super Eagles, probably.
Secondly, South Korea will be striving to amend their 2:4 loss against Zambia last January in Johannesburg, South Africa. Although not World Cup-bound, Zambia left a lesson the Asians nicely digressed.
With the return of Ahn Jung Hwan, 2002 World Cup national hero for scoring and eliminating Italy, South Korea's squad is in place. Coach Huh Jung-Moo will be advancing his arms of short passes, compact marking, rapid counter-attacking and undying stamina; against super individual talents, long passes, good heights, stinging headers and physical muscles.
FORM GUIDE
Ivory Coast
Ivory Coast 0:0 Burkina Faso (Angola 2010)
Ivory Coast 3:1 Ghana (Angola 2010)
Algeria 3:2 Ivory Coast (Angola 2010)
South Korea
Japan 1:3 South Korea (2010 East Asia Championship)
China 3:0 South Korea (2010 East Asian Championship)
South Korea 1:0 Lativa (Friendly)
South Korea 2:0 Finland (Friendly)
Zambia 4:2 South Korea (Friendly)
TEAM NEWS
Ivory Coast
French Ligue 1 top scorer Gervinho will not be playing due to injury. Georges Kouadio, assistant coach to sacked Vahid Halilhodzic will handle the team for the friendly. FA president Jacques Anoma flew to London on Monday to see things for himself. He is expected to hold an important meeting with all the players on Tuesday evening concerning the team's continuous poor performances. He will also be finalising a short-term contract with Guus Hiddink, according to reports.
Squad
Barry Boubacar (KSC Lokeren OV, Belgium), Zogbo Aristide Benoit (Maccabi Netanya FC, Isreal), Angban Atchouailou Vincent de Paul (Asec Mimosas, Ivory Coast), Eboue Emmanuel (Arsenal FC, England), Demel Guy-Roland (Hamburger SV, Germany), Tiene Siaka (Valenciennes FC, France), Boka Etienne Arthur (VfB Stuttgart, Germany), Toure Kolo Abib (Manchester city, England), Meite Abdoulaye (West Bromwich Albion FC, England), Bamba Souleman (Hibernian FC, Scotland), Angoua Brou Benjamin (Kispest Honved, Hungary), Toure Yaya Gnegneri (FC Barcelona, Spain), Zokora Didier (FC Seville, Spain), Fae Emerse (OGC Nice, France), Kone Kouamatien Emmanuel (FC Curtea Arges, Romania) Gosso Gosso Jean-Jacques (AS Monaco, France), Tiote Cheik Ismael (FC Twente, Holland)
Kone Bakari (O. Marseille, France), Keita Abdul Kader (Galatasaray SK, Turkey), Kalou Salomon (Chelsea FC, England), Drogba Didier (Chelsea FC, England), Aruna Dindane (Portsmouth FC, England), Romaric (Seville) Zoro Marc (Victoria Setubal)

South Korea
AS Monaco striker Park Chu-young, Seol Ki-hyeon and Yeom Ki-hoon are out due to injuries. Ahn Jung Hwan, who now plays for Dalian Shide, China and all other European-based stars will be playing.
Squad
Lee Woon-jae (Suwon) Kim Young-kwang (Ulsan) Jung Sung-ryeong (Seongnam), Cho Yong-hyong (Jeju) Kang Min-soo (Suwon) Lee Jung-soo (Kashima Antlers, Japan) Cha Du-ri (Freiburg, Germany) Kwak Tae-hwi (Kyoto Sanga, Japan) Oh Beom-seok (Ulsan) Kim Dong-jin (Ulsan) Lee Young-pyo (Al Hilal, Saudi Arabia) Kim Jung-woo (Gwangju) Kim Jae-sung (Pohang) Kim Bo-kyoung (Oita Trinita,Japan) Ki Sung-yong (Celtic, Scotland) Shin Hyung-min (Pohang) Kim Nam-il (Tomsk, Russia) Park Ji-sung (Manchester United, England) Lee Chung-yong (Bolton Wanderers,England) Ahn Jung-hwan (Dalian. China) Lee Sung-ryeol (Seoul) Lee Dong-gook (Jeonbuk) Lee Keun-ho (Jubilo Iwata, Japan).
PLAYER TO WATCH
Ivory Coast
Didier Drogba, despite being suspected by the Ivorian media of having differences with Barcelona's powerhouse Yaya Toure, which he has denied, remains tact and not distracted. He, as captain of the Elephants, will be doing his best to speak for his mates via an excellent job during Wednesday's friendly.
South Korea
Park Ji –Sung, Manchester's enigmatic midfielder, is one of the big names South Korea can boast of, and he will not be letting his name and nation down in London, a place he knows like home.
PREDICTION
Both teams have a goal-tasty nature and reputation, and so, there are likely to be goals but with a higher number for Ivory coast.
Ivory Coast 2: 1 South Korea