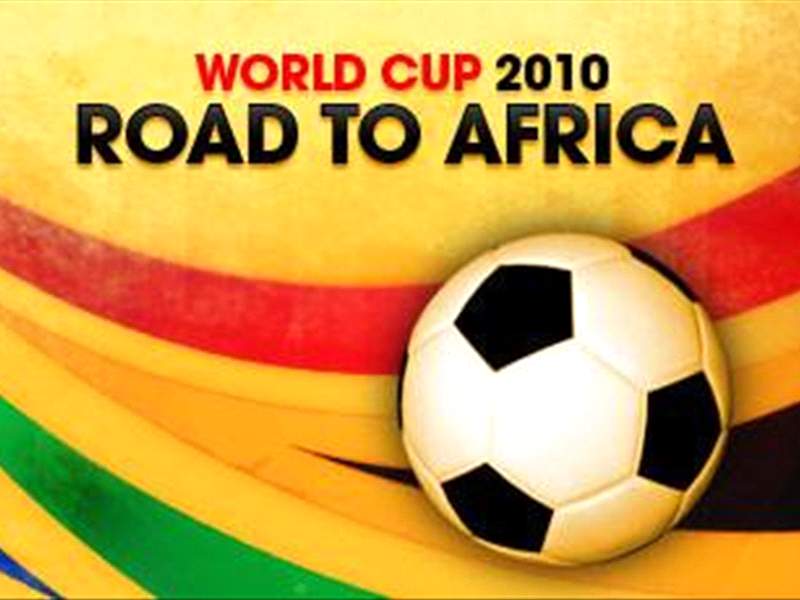 The World Cup of 2010 has taken shape: all thirty-two of the 32 teams on offer have booked their place in South Africa!

The teams who have qualified, in order of their reaching the finals:


South Africa (CAF - as hosts)

Japan (AFC)

Australia (AFC)

South Korea (AFC)

Netherlands (UEFA)

North Korea (AFC)

Brazil (CONMEBOL)

Ghana (CAF)

England (UEFA)

Spain (UEFA)

Paraguay (CONMEBOL)

Cote d'Ivoire (CAF)

Germany (UEFA)

Denmark (UEFA)

Serbia (UEFA)

Italy (UEFA)

Chile (CONMEBOL)

Mexico (CONCACAF)

USA (CONCACAF)

Switzerland (UEFA)

Slovakia (UEFA)

Argentina (CONMEBOL)

Honduras (CONCACAF)

New Zealand (OFC)

Nigeria (CAF)

Cameroon (CAF)

Algeria (CAF)

Greece (UEFA)

Slovenia (UEFA)

Portugal (UEFA)

France (UEFA)

Uruguay (CONMEBOL)

And here's how they got there...

CAF (Africa)
With Goal.com Africa's Peter Pedroncelli
Correct as of November 18, 20:30 CET

Africa provides the basis for their teams to qualify for the World Cup via five groups of four teams, with a home and away round robin format determining the points, and the top team from each group progressing to the World Cup along with hosts, South Africa. These qualifiers are also being used to determine the teams that will take part in the 2010 African Nations Cup in Angola, with the top three teams in each group qualifying for the continental showpiece.

Group A
Correct as of November 14, 18:00 CET

Cameroon have qualified for South Africa 2010. The result of the final set of matches means that both Gabon and Togo qualify for January's African Cup of Nations tournament in Angola, with Cameroon coming top of the group and securing their spot amongst the 32 teams going to South Africa for next year's World Cup. Morocco props up the group in fourth spot after a horrible campaign that they will want to forget.

Group B
Correct as of November 14, 16:30 CET

Nigeria have secured their place at the 2010 World Cup. Nigeria came back from a goal down to win the encounter in Nairobi against Kenya 3-2, and thanks to a loss from Tunisia 1-0 against Mozambique the Super Eagles were able to book their place in South Africa next year. The result leaves Nigeria in first spot in the group, after having leapfrogged Tunisia on the final day to qualify for the World Cup in South Africa next year. The loss for Kenya means that they did not qualify for the African Cup of Nations in Angola, as Mozambique take that honour thanks to their win over group leaders Tunisia.

Group C
Correct as of Novemer 18, 20:30 CET

Algeria's 1-0 win over Zambia in the last round guaranteed them a top three place - and thus African Cup of Nations entry - while putting them three ahead of Egypt in the race for top spot. Egypt continued their march towards an elusive World Cup spot, with a 1-0 win over Zambia allowing them to tie with Algeria at the top of Group 3 for the first part of the weekend, before their North African rivals reclaimed their three point lead with a 3-1 win over Rwanda on Sunday evening, setting up an incredibly exciting finale in this group, as Egypt will hosted Algeria in the last game of the qualifying round in November.
In fact, what was not to be the final game: after a 2-0 win in Cairo the teams finish with identical records, meaning that a play-off took place in Sudan on November 18th, winner-takes-all. That winner turned out to be Algeria, who won by a single goal to reach the World Cup for the first time since 1986.

Group D
Correct as of October 11, 22:00 CET

It's all over here: Ghana's 2-0 win over Sudan in the fourth round of matches puts them through to the World Cup. Mali and Benin could only draw with each other, meaning that they are out of contention.

Group E
Correct as of November 14, 19:00 CET

The Ivorians needed only a draw to ensure their place and they achieved that, 1-1, away to Malawi in the fifth round of matches. Talisman Didier Drogba netted the strike for Les Elephants. Ivory Coast head to South Africa 2010. In the last set of games, Ivory Coast did the Flames a favour and beat Guinea, allowing Malawi to take the final African Cup of Nations place in the group, one point above last placed Guinea.

AFC (Asia)
With Goal.com Asia editor John Duerden
Correct as of November 14, 10:00 CET

Asia send 4.5 teams to the World Cup, with the primary four having already made their way to the tournament. These are the aforementioned Koreas, North and South, as well as Australia and Japan. No surprises with ROK or the latter two, but the North's return to the World Cup after over 40 years away is a memorable event.

That left the 0.5 undecided. In fact, Bahrain have earned the chance to be Asia's fifth representatives and compete in their first ever finals, courtesy of a thrilling 2-2 draw in Riyadh that saw the island country advance to the AFC/OFC play-off against New Zealand in October and November.

However, a 0-0 draw in Riffa followed by a 1-0 defeat away from home means that Bahrain do not qualify.

UEFA (Europe)
With Goal.com International's Ewan Macdonald
At the start of the article you can see all UEFA qualifiers so far, and each is described in detail below.
Furthermore, here are the eight teams who took part part in the play-off. Each seeded team met an unseeded opponent as follows in a two-legged encounter, played on the 14th and 18th of November. Only one unseeded team, Slovenia, made it through.

Playoffs
Correct as of November 18, 23:50 CET

Russia - Slovenia: The first leg in Moscow finished 2-1 in favour of the hosts, meaning that the Slovenes, while being behind, had that vital away goal. It paid off: a 1-0 home win in Maribor sees Slovenia qualify for their second appearance at a World Cup.

France - Republic of Ireland: The first leg took place in Dublin, and France won 1-0. The Irish had it all to do in the second leg, but couldn't quite manage it: a 1-1 draw after extra time puts France through.

Greece - Ukraine: Ukraine left Athens with a 0-0 draw, meaning a narrow advantage for the second leg in Donetsk. But Greece prevailed 1-0 in the Ukrainian city to qualify for their second finals.

Portugal - Bosnia-Herzegovina: The first leg took place in Lisbon on November 14. Portugal won by a goal to nil and traveled to Zenica to protect that lead on Wednesday. There they did so, and added a second goal: Portugal thus qualify.

Group 1
Correct as of October 14, 22:45 CET

After the September fixtures, Denmark were hot favourites to advance. They needed the win over Sweden, and got it, so Denmark have qualified for South Africa 2010!

The race for second went to the wire. In the end, all three contenders won on the final day, meaning that Portugal retained second spot at the expense of Sweden and Hungary. Albania and Malta bring up the rear.

Group 2
Correct as of October 14, 22:05 CET

Switzerland were held by Israel on the last day, while Greece beat Luxembourg. This means that Switzerland qualify automatically and Greece finish second and enter the playoffs as seeds.

Israel, Latvia, Malta and Moldova bring up the rear.

Group 3
Correct as of October 14, 22:40 CET

Slovenia's win over San Marino on the final matchday was not enough: Slovakia won 1-0 in the snows of Poland to guarantee qualification for the World Cup of 2010, while Slovenia finish second and enter the play-offs unseeded.

The Czech Republic, Northern Ireland, Poland, and San Marino follow, in that order.

Group 4
Correct as of October 14, 22:00 CET

A clear-cut group. It was down to Germany and Russia on the penultimate matchday in Moscow on October 10th. A single-goal win sees Germany qualify, while Russia finish second. Finland end up third Wales fourth, while Azerbaijan finish above Liechtenstein at the foot.

Group 5
Correct as of October 14, 22:00 CET

Spain have qualified for the World Cup. Bosnia-Herzegovina, by beating Estonia, finish second. Belgium and Turkey are out, as are Estonia and Armenia.

Group 6
Correct as of October 14, 22:00 CET

England have qualified with their 100% record, meaning that only Croatia and Ukraine were left to battle it out for second. In the end, Ukraine prevailed, and enter the playoffs. Croatia, Belarus, Kazakhstan and Andorra follow, in that order.

Group 7
Correct as of October 14, 22:10 CET

Serbia have qualified after absolutely thrashing Romania 5-0 in a decisive match. With France beating the Faroes, Les Bleus finish second. Austria end up third, Lithuania have edged out Romania for fourth, and the Faroes end up last.

Group 8
Correct as of October 14, 22:00 CET

Alberto Gilardino's last-gasp equaliser sees Italy qualify ahead of the Republic of Ireland, who finish second in Group 8. Bulgaria finish third, Cyprus and Montenegro follow, while Georgia finish bottom.

Group 9
Correct as of October 14, 21:00 CET

Group 9 is complete. The Netherlands finished up with eight wins out of eight; Norway edged past Scotland and FYR Macedonia into second but are the runners-up with the worst record, and thus do not enter the playoffs.

North, Central America, and Caribbean (CONCACAF)
With Goal.com USA's Andrea Canales
Correct as of November 15 05:20 CET

Mexico and the United States sealed up their spots in South Africa with one match to spare.

The USA had the tougher route, but they managed a 3-2 win on the road versus Honduras, maintaining their place at the top of the CONCACAF qualifying group. The USA then scrapped while a man down to draw Costa Rica 2-2 in the last match.

Mexico qualified by virtue of a dominant 4-1 win in their home field of Azteca Stadium, eliminating El Salvador from contention.With nothing much to fight for in the final game, Mexico settled for a 2-2 draw away to already-eliminated Trinidad and Tobago.
Honduras, however, came away with a win on the road with El Salvador and thus seal up the final CONCACAF automatic spot.

Costa Rica have a difficult challenge after losing 1-0 at home to Uruguay in the first-leg of their World Cup play-off match-up. The second-leg is in Montevideo on Wednesday night.

Oceania (OFC)
With Goal.com International's Ewan Macdonald
Correct as of November 14, 10:00 CET

With Australia having left for greener pastures, it was incumbent on New Zealand to make Oceania proud. The All-Whites automatically qualified for the second stage of the OFC qualification race and proceeded to walk it, dropping just three points out of 18 (a loss to Fiji long after qualification had been settled.)

The 2009 Confederations Cup whipping boys faced Bahrain away on October 10th and at home in November in a two-legged tie. The first leg in Riffa finished 0-0, meaning that New Zealand had a narrow advantage ahead of the second leg. This they preserved courtesy of a 1-0 win. Thus New Zealand head to the World Cup for only the second time ever.

South America (CONMEBOL)
With Goal.com South America's Martin Decaux
Correct as of November 19, 02:10 CET

Paraguay joined Brazil in qualifying for the finals in September, leaving two automatic places and one play-off spot remaining.

Chile then becaome the third team from CONMEBOL to secure direct entry to the finals after a thrilling 4-2 win at Colombia. With 30 points and one game to go, they nailed down third spot in the standings.
Argentina
pulled off a win over Uruguay in the final matchday in Montevideo to manage fourth place and the final automatic qualification spot.
Uruguay earned a crucial 1-0 victory over ten-man Costa Rica away from home in the first-leg of their World Cup play-off and thus have one foot on the plane to the tournament in South Africa. A 1-1 draw in Montevideo means that
Uruguay
qualify.
Ecuador, Venezuela, Colombia, Bolivia and Peru are out.
--Goal.com team