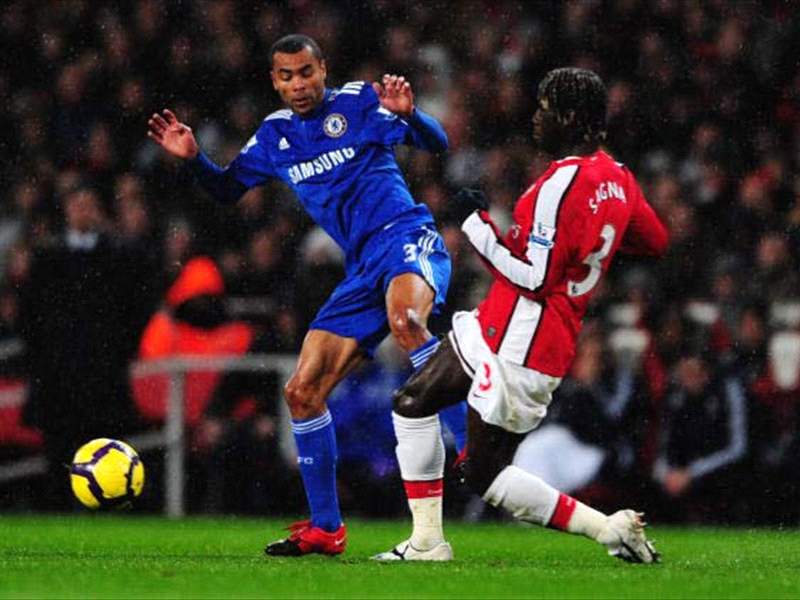 Since Roman Abramovich acquired
Chelsea
and the club established themselves among English football's elite, clashes between the Blues and fellow 'Big Four' members
Arsenal
have arguably become the biggest derby games in London.
Yet despite the intense rivalry that marks the relationship between the two clubs today, they have shared several players - as well as managers and coaches - over the years.
Goal.com
takes a look at ten of the more distinguished players who represented both London clubs during their careers - including some who'll be in action at Stamford Bridge when Arsenal visit on Sunday...
George Graham
Chelsea (1964-66 - 72 games, 35 goals)
Arsenal (1966-1972 - 308 games, 77 goals)

The elegant Scot from Bargeddie arrived at Stamford Bridge from Aston Villa in 1964 and announced hmself as a prolific goalscorer in Tommy Docherty's exciting young Chelsea side. He averaged a goal every other game for the Blues, form that attracted Bertie Mee, newly promoted from phsio to manager at Arsenal. Mee persuaded Chelsea to part with Graham for £55,000 plus Tommy Baldwin in September 1966, and George topped the Gunners' goalscoring charts in each of his first two Highbury campaigns.
But the deft control, outstanding aerial ability and goalscoring instincts could not hide a distinct lack of pace, and in early 1969 he was switched to a midfield role which allowed 'Stroller' full scope to express his artistry. He became a
creative force in Mee's side that won the European Fairs Cup in 1970 and the League-FA Cup double in 1971.
Surprisingly allowed to join Manchester United's battle against relegation in 1972, Scotland international Graham was destined to return to Highbury in 1986 as manager, leading the Gunners to six major trophies in eight seasons.


Tommy Baldwin
Arsenal (1962-66 - 20 games, 11 goals)
Chelsea (1966-74 - 187 games, 74 goals)
A Geordie, Baldwin rose through the Arsenal youth and reserve ranks with John Radford but was unable to match the Yorkshireman's progress at Highbury. However, he earned his place in Arsenal history by scoring the club's first three League Cup goals before moving to Chelsea in the deal that took Graham to Highbury.
Hard-working and tenacious, Baldwin served the Blues with distinction as a second striker to Peter Osgood, helping them win two major honours and earning England Under-23 recognition during an eight-year stay at the Bridge.
Alan Hudson
Chelsea (1968-74 - 145 games, 10 goals)
Arsenal (1976-78 - 47 games)


Born and brought up a stone's throw from Stamford Bridge, the most local of all Chelsea's players burst upon the first-team scene in early 1969 and was hailed as one of the most gifted teenagers in the game. Exquisite ball control and sumptuous passing were Hudson's trademark, and he seemed destined to become one of the all-time greats.
Sadly, his talent was never fulfilled. His best season, 1969-70, ended in disappointment when injury forced him to miss Chelsea's FA Cup final success against Leeds United, though he played a major role as they won the European Cup Winners' Cup the following season. But a fall-out with manager Dave Sexton saw him leave for Stoke City in 1974. Still revered in the Potteries, it was as a Stoke player that Hudson won his two England caps; but the club's cash problems forced his sale to Arsenal in December 1976.
He shone briefly at Highbury in midfield tandem with Liam Brady, before falling out with manager Terry Neill and heading to the USA with Seattle Sounders. A battle against alcoholism, bankruptcy and being run over by a car in 1997 - which left him with multiple injuries and in a coma for two months - blighted his retirement from football, and he remains bitter about the way Chelsea have treated him in recent years.
John Hollins
Chelsea (1963-75 - 592 games, 69 goals)
Arsenal (1979-83 - 172 games, 13 goals)
Chelsea (1983-84 - 30 games, 1 goal)


The product of a footballing family, whose father, grandfather and three brothers were also professional footballers, John Hollins was born in Surrey and joined Chelsea as a youth player, making his debut against Swindon Town in September 1963 at 17. He became a midfield mainstay of both the Docherty and Sexton teams at Stamford Bridge, and at one point made 167 consecutive appearances, a club record, as well as being voted Chelsea's player of the year two seasons running.
He won League Cup, FA Cup and European honours with the Blues, plus a solitary England cap, before joining QPR in 1975. Then in 1979, on the eve of his 33rd birthday, he was surprisingly signed by Arsenal as cover. His boundless vitality and enthusiasm, and still sharp ball-winning skills, saw him become a regular in the first team.
Now a defender more than a midfielder, he was Arsenal's player of the year in 1981-82. Awarded the MBE for services to football, Hollins returned to Chelsea on a free transfer as player-coach in 1983, helping them win promotion back to the First Division in 1983-84. He retired at the end of that season, having played 939 first-class matches in total, and became Chelsea manager in 1985 following John Neal's retirement.

David Rocastle
Arsenal (1983-92 - 275 games, 34 goals)
Chelsea (1994-98 - 40 games, 3 goals)

Lewisham-born Rocky made his Arsenal debut against Newcasle United in September 1985 and immediately injected excitement and creativity into a side short on flair. His entertainment value was recognised when fans voted him player of the year in 1986, and in 1987 he was a League Cup winner. Over the next two seasons he didn't miss a game, starring in George Graham's title-winning team of 1988-89, and winning the first of his 14 England caps during the same season.
Injuries and loss of form dogged his next two campaigns, though he earned another League title winner's medal in 1990-91, and was back to his impressive best in central midfield in the 1991-92 season. Arsenal fans were therefore dismayed, as was Rocastle, when Graham sold him to Leeds United that summer. As the injuries began to mount, his post-Highbury career declined. After Leeds came a brief spell at Manchester City before he returned to London with Chelsea in 1994. But after his first season with the Blues he was sidelined by injury and later loaned to Norwich City and Hull City until his
Chelsea contract expired in 1998.
In February 2001, he revealed that he was suffering from an aggressive form of cancer which attacks the immune system. He underwent chemotherapy and was hopeful of a recovery, but died in the early hours of 31 March 2001 at the tragically young age of 33. Six weeks later his son Ryan was Arsenal's mascot at the FA Cup final.

Emmanuel Petit
Arsenal (1997-2000 - 116 games, 11 goals)
Chelsea (2001-04 - 55 games, 2 goals)

In 1988, Arsene Wenger signed the 18-year-old Petit for Monaco and deployed him in central defence; nine years later Wenger brought him to Highbury and paired him with Patrick Vieira in what was to prove an outstanding midfield partnership of power, clinical tackling and perceptive passing. Operating on the left side of that midfield engine-room, the pony-tailed Petit helped propel Arsenal to the Double in his first season at the club, and that summer of 1998 he also scored France's third goal in their World Cup final triumph.
He and Vieira remained at the heart of the Arsenal team for two more seasons before Petit opted for an ill-fated transfer to Barcelona in 2000. He returned to England, and Chelsea, the following year, and was on the losing side for the Blues against the Gunners in the 2002 FA Cup final. The latter part of his spell at Chelsea was dogged by the knee injuries which eventually forced his retirement in January 2005.
Ashley Cole
Arsenal (-2006 - 228 games, 9 goals)
Chelsea (since 2006 - 156 games, 5 goals)

Recruited by Arsenal at the age of 12, Stepney-born Cole developed as a striker before being moving to the wing and eventually settling at left-back, the position he has made his own in the England team. His early days as a forward have lent his game a characteristic attacking dimension, and after making his Arsenal debut as a substitute in a 1999 League Cup tie, he later replaced the Brazilian, Sylvinho, in the Gunners' defence and was a key figure as Arsenal won two Premier League titles and three FA Cups between 2001-02 and 2004-05.
But when a secret 'tapping-up' meeting with Chelsea, held in January 2005, was exposed, he was punished by the Premier League and the writing was on the wall at Arsenal, the club he'd supported as a boy. He eventually left for Chelsea - in exchange for 5 million plus William Gallas - in acrimonious circumstances in August 2006, having launched a verbal attack on the Gunners in his autobiography.
Cole has become a firm favourite at the Bridge, though his exploits on and off the pitch continue to court controversy. He won a second Champions League runners-up medal in 2008, and has also added two more FA Cup winners' medals and a League Cup winners' medal to his haul at Chelsea.
William Gallas
Chelsea (2001-06 - 230 games, 14 goals)
Arsenal (since 2006 - 139 games, 17 goals)

A graduate of the French football academy at Clairefontaine, Gallas was bought by Claudio Ranieri for £6.2m from Marseille in May 2001 and forged strong central defensive partnerships with Marcel Desailly and then John Terry, enjoying a run of 16 games without conceding a goal alongside Terry. He won back-to-back Premier League titles in Jose Mourinho's first two seasons at Chelsea, but was often deployed as a reluctant full-back. That soured his relationship with Mourinho, and although the club rejected his transfeer request in May 2006, when Gallas refused to join the pre-season American tour it was only a matter of time before he left.
Amid much acrimony, he joined Arsenal on transfer deadline day that year, Ashley Cole making the opposite journey. There were media claims that chief executive Peter Kenyon had fored through the deal against Mourinho's wishes, and Chelsea issued a bizarre statement alleging that Gallas had threatened to score own goals if he was not allowed to leave the club. Gallas dismissed those claims, accusing the Blues of lacking class.
He has enjoyed mixed fortunes at Arsenal, failing to add to his medal haul and being stripped of the captaincy after some antics that were hardly conducive to team spirit. At the same time he has added experience to the Arsenal rearguard and formed an impressive partnership with Thomas Vermaelen. For France, Gallas controversially scored the 'hand of Henry' goal that secured their 2010 World Cup qualification at the expense of an indignant Ireland.
Lassana Diarra
Chelsea (2005-07 - 30 games)
Arsenal (2007-08 - 13 games)

Paris-born 'Lass' is the one that got away from both Chelsea and Arsenal. When the Blues signed him for £1m from Le Havre in July 2005, he was hailed as 'the new Makelele'. Shadowing the apparently evergreen master of defensive midfield play, Diarra found himself something of a bit-part player at Stamford Bridge, but impressed enough to be named Chelsea's young player of the season for 2005–06. Often asked to play at right-back during the following season, he made no move to extend his contract and was consequently sold to Arsenal on 31 August 2007 for an undisclosed fee.
Eager to play for Wenger, and acquitting himself well when given a chance, Diarra nevertheless found it hard to command a first-team place ahead of Fabregas, Hleb, Gilberto and Flamini, and grew increasingly impatient. Just five months after signing, he left for Portsmouth for £5.5m in January 2008. Finally a first-team regular, he blossomed at Pompey, winning the FA Cup and earning a place in the France Euro 2008 squad.
With his reputation soaring, Portsmouth officially accepted Real Madrid's offer of €20 million (£18.88 million) on 1 January 2009, and Lass became an instant hit at the Bernabeu, where favourable comparisons were made with Makelele. However, since Real signed Xabi Alonso, a debate has sprung up about whether the team is better balanced when one of the two is left out.
Nicolas Anelka
Arsenal (1997-99 - 90 games, 28 goals)
Chelsea (since 2008 - 98 games, 39 goals)

Wenger's recruitment of 17-year-old Anelka from Paris St Germain in March 1997 was seen as a real him his chance, and he made impressive progress as Arsenal closed in on the Double, Anelka scoring in the FA Cup final. The following season saw his pace and goalscoring instincts further honed, yet he was not a happy chap. He insisted on a move to Real Madrid, later saying he left the Gunners just to spite the Arsenal fans, whom he felt didn't value him enough. Arsenal made a huge profit on the sale, while at Madrid he became a Champions League winner before falling out of love there too, and heading back to PSG.
Then came a loan spell at Liverpool, and stints with Manchester City, Fenerbahce and Bolton Wanderers. Throughout this time Anelka did little to lose his 'Incredible Sulk' nickname, though his ability on the pitch was rarely questioned, and Wenger remained a big fan, admitting how disappointed he'd been when Anelka quit Highbury; he'd planned to pair him with Thierry Henry in the Arsenal attack.
Since joining Chelsea in January 2008, Anelka appears finally to have found contentment – and excellent form. His well-taken goal at the Emirates last May set the Blues on their way to an emphatic 4-1 win over the Gunners and pushed him closer towards the Golden Boot. He has struck up a formidable partnership with Didier Drogba, but also excelled when the Ivorian has been unavailable.
As well as players, a number of managers and coaches have moved between the two clubs.
Leslie Knighton
was appointed Arsenal manager in 1919 but sacked when chairman Sir Henry Norris lost patience with the Gunners' also-ran status and recruited legendary Herbert Chapman, who proceeded to put Arsenal on the map. After spells at Bournemouth and Birmingham, Knighton took charge at Chelsea in 1933, remaining until the outbreak of World War Two.
A goalscoring icon of the all-conquering Arsenal side of the 1930s,
Ted Drake
became the first - and until Mourinho, the only - manager to lead Chelsea to the League title, a feat he achieved in 1954-55.
One of Drake's championship winners was
Ron Greenwood
, who later became assistant manager at Arsenal before forging his reoutation as manager of West Ham United and eventually England.
Meanwhile Drake was replaced as Chelsea boss by
Tommy Docherty
a combative Arsenal wing-half who'd left Highbury to become player-coach at the Bridge. He built an exciting young Chelsea side, but when he left in October 1967 the Blues turned to Arsenal again, taking assistant manager
Dave Sexton
from Highbury. Sexton led Chelsea to domestic and European cup success, and later managed Manchester United - ironically as Docherty's successor at Old Trafford.