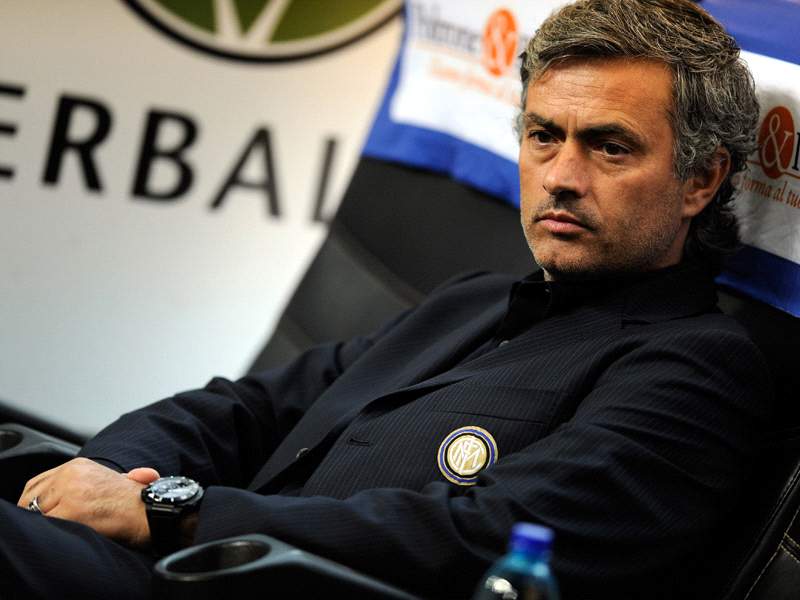 It is often said that 'records are there to be broken', but Jose Mourinho's run of 150 home league matches unbeaten is one record that will never be surpassed at the highest level.
The Special One achieved this extraordinary feat following Inter's 1-1 home draw with Roma last night. It is now almost eight years since Mourinho tasted a league defeat in his own backyard – a 3-2 reverse to Beira Mar with Porto at the Estadio do Dragao on 23 February 2002.
Whichever team you support, and whatever your view of opinion-divider Mourinho – you cannot help but applaud the 46-year-old. The Setúbal-native may have coached two of the world's richest clubs in Chelsea and Inter during this time, which has led some detractors to question the coach's importance, but regardless of the circumstances – 150 games unbeaten is just astonishing.
Mour, Mour, Mour - 150 Not Out

Mourinho took little comfort from this achievement after his side had failed to beat Roma.
"That is absolutely no consolation," he shrugged.
"I knew because someone told me, but it has been a record for a long time, so 150 or 151 makes no difference."
A draw in the weekend's big Serie A game proved to be a fair result, despite Mourinho's further complaints about Roma's gameplan, the referee, and second half substitute Mario Balotelli who the Portuguese rated as zero out of ten.
This result means that Inter's lead at the top of Serie A has been cut slightly to five points, following Juventus' emphatic 5-2 win at Atalanta on Saturday night. The scoreline somewhat flattered the Bianconeri, as two of their goals arrived in the closing minutes. Nevertheless it was a welcome return to form when you consider the stunning collapse at home to Napoli and the arduous 1-0 Champions League slog at Maccabi Haifa in midweek.
Milan's fine form continued with a 2-1 win over struggling Lazio. Thiago Silva, who scored at both ends of the pitch, was the undoubted man-of-the-match. The Brazilian has formed the best centre back partnership in Serie A alongside Alessandro Nesta. If the Rossoneri can keep these two fit, and ensure Alexandre Pato's explosion continues (he scored Milan's second) – then they may just prove a number of critics very wrong. Leonardo's men are now up to third, just two points behind Juventus.
Thi Amo Silva
Fiorentina completed the Champions League positions with a narrow 1-0 triumph at Udinese. The Viola's winner was scored by Peruvian star Juan Manuel Vargas. The ex-Catania man is the most in-form player in Serie A, and one of the hottest properties in the whole of Europe right now. It is no surprise that Real Madrid wish to sign the free kick expert, but who bets that if they do the Blancos will play him at left back, rather than as an attacking left midfielder where he currently has no equal?
Here are a few other things we learned this weekend:
Claudio Ranieri may as well give up trying to put one over nemesis Mourinho. The Roma boss has still never beaten the Portuguese in his career. At 58, the Tinkerman is running out of time.
Patrick Vieira has made a career out of elbowing opponents. Seriously, how many players has the Frenchman injured over the years when jumping up for headers? Yesterday it was Daniele De Rossi, who suffered a fractured cheekbone. With those wings – I declare a new name for the 33-year-old – Bat-rick Vieira!
Na na na na na na na na - Patman
!
Lazio are in real crisis. They are just two points above the relegation zone and have gone 10 league games without a win. Surely coach Davide Ballardini can't last any longer?
Gianluca Zambrotta plays well at left back, but badly at right back. Has anyone else noticed this since he joined Milan?
Mauro Camoranesi is brilliant. When the Italo-Argentine is fully fit, he is world class. Two clinical strikes against Atalanta sent the Bianconeri on their way to a handsome win. The 33-year-old is arguably of more importance to Italy than he is to Juventus this World Cup year as the Azzurri just have no other attacking midfielders.
Bari's two centre backs – Andrea Ranocchia and Leonardo Bonucci are doing their best impression of Fabio Cannavaro-Alessandro Nesta. Bari kept yet another clean sheet in beating Livorno 1-0, and have conceded just seven goals this season from 12 games.
Italy coach Marcello Lippi is getting 'closer' to calling up Antonio Cassano. For the friendlies against Holland and Sweden, Lippi summoned an 'AC' and a Cassani. Unfortunately, these two players were Livorno's Antonio Candreva and Palermo's Mattia Cassani respectively. Watch out for the former, though, as he has the potential to be one hell of a player.
What are your views on this weekend's action, and specifically Jose Mourinho's 150-game record? Goal.com wants to know what YOU think…

Carlo Garganese, Goal.com