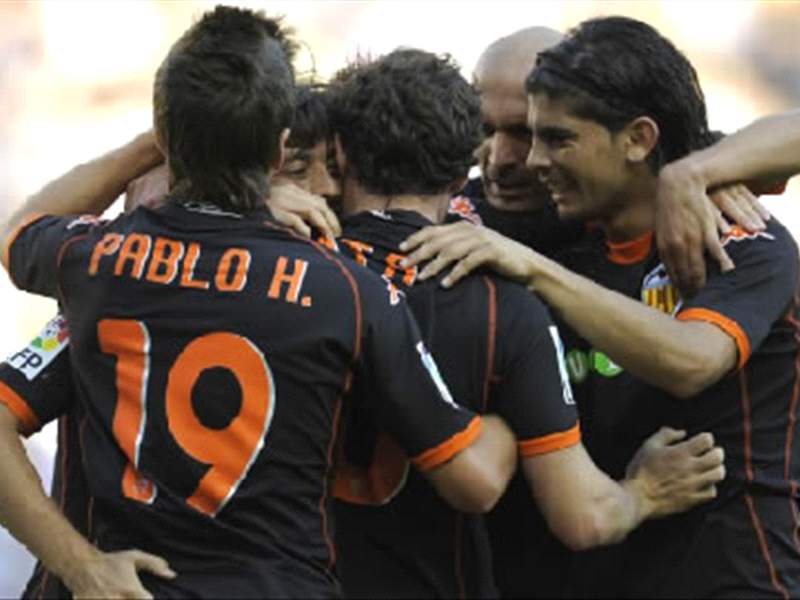 Out of the last five league campaigns, Real Madrid and Barcelona have bagged all five crowns. In the last 25 seasons, they account for 21 in total. Since 1928-1929 when the league first started, Madrid have lifted the throne 31 times while Barcelona have won on 19 occasions. The third most successful side in terms of league success are Atletico Madrid, and they last won it in 1996.

La Liga might be the most entertaining league to watch in Europe - and this season it is certainly the most glamorous - but according to popular convention it is a two-horse race. Of course, Spanish football has depth, perhaps more depth than any other league in the world, but this depth and 'competitiveness' does not necessarily translate into challenging for the title year after year.

Barcelona have strengthened from last season and are still the best and most entertaining team to watch anywhere in the world. Real Madrid haven't exactly set the Bernabeu alight yet with their poetic football but the prognosis suggests they will do so in due time. La Liga might be comprised of 20 teams and all 20 teams are good enough to be 'paid to watch' but the Barca-Madrid axis is its spine.

The question whether any other team can win the Spanish Primera Division title this season is overtly rhetorical. Last season it was Barcelona who ran away with the league as well as the Champions League and at this point only Madrid in Spain can match them player-for-player. The rest are, well, just that - the rest.

But can a side from the rest beat the best to the league title race?

If you ask Atletico Madrid, Valencia, Sevilla and perhaps even Villarreal, you will almost certainly get an affirmative answer.

For Atleti it is an eternal 'yes'. The third biggest and third most popular club in Spain start every single season with expectations of recording their tenth league crown, 'La Decima', but inevitably end up missing out by quite some distance, and then take refuge in a top half finish or, as in the past two seasons, in a Champions League-qualifying position.

The 'Mattress Makers' perhaps lack the depth in squad to launch a serious title challenge but they do have a few players who are world class. Sergio Aguero is perhaps the best 21-year-old striker in the world and carried Atletico to the Champions League two seasons ago. Diego Forlan dragged a lorn Atleti side on his own last term - as well as bagging two gold-plated boots - to secure top-tier European football for this campaign.

Alone Again | Forlan Fights For The Ball On His Own


Valencia, too, should stake a claim in challenging for silverware and unlike Los Colchoneros, they are more stable and team-like in their football. Their best move this summer was not to move at all, as Real Madrid, Manchester United, Barcelona, Manchester City, Chelsea all came with their jaws wide open to gobble up David Villa, David Silva and Juan Mata - their three most prized assets - but were waved off. With the best striker in Europe, David Villa, in their side, Unai Emery's team do have the class and the quality to try and make it big this season.

Sevilla are perhaps the best bet to break the Madrid-Barca duopoly this season. They do not have a 'superstar' and their football tends to approach a more dynamic and pacy rhythm than wonted with Spanish football, but their front pairing of Frederic Kanoute and Luis Fabiano is one of the most lethal front two in world football. They have added Sergio Sanchez at right-back and Didier Zokora in defensive midfield and with the likes of Jesus Navas, Diego Perotti, Alvaro Negredo and Diego Capel, Manolo Jimenez's side do look strong.

Yet the doubts eclipse the hope.



Hand In Hand | Can Fabiano & Negredo Lead Sevilla To Glory?
Atletico have started the season pretty badly, losing to Malaga and then drawing with Racing Santander and are in institutional crisis. The fans have been protesting and this season again promises to be a stormy one. For all their attacking prowess upfront, Atleti's backline is a joke in spite of the addition of Sergio Asenjo. They did well to reject offers for Forlan and Aguero but they failed to land a creative midfielder, lacking which they would have to depend on their front two and the wide midfielders for imagination.

Valencia have started brilliantly, winning against Sevilla and then against Valladolid but their backline looks vulnerable. More worryingly, the club would be happy just to finish in the top four this season as that would (really) help them survive the financial storm and this restriction on ambition could well hamper their urge for the championship. Also, although Villa, Silva, Mata, Albelda are brilliant players, remember this is the same set of footballers who finished sixth last season. And jumping four places to pole position would not be easy.

Sevilla, maybe? Yes, but their start to the season has been not exactly good, that 2-0 defeat to Valencia on the opening week might chase them for quite some time. As for Villarreal, the departure of coach Manuel Pellegrini appears to have ended an era. Also, like the rest they have European commitment and there are doubts whether they have the squad to challenge on both fronts.

So another two-horse race for the championship this season? It is tempting to say yes but you never know. If Valencia regroup themselves and sustain their momentum, Atletico Madrid manage to override the current crisis and Sevilla maintain faith in Manolo Jimenez, who knows what could happen.

Subhankar Mondal, Goal.com