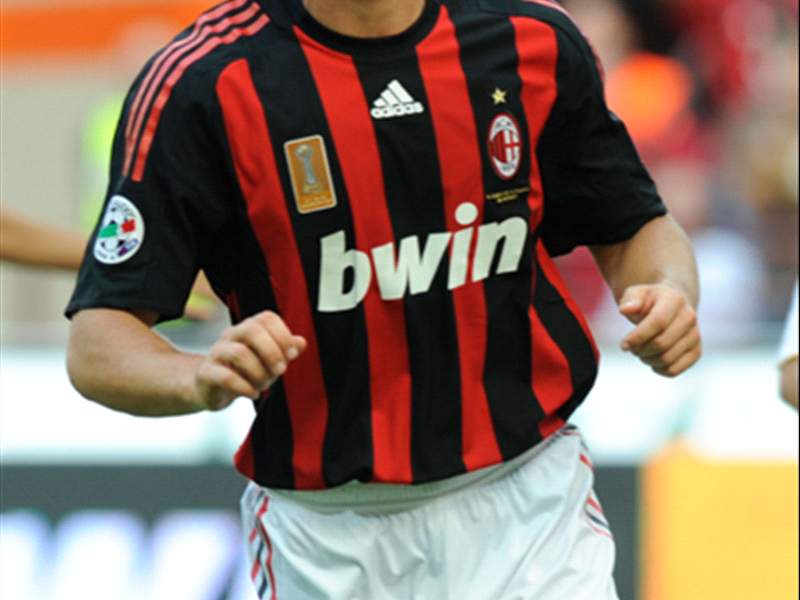 Every time he touched the ball he was called the £30 million striker. Every time he didn't touch the ball he was called the £30m striker. Every time he played he was the £30m striker, even when he didn't play he was still the £30m striker. Every time he scored he was the £30m striker, every time he didn't score he was the £30m striker.
It seemed as if 'the £30m striker' term was the byword for Andriy Shevchenko, as if it was his new and legal name. And it was used in a derogatory sense, meaning to deride the most expensive player in Chelsea's history.
And the sad part is that it was all true. Shevchenko didn't at all look like a £30m striker, much less so like a legend he was in Italy. He appeared to be a player who had lost his game for good.
When Shevchenko left Milan for London in the summer of 2006, there were many who expressed their surprise. After all, 'Sheva' was playing for one of the most famous clubs in the world that had won the European Cup seven times, and he himself had finished the 2005-06 Serie A season with 19 goals in 24 starts. He was going to a club that had never reached the final of the UEFA Champions League.
At the time Sheva cited familial matters and his friendship with Chelsea owner Roman Abramovich as the reasons for his departure. Moreover, he had won virtually everything he could at Milan, had scored the winning penalty in their Champions League triumph in 2003 and had won the Ballon d'Or the following year. He was now eager to be part of the Chelski revolution.
Only for the Chelski revolution to march on ahead without any real help from Sheva. In the two years that the Ukrainian international striker played at Stamford Bridge, he was nothing more than a passenger, perhaps justifiably so. Four goals in 22 starts in the Premier League in his first season are light years away from over 120 goals in just over 208 matches for Milan, but when you come out of the deceiving world of stats and explore his performance, you realize just how badly he has fallen from grace.
In Italy, Shevchenko was suited in a tactic and strategy that allowed him to use his strengths to the maximum. He never really had that ballerina touch, but it was his effectiveness, ability to run at defences and perhaps more importantly his pace augmented by his killer finishing that made him such a success in Italy. In England, however, Shevchenko found the pace of the game rather too much for his liking. The space allowed to a striker is also cut out in the Premier League and then you have a rather robust approach to the games. But perhaps more crucially, the then Chelsea coach Jose Mourinho didn't really like him, which is perhaps why he kept the former Dynamo Kiev striker on the bench in matches when he might as well have started him.
Injuries too played a huge role. At past 30, it is natural for a footballer to be vulnerable but Shevchenko attracted injuries rather too frequently. Every time he looked to be getting better, one thing or the other would inhibit his progress.
Shevchenko scored on his debut for Chelsea against Liverpool in the FA Community Shield in August and hit his first Premier League goal just 10 days later against Middlesbrough. But form and scoring touch soon deserted him and by the end of the season the now 32-year-old ended up with a mere four goals in 30 league fixtures. The 2007-08 campaign was a catastrophe as he would feature in only 17 league matches, managing a miserly five goals.
So at the start of the 2008-09 season Sheva returned 'home' as Milan signed him on a one-year loan deal. There were many who felt that he was only increasing the average age of the Rossoneri, while others felt he might just be able to resurrect himself. He was back among his friends, club supremo Silvio Berlusconi still loved(s) him and Milan have a fitness regime that could stretch his playing career and curb his propensity to get injured.
But zero goals in 17 Serie A appearances denote that those lofty hopes of restoration were too lofty to be realized. Milan coach Carlo Ancelotti has made it clear that it is Alexandre Pato who is the club's main striker and Filippo Inzaghi's goal poaching abilities have allowed him to score 12 in 21. Shevchenko has started in only two Serie A matches and has hardly looked like Andriy Shevchenko in any of the matches in which he has featured in. That pace, touch of genius to find the back of the opposition's net from any angle, the ability to latch onto a ball and score in a flash appear to have deserted him. For good.
Shevchenko is scheduled to return to Chelsea at the end of the season but whether the London side still want him or not is a matter of doubt. Chelsea are supposedly heading for a mass clear-out in the summer with a number of heavyweights and oldies such as Michael Ballack and Deco set to pack their bags. Shevchenko is 32, has been off his game for almost three years now and will never return to his old form, thereby not really stating a case for a Chelsea stay.
Staying at Milan appears to be a more likely option but by no means is it the likeliest. The club as a whole still loves Sheva for his contribution to them in his first spell and that is precisely why they decided to take him back on loan in the first place. But a supposed summer revamp at Milan might just make his future in the red-and-black half of Milan uncertain.
Or maybe, just maybe, Andriy Shevchenko would end up at where it all began: Dynamo Kiev.
Subhankar Mondal, Goal.com