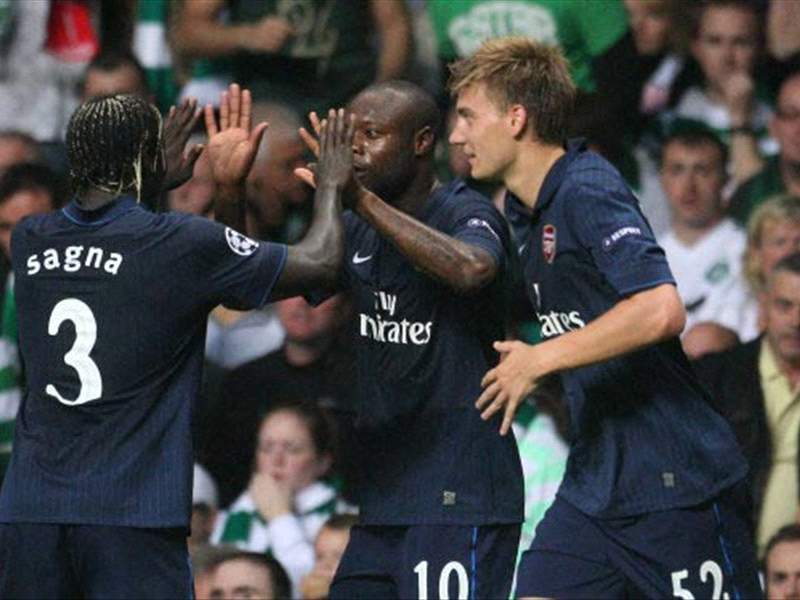 Boruc: 6 - Aside from picking the ball out of his net twice, from goals he had no chance of stopping, had very little to do.
Hinkel: 6 - A lively showing, made a few forays forward but beaten by Diaby in the build up to the second goal.
Caldwell: 5 - The skipper hasn't enjoyed the last few weeks and so it continues with an otherwise decent performance marred by an own goal.
Loovens: 7 - Looked very strong and has a good partnership with Caldwell which Arsenal found difficult to break down.
Fox: 6.5 - Perhaps surprisingly the only Englishman on the park. His sweet left foot produced decent deliveries from corners and was always willing to get forward.
N'Guemo: 7 - Did a good job in front of the back four but picked up a yellow card that rules him out of the return match.
Brown: 7 - Made Almunia work with a decent shot in the first half and almost got on the end of McGeady's pass but denied by Vermaelen.
Donati: 6.5 - His enthusiasm couldn't be faulted and he started really brightly but overdid it at times and lost some important challenges. Subbed early in the second half.
Maloney: 6.5 - Neat and tidy but Celtic needed a bit more from him.
Samaras: 6 - Didn't neglect his defensive duties but looked lonesome up front and was replaced early.
McGeady: 6.5 - Pinpointed before the match by Arsene Wenger as Celtic's most likely source of inspiration and his direct running was a threat.
Substitutes
Fortune: 6.5 - A few bright moments after coming on.
MacDonald: 6- Poor cross when well placed.
McCourt: n/a
Almunia: 6.5 - Came and claimed when required but in truth he had a quiet night.
Sagna: 7 - No scares at the back from the full-back who was always in control.
Gallas: 7.5 - Looked like he was trying to get out of the way of the ball when he scored. Defensively very strong indeed and looked really good.
Vermaelen: 8 - Followed up his assured debut with another very impressive showing. In particular, did brilliantly to run virtually the length of the pitch to deny Brown in the first half.
Clichy: 7.5 - Defensively looked confident, always a threat going forwards and delivered the cross from which Arsenal grabbed their second.
Song: 7.5 - A few misplaced passes but worked ever so hard breaking things up and did a good job.
Denilson: 7 - Got stuck in and almost scored again but was just off target with a decent effort just after the break.
Fabregas: 8 - Incisive passing, linked well with Arshavin, had a hand in the first goal and once again another big performance by the skipper.
Arshavin: 6.5 - A fairly quiet Champions League debut for the Gunners. A few flashes from the Russian but was well-marshalled by the Hoops.
Bendtner: 6 - Contributed little to the game and a quiet night from the Dane.
Van Persie: 6.5 - Caused the Celtic defence problems and was a handful but let down by some less than impressive shooting.
Substitutes
Diaby: 6.5 - Made an instant impression by playing a huge part in the second goal.