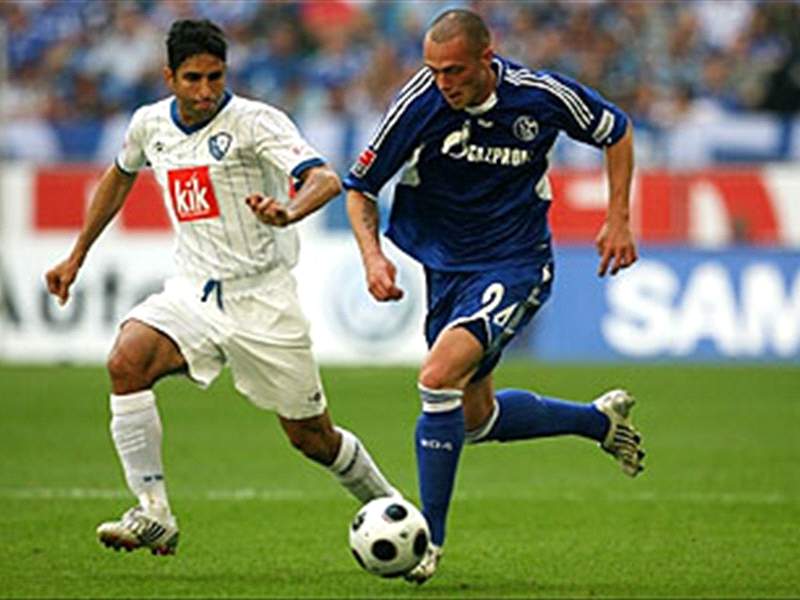 Saturday
(all times local)
15:30 Eintracht Frankfurt – Schalke
15:30 Koeln – Bayern Munich
15:30 Hamburg – Hertha Berlin
15:30 Freiburg – Hannover
15:30 Wolfsburg – Bochum
15:30 Werder Bremen – Stuttgart
18:30 Borusia Dortmund – Borussia M'gladbach

Sunday
15:30 Nuernberg – Bayer Leverkusen
17:30 Hoffenheim – Mainz
Eintracht Frankfurt – Schalke
High-flying Frankfurt were downed by a Cacau brace in round 24, and the seventh-placed club will be keen to turn around their fortunes against title contenders Schalke. Coach Michael Skibbe has ruled out Maik Franz, Ioannis Amantidis, Zlatan Bajramovic, and Aleksandar Vasoski.
Felix Magath's Schalke were 2-1 victors over Juergen Klopp's Dortmund in last week's Ruhr derby, which saw two of the Bundesliga's best tacticians meet in central Europe's biggest rivalry. Schalke now sit just two points adrift of Leverkusen, and will look to leapfrog their rivals this weekend. Unavailable for Magath's squad are Jermaine Jones, Christian Pander, Levan Kenia, and Vasilios Pliatsikas.
Koeln – Bayern Munich
Last week, Koeln played in a style that can only be described as "negative" in a scoreless draw with Leverkusen. Still, it was enough for Zvonimir Soldo's men to take a point, and the Westphalian club will likely adopt a similar approach against Bayern. The hosts will be without injured contingent Pierre Wome, Kevin Pezzoni, Christopher Schorch, and Adil Chihi.
Bayern finally broke their Hamburg curse following a 1-0 win over their northern rivals in round 24. The Bundesliga record champions welcome back central defender Daniel van Buyten for this weekend's match, which they will be keen to win ahead of their pivotal Champions League match with Fiorentina. Aside from Martin Demichelis, who broke his jaw on Wednesday, Louis van Gaal will have a full squad to choose from.
Hamburg – Hertha Berlin
Their narrow loss to Bayern last week can only be described as a disappointment for Hamburg. The northern Germans played a very solid midfield and defensive game, but were undone by a moment of individual brilliance. The fourth-placed club will look to put their bad fortunes behind with a good performance against Hertha, but will be without Bastian Reinhardt, Tolgay Arslan, Jose Paolo Guerrero, Romeo Castelen, and Colin Benjamin.
Relegation battlers Hertha started the second half of the season in good form, but have again raised questions of their potential following consecutive 4-0 and 2-0 defeats to Benfica (Europa League) and Hoffenheim (Bundesliga), respectively. The visitors will be at nearly full strength, with Lukasz Piszczek the only member ruled out of Saturday's encounter.
Freiburg – Hannover
Promoted side Freiburg were somewhat fortunate to take a 1-1 draw with Borussia M'gladbach in round 24, and will need to step up their game if they are to avoid relegation. Points against Hannover are a necessity, and Robin Dutt will have to manage without injured duo Hamed Namouchi and Manuel Salz.
Following their ninth consecutive loss, Hannover are stumbling ever closer to Hertha Berlin's position at the bottom of the Bundesliga table. The Saxony outfit has been terribly unfortunate, but will need to take advantage of their matches against weaker opposition, like Freiburg, if they are to survive the drop. As usual, the squad injury list is a long one: Vinicius, Jacek Krzynowek, Jan Rosenthal, Hanno Balitsch, Salvatore Zizzo, and Mikael Forssell are injured, and to make matters worse, Sergio Pinto is suspended for this weekend's match.
Wolfsburg – Bochum

Lorenz Guenther Koestner's Wolfsburg were outplayed in round 24, but still managed to eek out a 1-0 win in Hannover. Bochum will be tougher opposition for the reigning Bundesliga champions, who will be without injured goalkeeper Diego Benaglio, as well as suspended playmaker Zvjezdan Misimovic.
Once nicknamed "the unrelegatables," Bochum currently sit in 13th place, a spot well clear of relegation but far below the top half of the table. This area of the table has long been home for Bochum, who are known for their gritty and inspiring performances against elite opposition. As they face last year's Bundesliga winners, the Westphalian side will have a fully fit squad on hand.
Werder Bremen – Stuttgart
Werder Bremen's climb towards the top five continued last week thanks to a 2-1 win in Mainz. The resurgent Bremen side that had a disappointing spell in December and January is looking much better these days, but will host Stuttgart without Sebastian Boenisch and Sandro Wagner.
Like their opponents, Stuttgart had a disappointing spell earlier this season, but it lasted throughout the fall campaign. Since Christian Gross replaced Markus Babbel in December, however, the Swabians have experienced a renaissance, and climbed from 15th to eighth place in the league table. Sven Ulreich, Arthur Boka, Martin Lanig and Alessandro Riedle have been ruled out of this weekend's clash.
Borussia Dortmund – Borussia M'gladbach
One-time Champions League winners Dortmund were disappointed to lose last week's Ruhr derby after taking a first half lead, and will look to rebound against M'gladbach. Juergen Klopp has ruled out injured contingent Mats Hummels, Sven Bender, Tinga, and Markus Feulner.
After only taking a draw from last week's dominant performance against Freiburg, M'gladbach will look to improve their finishing and tighten up their defenses against Dortmund. Coach Michael Frontzeck will be without injured trio Thorben Marx, Jan-Ingwer Callsen-Bracker, and Dorda.
Nuernberg – Bayer Leverkusen
Despite having taken draws from their last two matches against Bayern Munich and Bochum, Nuernberg remain in the relegation zone, tied on points with Freiburg. Dieter Hecking's squad will have it all to do against Leverkusen, but as their recent performance against rivals Bayern shows, Nuernberg are a capable side. The Bavarian outfit will have to do without suspended attacker Albert Bunjaku and injured forward Christian Eigler.
It took three draws in four matches for Leverkusen to surrender their position of first place, but Jupp Heynckes' side finally slipped to second place. There remain ten matches to go, however, and the unbeaten side will look to reclaim the top spot against Nuernberg. Only Simon Rolfes remains unavailable, and Heynckes may opt to boost his team's attack by playing an aggressive midfield trio of Tranquillo Barnetta, Toni Kroos, and Renato Augusto in an attempt to run up the score early on.
Hoffenheim – Mainz

In their second season in the first division, billionaire-backed Hoffenheim have advanced to ninth place following a 2-0 victory over Hertha in Berlin. If they are to qualify for the Europa League, the Sinsheim outfit have to make up for a seven-point gap between them and Dortmund, and so a victory over Mainz is absolutely necessary. Ralf Rangnick has ruled out Andreas Beck, Isaac Vorsah, Matthias Jaissle, Kevin Conrad, and suspended midfielder Luis Gustavo.
Mainz's unbeaten home record finally came to an end after last week's 2-1 reverse to Bremen, after which the promoted side slipped down to tenth place. Thomas Tuchel will need to pull his men together soon or risk seeing an excellent record in the first half of the season give way to a finish near the relegation zone. Tuchel will be without Tim Hoogland, Marco Rose, Jared Jeffrey, Zsolt Loew, Jan Kirchoff, Felix Borja (all injured), and suspended midfielder Florian Heller for the Hoffenheim match.