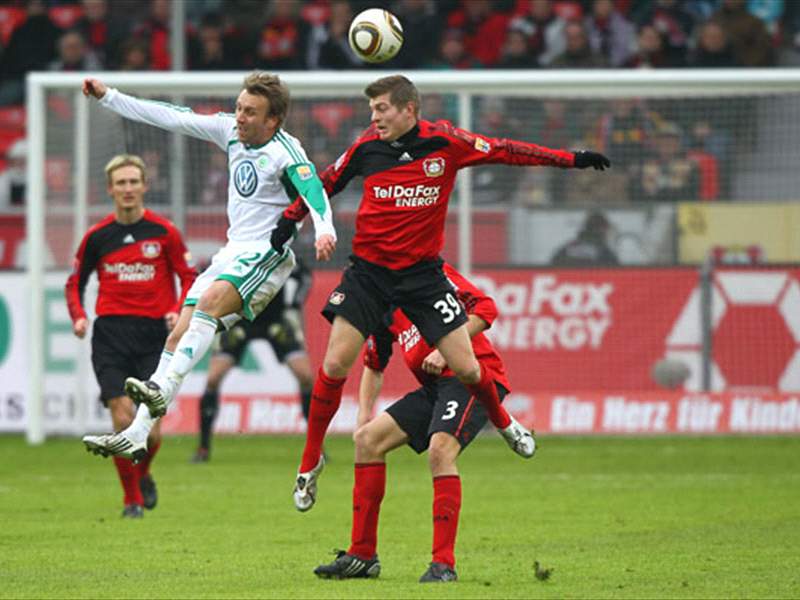 Friday
(all times local)
20:30 Hoffenheim – Borussia M'gladbach
Saturday
15:30 Borussia Dortmund – Hannover
15:30 Koeln – Stuttgart
15:30 Hamburg – Eintracht Frankfurt
15:30 Mainz – Bochum
15:30 Nuernberg – Bayern Munich
Sunday
15:30 Freiburg – Hertha Berlin
17:30 Wolfsburg – Schalke
17:30 Werder Bremen – Bayer Leverkusen
Hoffenheim – Borussia M'gladbach
A case of "sophomore slump" has fallen upon Hoffenheim, who are neither in danger of the drop nor with any chance of qualifying for European play. Level on points with their guests, it seems that pride is the only thing Hoffenheim will play for. Luis Gustavo and Sejad Salihovic (both suspended), as well as Andreas Ibsertsberger, Franco Zuculini, Andreas Beck, Chinedu Obasi, Tobias Weis, Matthias Jaissle, and Kevin Conrad (all injured) are out of Ralf Rangnick's matchday squad.
It's been a rather successful year for Borussia M'gladbach. Level on points with ninth-placed Hoffenheim, the second-year promoted side has managed victories over Werder Bremen and Hamburg, and at times has looked quite good indeed. The Westphalian side will have to do without Thorben Marx, Jan-Ingwer Callsen-Bracker, and Dorda in Friday's match.
Borussia Dortmund – Hannover
After rising to fourth place, successive losses to Stuttgart, Frankfurt and Bayern Munich have seen Dortmund fall nearly out of their current fifth-place spot. This weekend, Juergen Klopp's side host struggling Hannover without Tinga, Dimitar Rangelow, Markus Feulner, and Sebastian Kehl.
It seems that a laundry list of injuries juts might cause Hannover to slip into the second division. Their 5-1 home loss to Bremen in round 22 was just the latest in a string of seven consecutive defeats that have seen the Lower Saxony side drop into the relegation zone. The list of injuries includes no fewer than eight entries: Arnold Bruggink, Karim Haggui, Vinicius, Steve Cherundolo, Didier Ya Konan, Jan Rosenthal, Jacek Krzynowek, and Leon Andreasen will all be out of the action in Dortmund.
Koeln – Stuttgart
Once considered one of the league's best defenses, Koeln have committed more going forward in recent weeks and, at the cost of their solidity at the back, have become quite a decent scoring team. They will need the best at both ends, however, if they are to beat Stuttgart. Zvonimir Soldo's squad is in excellent shape at the moment, and is devoid of injuries and suspensions.
Stuttgart's unbeaten streak came to an end against Hamburg in round 22, but the fact remains that the Swabians are now much better than they were in early December. Having shot up the table to 10th place, Christian Gross' side will look to break into the top half with a win over Koeln. Ciprian Marica (suspended) and Martin Lanig (injured) are the only sure absentees.
Hamburg – Eintracht Frankfurt
Since the arrival of Ruud van Nistelrooij, Hamburg's hopes and aspirations have soared. The Dutch striker managed a quickfire brace in his last outing, and with Ze Roberto ready to make his return, the northern outfit look much like the side that rose to the top of the league rankings in the fall. There remains a long list of absentees for Bruno Labbadia's side, however: David Jarolim (suspension), and Eljero Elia, Bastian Reinhardt, Colin Benjamin, Romeo Castelen, Jose Paolo Guerrero, and Tolgay Arslan (all injured) will be unavailable.
Traditionally nicknamed the "eagles," high-flying Frankfurt have never been so aptly named. Now in seventh place, Michael Skibbe's club could even surpass Werder Bremen this weekend. Skibbe will be unable to call upon injured contingent Ricardo Clark, Martin Fenin, Ioannis Amantidis, Zlatan Bajramovic, and Aleksandar Vasoski.
Mainz – Bochum
As one of the league's best teams at home, Mainz will look to reaffirm their status against Bochum. The hosts have a long list of injuries to deal with, however. Zsolt Loew, Tim Hoogland, Jared Jeffrey, Jan Kirchhoff, Dimo Wache, and Marco Rose will all be unavailable for selection.
Bochum have a knack for upsetting heavy favorites, and Mainz at home should be considered in such a category, so the visitors will be particularly geared up for Saturday's match. With only Kevin Vogt on the absentee list, a generally fit Bochum side will undoubtedly look to turn heads.
Nuernberg – Bayern Munich
Bavarian outfit Nuernberg face local rivals Bayern on Saturday in a match that sees loanees Breno and Andreas Ottl face off against their old club. The hosts will be without injured midfielder Jaouhar Mnari, but should otherwise be at full strength.
Bayern Munich enter this spring's installment of the Bavarian derby in extraordinary form. The German record champions have now won 13 consecutive matches in all competitions, the most recent of which was a somewhat fortunate Champions League win over Fiorentina. During that match, Daniel van Buyten picked up a calf injury, forcing him out of at least this weekend's match, and possibly the following fixture against Hamburg.
Freiburg – Hertha Berlin
Winless in eight matches, Freiburg will need a good result against relegation-battlers Hertha if they are to avoid the drop. If they are to take points, the promoted side will have to do so without influential defender Heiko Butscher, as well as backup goalkeeper Manuel Salz.
Last week's draw with Mainz saw Hertha take their sixth point since the winter break, a tally equaling their haul from the entire fall campaign. While their improvement is encouraging, the capitol club remains deep in the relegation zone and will need a win over struggling Freiburg. Playmaker Gojko Kacar has been ruled out of the matchday squad, but Hertha should otherwise be at full strength.
Wolfsburg – Schalke
A resurgent Wolfsburg side were unlucky to lose to Leverkusen in round 22, but face another tough side in Schalke this weekend. The defending champions are at nearly full strength, with only goalkeeper Diego Benaglio (knee) ruled out of the matchday squad.
Of the top three teams, Schalke may have been the most convincing in round 22. Their 2-0 victory over a gritty Koeln side was comprehensive and very well-earned. Felix Magath's side will look to keep pace with Bayern Munich and Bayer Leverkusen as they face the defending champions. Magath has ruled out Rafinha (suspended), as well as Jermaine Jones, Christian Pander, Levan Kenia, Vasilios Pliatsikas (all injured). On the bright side, Heiko Westermann appears ready to make his comeback, and may even start at right back.
Werder Bremen – Bayer Leverkusen
Following last week's 5-1 win in Hannover, Werder will look to continue their winning ways and make a push back into European competition. Leverkusen are, of course, extremely difficult opponents, but Thomas Schaaf has an in-form squad, and will only miss Philipp Bargfrede from his starting eleven. Additionally, Sebastian Boenisch, Sandro Wagner and Daniel Jensen will be unavailable.
Leverkusen enter Sunday's pivotal match with a real tough task on hand. In order to keep pace with Bayern Munich, the visitors will need a win against a team that has historically been significantly better. To make matters worse, not only will captain Simon Rolfes be out of the matchday squad, but Sami Hyypia will join him in the stands following a suspension.