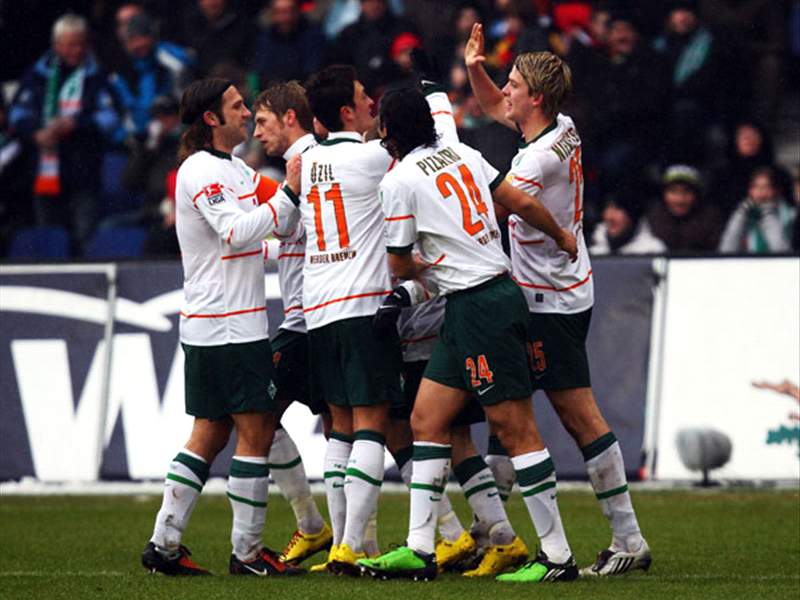 Bayer Leverkusen 2-1 Wolfsburg
Bochum 2-1 Hoffenheim
Hannover 1-5 Werder Bremen
Hertha Berlin 1-1 Mainz
Stuttgart 1-3 Hamburg
Bayern Munich 3-1 Borussia Dortmund
Bayer Leverkusen 2-1 Wolfsburg
Please see full match report here
Bochum 2-1 Hoffenheim

A motivated, hard-working Bochum side fresh off a 1-1 draw with Leverkusen came out today with every intent to take three points from their guests, and were rewarded for their proactive approach when Stanislav Sestak opened the scoring on 24 minutes.
After the break, it was as though a whole new game was being played. Hoffenheim switched from a 4-4-2 to a 4-3-3 formation and played silky smooth attacking football. Vedad Ibisevic struck the equalizer shortly after the hour mark, and more efforts from the Bosnian and striking partner Demba Ba could have seen the visitors take the lead. Instead, it was Bochum who would strike first as Zlatko Dedic put away his team's first decent opportunity of the half with a quarter of an hour to go. Luis Gustavo's dismissal on 86 minutes effectively eliminated any chance Hoffenheim had to earn a late point, as Bochum held on to claim all three.

Hannover 1-5 Werder Bremen
Many have questioned Werder Bremen's form in recent weeks, but today's performance was vintage Thomas Schaaf-style football. Albeit against an injury-ravaged Hannover side, Bremen stormed off to a four-goal lead at the break thanks to goals from Peter Niemeyer (11), Naldo (18), an own goal from Leon Andreasen (26), and another from Aaron Hunt (44).
With the outcome already decided, the second half was more of an exhibition than anything else. Christian Schulz and Claudio Pizarro traded goals, and the visitors coasted to an impressive win.
Hertha Berlin 1-1 Mainz
Mainz have consistently displayed poor road form this season, and the promoted side did very little to oppose their critics today. While Mainz were generally lacking in creativity, Hertha were equally deficient going forward, and the match remained scoreless until the 37th minute, when Aristide Bance knocked in the opener.
After the break, the hosts came back with a vengeance. On 51 minutes, Adrian Ramos headed home from close range, and the Colombian forward was only denied his brace when his 78th minute effort struck the woodwork. Cicero had a few good chances late on, but Heinz Mueller would not need to pick the ball out of his net again, and the two sides had to settle for a draw.
Stuttgart 1-3 Hamburg
In an exciting first half, Hamburg and Stuttgart went forward with intent; each side carved out several goal-scoring opportunities, but goalkeepers Jens Lehmann and Frank Rost did very well in their custodial roles. It would be the visitors who would break through first, going 1-0 up on 23 minutes thanks to a fine strike from Marcus Berg.
After the break, Stuttgart looked the better side, and Christian Traesch leveled the score on 55 minutes with a well-struck goal from outside the penalty area. Midway through the second half, Ruud van Nistelrooij replaced Hamburg striker Mladen Petric, who had taken his share of knocks during the match. The veteran Dutch international had an immediate impact, netting a quickfire brace on 75 and 77 minutes to ensure victory for the visitors.

Bayern Munich 3-1 Borussia Dortmund

Please see full match report here