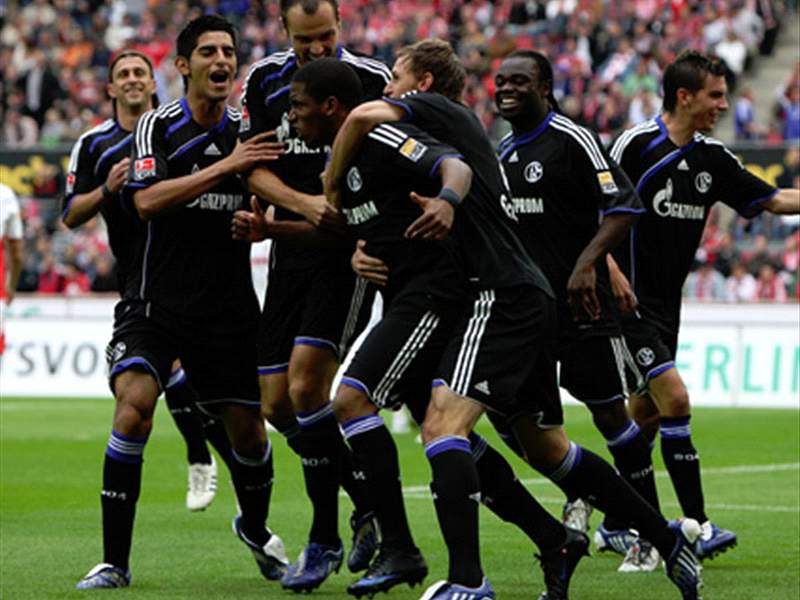 Friday, September 18 (all times local)
20:30 Schalke - Wolfsburg
Saturday, September 19
15:30 Bayern Munich - Nuernberg
15:30 Bochum - Mainz
15:30 Stuttgart - Koeln
15:30 Hannover - Dortmund
15:30 M'gladbach - Hoffenheim
Sunday, September 20
15:30 Frankfurt - Hamburg
17:30 Hertha Berlin - Freiburg
17:30 Bayer Leverkusen - Werder Bremen
Schalke - Wolfsburg

Following three consecutive league losses, Wolfsburg earned a convincing 3-1 victory over CSKA Moscow in their first ever Champions League match. Despite being bossed around in terms of possession, the Wolves showed real bite on the counterattack with Brazilian striker Grafite netting a hat trick. A victory in Gelsenkirchen would be great for team morale, and just might be enough to push Wolfsburg's season back on track.
After winning last year's Bundesliga title with Wolfsburg, new Schalke coach Felix Magath faces a new challenge; restoring the Gelsenkirchen side's reputation. Although the 2008-09 Schalke defence was nearly impenetrable, they were also a side that lacked creativity and had a terrible goalscoring record. Thus far, Magath's results have been fairly positive (three wins, a loss and a draw), but have generally come against lower-level teams. Magath's old club, Wolfsburg, will be his first real hurdle at Schalke. If he can handle this challenge, as he did in his last ex-club meeting (a 5-1 Wolfsburg victory over Bayern Munich), Schalke will be well on track to restoring their previous status.
Bayern Munich - Nuernberg

Since losing 2-1 to Mainz in late August, Bayern have won three consecutive matches by an aggregate score of 11-1. The team that was recently off to its worst start in decades is nowlooking like one of Europe's elite again. Sporting a fast, dynamic and lethal attack force, Bayern seem to have solved their defensive woes by overpowering their opponents offensively.
Away from home and against red-hot opposition, Nuernberg have quite a task ahead of them this weekend. If Saturday's match goes anything like their previous against Moenchengladbach, the visitors will surely be satisfied. Last week, Nuernberg earned their first victory. Peer Kluge's early opener stunned Moenchengladbach, who recovered and dominated the match but never scored. Bayern have been known to start off poorly and if Nuernberg can strike first, it might be enough of a morale boost for the newly promoted side to earn a favourable result.
Bochum - Mainz

After five matches, Bochum have equilibrated back to their natural (though not quite comfortable) position in 15th place. In recent years, Bochum have returned to being the low-table scrappers they were throughout most of the 1970's, '80's and 90's. Mainz will have their work cut out if they are to take points in Bochum.
Newly promoted Mainz have been very impressive in their return to Germany's top flight. Having defeated Bayern Munich and become the only team to take points from Leverkusen, Mainz are clearly a dangerous force. A win on Saturday could catapult the Rhine club into the top five.
Stuttgart - Koeln

Having finished third last year, Stuttgart's performance this autumn has been, to say the least, disappointing. Markus Babbel's side have been unconvincing against the likes of Nuernberg, and have simply been outclassed by teams like Wolfsburg and Hamburg. In this week's Champions League tie with Rangers, Babbel's men took a 1-0 lead but quickly faded and ended up drawing 1-1.
After years of what many Bayern fans regard as pining for his former club, Lukas Podolski finally returned to Koeln this summer. The move was billed as the stuff of fairytales, but Koeln's season thus far has been nothing short of a nightmare. Podolski's dismal goal tally of just one strike is only matched by Koeln's equally unimpressive record in the league: one point from five matches. Koeln need something to give them confidence, lest they return to the Bundesliga.
Hannover - Dortmund

Hannover were dealt a huge blow on Thursday when it was revealed that goalkeeper Robert Enke's mystery illness has yet to be determined. The team announced that, as a precautionary measure, the Germany goalkeeper would miss Saturday's clash with Dortmund. Hannover seem to have greatly improved in defence this year, but the Saxony side will miss their #1 as they prepare to face a Dortmund side that is desperate to put last week's 5-1 home loss behind them.
After two weeks of preparation, Juergen Klopp's men were well prepared for last weekend's match with Bayern. However, after taking a 1-0 lead, Dortmund unravelled and were embarrassed in front of a capacity crowd at the Signal-Iduna Park. For Dortmund, the Hannover match is one about not just points, but pride as well.
M'gladbach - Hoffenheim

In their second consecutive season in Germany's top flight, Moenchengladbach are playing some pretty impressive football. Although they lost 1-0 to Nuernberg last week, Moenchengladbach controlled the game and were unlucky not to have scored. A win against Hoffenheim would put die Fohlen just less than 1/3 of the way to avoiding relegation.
Hoffenheim, also in their second season in the Bundesliga, have also started the season well, though perhaps below the standards they set last year. Early on, the village team's attack experienced a sort of 'sophomore slump' but last week's 3-0 victory over Bochum seems to have ushered in a new chapter in Hoffe's 2009-2010 campaign.
Frankfurt - Hamburg

Frankfurt, a perennially mid-low table club, have gotten off to a flying start to the 2009-10 campaign. With two wins and three draws, the Eagles are among the league's few undefeated sides and currently occupy fourth place in the standings. Hamburg will be tough to beat, but as Rapid Wein showed on Thursday, anything is possible.
Hamburg's 3-0 loss to Rapid Wein in the Europa League marked the first time die Rothosen have lost this year. Currently in first place on goal difference, Hamburg will look to rebound with a victory in Frankfurt.
Hertha Berlin - Freiburg

Hertha, last year's sixth place Bundesliga finishers and current Europa League contenders, look unlikely to repeat their recent success. Currently sitting in 17th place, the Bundesliga's Old Lady now sees Freiburg as prime competition in the relegation battle. At the very least, Sunday's match should bring some passion out of the club that last year was notorious for playing unattractive football.
Freiburg go into this weekend's clash a point ahead of Hertha, but with the Bundesliga's worst goal differential. Ultimately, the points are all that matter and a win at the massive Olympiastadion would, though difficult, be an important step for the newly promoted side.
Bayer Leverkusen - Werder Bremen

Two of Germany's best young teams face off this Sunday in what is sure to be a fast paced, exciting affair. For Bayer Leverkusen, who last week earned a tough 3-2 victory in Wolfsburg, Sunday's match with Werder will be another crucial challenge as die Werkself try to keep pace with joint leaders Hamburg.
Thomas Schaaf's side, despite being without Mesut Oezil, earned an impressive 2-0 lead in Thursday's Europa League match against Portuguese side Nacional de Madeira. After a shock comeback that made it 2-2, Claudio Pizarro rescued Werder, completing his brace and making the score 3-2. It was a vintage Werder match and, if it's any indicator of things to come against Leverkusen, enough to whet the palate of any football fan.
Clark Whitney, Goal.com