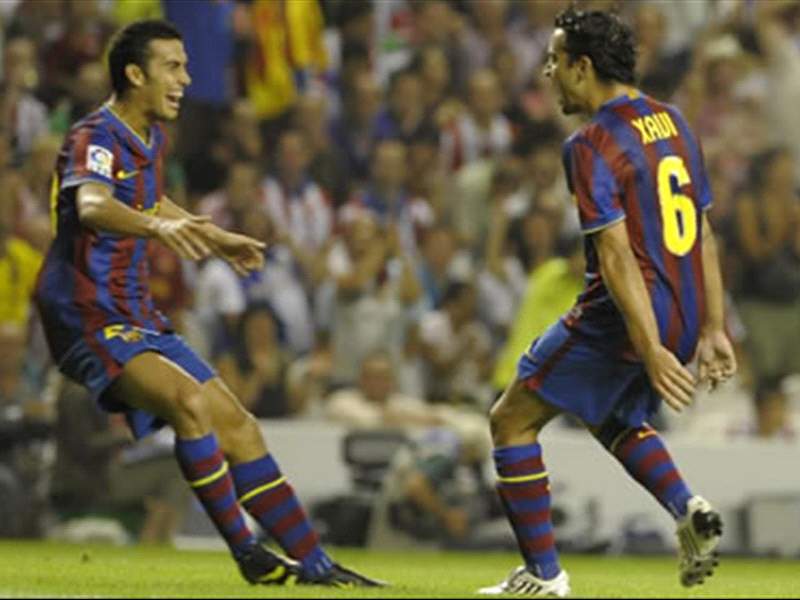 Pep Guardiola
and
Barcelona
in many ways face an impossible season.
At times during 2008-09 their football flirted with perfection, a veritable feast of offensive excellence and defensive diligence. Their Champions League triumph rounded off an unprecedented
Triplete
that included The Primera Division and Copa del Rey, and purists widely proclaimed the Blaugrana as the greatest team in the World today.
However, their bitter rivals
Real Madrid
have done their utmost to recapture some of the limelight with a relentless flow of blue-chip signings in an effort to reclaim their La Liga crown. Their efforts to build a side to vanquish the Catalonian club highlight the regard in which Guardiola's side is held, and the stage is set for a gargantuan tussle between Spanish football's heavyweights.
Summer Market
At one stage Barcelona appeared destined to remain cloaked in the shadow of the new arrivals pulling up at the Bernabeu, but they eventually showed their hand, and in some style.
The mooted Samuel Eto'o-plus-cash deal for Inter striker Zlatan Ibrahimovic seemed to be in development for an age, but eventually the Swede was handed the opportunity to improve a near-flawless starting line-up. Eto'o reluctantly moved to the San Siro amidst rumours that he and coach Guardiola had not seen eye-to-eye. The one aspect of the deal that remains certain is that Ibrahimovic has a formidable strike rate to follow in the form of his Cameroonian predecessor.
While the Swede was being paraded as the flagship signing for the new season, another arrival from Inter solved what had been a problem position for Pep Guardiola. With the exit of the veteran Sylvinho, left-back Maxwell has been added for a reputed fee of €3.5 million and the Brazilian will battle for a starting berth with French international Eric Abidal.
There was also of course the arrival and subsequent departure of wonder-kid Keirrison from Palmerias for €14m, then to Benfica for a season-long loan. The 20-year old will be allowed consistent first-team action in Portugal that he could never be afforded at the Camp Nou, and Guardiola will hope he returns next season a more rounded player who has adapted to the European game.
King Kerrison |
But the protege will head out on loan
Squad

Barcelona have opted for consolidation this summer rather than reconstruction, and why shouldn't they? Their first-eleven is of the highest quality, and there is competition for a starting berth in every area of the pitch.
Victor Valdes will once again be handed the gloves. Gerard Pique, Rafael Marquez and the returning Gabriel Milito will vie to become captain Carlos Puyol's central defensive partner, while Dani Alves will be at right-back and Maxwell will challenge Eric Abidal for the left-back slot.
The midfield will pick itself; Andres Iniesta, Xavi and the lynchpin Yaya Toure will operate in all of the crucial fixtures, fitness permitting, with the likes of Seydou Keita and Sergio Busquets on hand to deputise.
Zlatan Ibrahimovic will become the central figurehead of the Blaugrana's offensive formation, and their season could hinge on his integration and establishing an immediate understanding with his new colleagues. With Thierry Henry and Lionel Messi marauding in from the left and right, he is in exceptional company.
Star Man
The legend of Lionel Messi continues to be cultivated every time he graces the pitch, and you feel that the Argentine is currently operating at the peak of his powers.
His wonderful header against Manchester United in the Champions League final confounded those who had pinpointed a weak aspect of his offensive play, and if he continues to be as scintillating (and as prolific) as last season, then Barcelona may be able to slip effortlessly back into gear.
In 2008-09, he was imperious, but if anyone in the World game can exceed those super-human achievements, it is the man who is destined to be ranked among the greatest players ever.
Oh Leo | Can he produce once more for the Blaugrana?


One To Watch
With a team of the level of Barcelona, there can be few unknown quantities, and as such the most unsure aspect lies with how the uber-confident Zlatan Ibrahimovic will integrate into the line-up.
Few predict that he will be anything other than a success, but it will be intriguing to assess how Barcelona's style will evolve to play to his markedly diverse strengths.
On his day there are few better, and if there could have been any individual who could possibly make this side more attractive to watch, then it is 'Ibracadabra'.
Ibracadabra |
But could it be magic?
Coach
Pep Guardiola enjoyed a debut season for the ages, an astonishing achievement for an inexperienced but hugely gifted coach who is a committed student of the game, and immerses his entire life into achieving greatness.
He has to follow his own incredibly high standards, but has the basis of a team that can dominate European football for years to come, and will want them to prove their superiority by being unstoppable in all competitions once again.
Deep in thought |
Can Pep be triumphant again?

Objective
To win it all……….again. There are no half measures for this side – they will never want to relinquish any of their trophy haul, and with a side this good, they shouldn't have to. If the desire to succeed burns as vehemently as last season, then Barcelona will once more be the team to beat.
Paul Macdonald, Goal.com