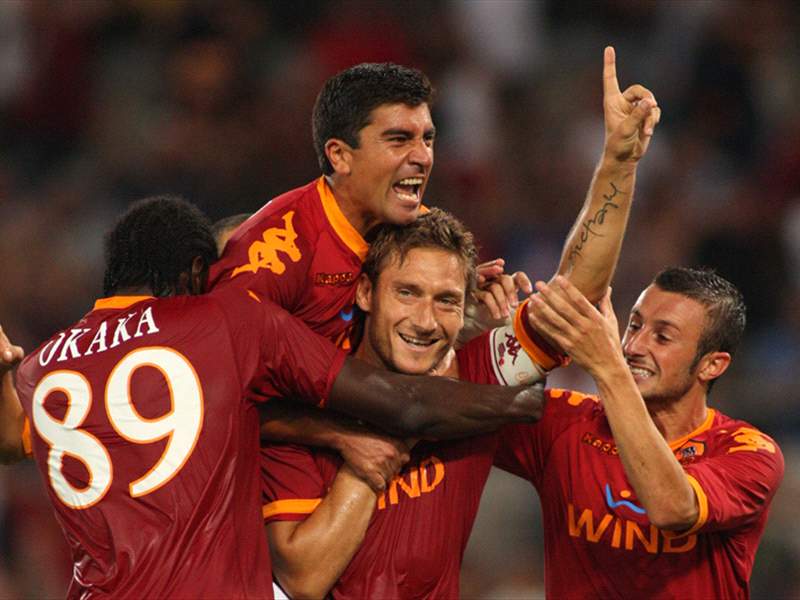 Roma will be desperate to reclaim a place in Europe's premier competition, the UEFA Champions League, after missing out this season, following last term's sixth place finish in the Italian Serie A. The disappointing outcome came about due to the club's injury problems on the field, as well as their ongoing financial concerns off it that have severely restricted their activity on the transfer front this summer.

A difficult start to the new campaign is in store for the capital outfit, as a tricky trip away to Genoa and a tough clash at the Stadio Olimpico against a red hot Juventus side await Luciano Spalletti's men in the opening two rounds of football. The Giallorossi will certainly have a clear indication of where they are at in a couple of week's time.

Summer Market

Roma's sole acquisition this summer has come in the form of Stefano Guberti, a player whom they managed to sign on a free transfer from the newly-promoted club Bari. The 24-year-old winger could be a revelation this season in Italy, and if this proves to be the case, then he will give himself every chance of earning a spot in Marcello Lippi's Azzurri squad for the World Cup finals in South Africa next year.

The new signing has been joined at the club by a whole host of players who have recently returned from loan moves, including the promising defensive duo of Marco Andreolli from Sassuolo and Vitorino Antunes from Lecce. They have been recalled to the Giallorossi to replace the recent departures of Christian Panucci, who was released on a free transfer to Parma, and the inconsistent Simone Loria, who was loaned to Torino for the next 12 months.

In addition to this, Vincenzo Montella has finally called it quits after 215 appearances over 11 years with the club, whilst their most significant departure has undoubtedly come in the form of Alberto Aquilani, who signed with the English giants Liverpool for the next five years, in a deal worth around €20 million. Other notable returnees include Alessio Cerci from Atalanta, Aleandro Rosi from Livorno, Mauro Esposito from Chievo Verona, as well as Stefano Okaka Chuka, who spent time with Brescia in the second half of last season.



He's Gone Red | Aquilani joins Liverpool to ease financial crisis

Squad

Roma's major strength has to be their attacking players, who impressed on the score sheet once again last term, by netting 64 goals in the 38 league fixtures. The Romans could do with an additional world class striker, however if Francesco Totti, Mirko Vucinic and Julio Baptista can all remain fully fit this term, then they will be a difficult unit to stop. In addition to this, one must not forget that these star players are supported by three promising youngsters in Jeremy Menez, Okaka Chuka and Alessio Cerci.

Despite the loss of Aquilani, the Giallorossi should be able to maintain their strength in midfield, as they do possess a number of key players who have the ability to score from these positions. This will once again drastically aid their cause in challenging the top sides this season. Guberti is expected to offer a lot to the squad, and along with the others such as Daniele De Rossi, David Pizarro, Simone Perrotta, Matteo Brighi and Rodrigo Taddei, the future looks bright in this department.

Undoubtedly their major concern remains their defence, which has been extremely shaky in the past. In fact, just last season, I Lupi conceded the most goals out of any club outside the bottom four – 61 from 38 matches. A starting back four including the likes of Marco Motta, Philippe Mexes, Juan and John Arne Riise, does looks good on paper; however the problems for this club arise when these players miss out through injury or suspension. There will be a lot of pressure on the new boys in Antunes and Andreolli to perform when required, and it will be at this point that one will be able to judge the depth of this new look Roman defence.
Star Man

Daniele De Rossi will need to rediscover his very best form if this club are to seriously challenge for the Scudetto, and even for a top four finish in the league this season. The talented 26-year-old was a little inconsistent last term; however with the Giallorossi desperate to bounce back hard this time around, the pressure of expectation will fall heavily on this player's shoulders, especially considering the recent departure of his close friend Aquilani.



Key To Success | The future captain must deliver
One To Watch

Marco Motta completed his move to Roma on June 24 from Udinese, which will see him embark on his first full season with the high-profiled club. From the moment he made his debut against Genoa last term, big things were expected of this player, and he could very well prove to be a key component in the resolving of the club's defensive issues this season.


Bright Future | Pressure building on the young talent
Coach

Luciano Spalletti's position as coach of the club has been uncertain for the large majority of the summer to date, as a countless number of reports have been emerging, suggesting that the 50-year-old tactician could be on his way to Russia to take over at Zenit St. Petersburg. After recently denying those reports though, it looks as if the highly criticised coach will be staying put in Rome after all.

Since joining the Giallorossi from Udinese in 2005, Spalletti has often been accused by a number of the club's supporters of putting his players through extremely strenuous training sessions, which has resulted in a number of injuries occurring. With this in mind, the coach's future may rest on whether or not the capital club achieve a top four finish this term, as failure to do so for a second consecutive season would be a disaster for the club and for their loyal supporters.

Have Faith | Spalletti vows to stay on at Roma
Objective

Like all of the top clubs in the league, the Romans' primary focus at this point should be the Scudetto, despite the fact that many will not give them a chance of achieving that. If this doesn't eventuate though, then a top four finish is a necessity for the club, as well as a strong performance as the favourites in the inaugural Europa League.

Adrian Del Monte, Goal.com