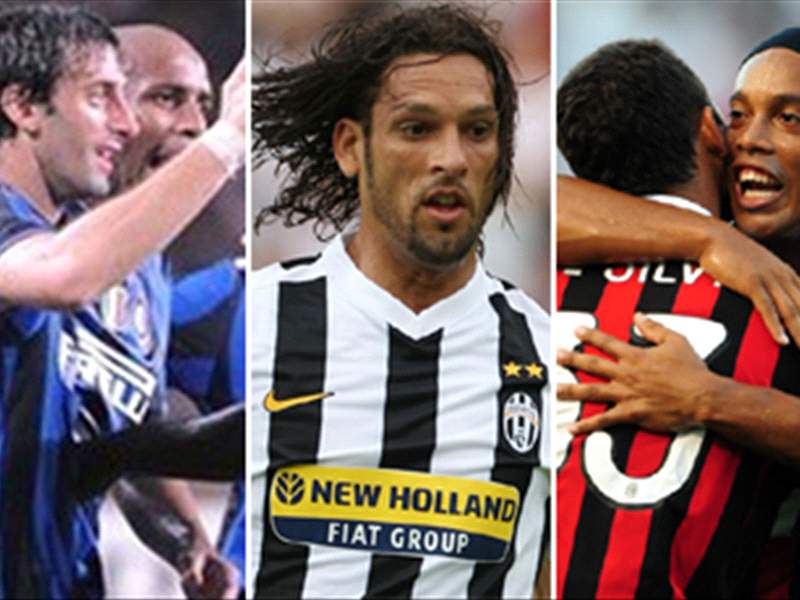 One thing Calcio fans can expect this year is a more competitive title race in Serie A. Juventus and Milan are desperate for success on the homefront following Inter's four championships on the trot.
The 'Big 3' remain the title contenders, but the likes of Fiorentina, Roma, Lazio, Napoli, and Palermo will provide some fireworks and the relegation race looks as close as ever. Meanwhile, the sparsely represented southern part of the country gains another team in promoted side Bari.
Stars like Zlatan Ibrahimovic and Kaka have left for Spain, but newcomers Klaas-Jan Huntelaar, Samuel Eto'o, Lucio, and Diego could very will fill the void. Of course, some younger stars may come into their own as well, Sebastian Giovinco, Javier Pastore, Davide Santon and a few more could well become prominent Calcio members. Below you will find a preview of all Serie A sides - outlining stars, objectives, and more!
Italian Transfer Table
Atalanta
Coach: Angelo Gregucci
Star player: Cristiano Doni
Youngster to watch: Andrea Consigli
Top signing: Robert Acquafresca
Objective: Mid-table
After two successful seasons under coach Luigi Del Neri, Atalanta will be hoping for repeat success with Angelo Gregucci and another top ten finish. The Bergamo-based side have cemented themselves as an outfit for mid-table and have basically kept the same side as last season, with Roberto Acquafresca coming in for Sergio Floccari as the lone attacker. Their expectation is to comfortably avoid the relegation race.
Bari
Coach: Giampiero Ventura
Star player: Barreto
Youngster to watch: Andrea Rannocchia
Top signing: Edgar Alvarez
Objective: Survival
After losing rising coach Antonio Conte and failing to make any significant signings, Bari are the ideal candidate for the drop this season of the three promoted clubs. The man in the hot-seat now is the experienced Giampiero Ventura, who will have plenty of work to do to keep the Galletti afloat after an an eight-year absence from the first division. A lot of the responsibility will fall on the shoulders of Brazilian striker Barreto, who notched 23 goals last season.
Bologna
Coach: Giuseppe Papadopulo
Star player: Marco Di Vaio
Youngster to watch: Emiliano Viviano
Top signing: Andrea Raggi
Objective: Survival
The arrival of coach Giuseppe Papadopulo late in the season helped Bologna barely avoid the drop to Serie B in 2008-09. Certainly, that will be their goal again. The arrivals of defender Andrea Raggi and midfielder Roberto Guana will add some depth to the Rossoblu squad, but overall another year in the relegation dogfight would look their most likely predicament in 2009-10.
Cagliari
Coach: Massimiliano Allegri
Star player: Federico Marchetti
Youngster to watch: Lino Marzoratti
Top signing: Simone Barone
Objective: Lower mid-table
Coach Massimiliano Allegri worked a near miracle last season with Cagliari, earning them 53 points and a very impressive ninth place finish after a torrid start to the campaign. Signing Simone Barone will add some grit to the midfield, but a question that needs answering is whether they can cope with the sale of Robert Acquafresca, who was their top scorer the past two seasons.
Catania
Coach: Gianluca Atzori
Star player: Giuseppe Mascara
Youngster to watch: Takayuki Morimoto
Top signing: Gennaro Delvecchio
Objective: Survival
Catania were resigned to the loss of coach Walter Zenga to Sicilian derby rivals Palermo, but have kept their squad intact from last season while adding midfielder Gennaro Delvecchio from Sampdoria, who is capable of getting forward. Striker Michele Paolucci is also gone, but Giuseppe Mascara and Takayuki Morimoto have both shown their capabilities up front. They got off to a flyer last season and were never in real danger of going to Serie B and a similar result is now the expectation for the the Elephants after three successive years in the top flight.
Chievo
Coach: Domencio Di Carlo
Star player: Sergio Pellissier
Youngster to watch: Simone Grippo
Top signing: Luca Ariatti
Objective: Survival
The Flying Donkeys managed to pull themselves together after a disappointing start to last season to remain in Serie A. The consensus is they will be involved near the bottom of the standings once more, but the experience of players like long-time servant Sergio Pellissier, defender Mario Yepes, and midfielder Luciano give the Verona-based outfit a solid base to work with. Only time will tell if tactician Domenico Di Carlo can keep their head above water this season.
Fiorentina
Coach: Cesare Prandelli
Star player: Adrian Mutu
Youngster to watch: Stevan Jovetic
Top signing: Cristiano Zanetti
Objective: Champions League Qualification
When Cesare Prandelli arrived at Fiorentina in 2005, he had a seven year plan towards the Scudetto, four years in, there is marked improvement and they are competing in the Champions League, but a substandard transfer campaign this off-season has threatened to throw that off course. Nonetheless, the Viola will have their eyes on another top four finish and will once again be counting on the goals of Alberto Gilardino and Adrian Mutu to propel them there.
Genoa
Coach: Gian Piero Gasperini
Star player: Sergio Floccari
Youngster to watch: Domenico Criscito
Top signing: Marco Amelia
Objective: Europa League Qualification
Like last summer, there were plenty of changes at Genoa and the Grifoni supporters will be hoping all the new signings pan out once more. One of the 'fairy tales' of last year, a repeat is in order. The losses of Diego Milito, Thiago Motta, Matteo Ferrari, and Rubinho were substituted with Hernan Crespo, Sergio Floccari, Marco Amelia, Houssine Kharja, Alberto Zapater, and Emiliano Moretti. For the Grifoni, everything depends on whether these names gel or not.
Inter
Coach: Jose Mourinho
Star player: Samuel Eto'o
Youngster to watch: Davide Santon
Top signing: Diego Milito
Objective: Scudetto
Inter may have lost star player Zlatan Ibrahimovic, but the acquisitions of Samuel Eto'o, Diego Milito, Lucio, and Thiago Motta have eased the transition. After four Scudetti on the trot Inter will be keen to show that their period of domestic success is far from over, even if their ultimate goal is Champions League glory. Jose Mourinho continues to mould the side, but it remains to be seen if 'The Special One' will make his mark with the the new Nerazzurri players quickly.
Sam's The Man
| Eto'o is the new star at Inter
Juventus
Coach: Ciro Ferrara
Star player: Gianluigi Buffon
Youngster to watch: Sebastian Giovinco
Top signing: Diego
Objective: Scudetto
For the first time since
Calciopoli
, the Bianconeri have a realistic shot at the Scudetto after an ambitious transfer campaign. The arrivals of Diego, Fabio Cannavaro, and Felipe Melo will solidify the side and add to the influence of stars like Alessandro Del Piero and Gianluigi Buffon. Ciro Ferrara's first full season in charge will be a trying one, but in the end all that will matter to the fans is if the Turin side manage to finally win another championship and halt Inter's domestic dominance.
Lazio
Coach: Davide Ballardini
Star player: Mauro Zarate
Youngster to watch: Mobido Diakite
Top signing: Julio Cruz
Objective: Europa League Qualification
The capital club have already started the season off on the right foot by winning the Supercoppa Italiana over Inter in Beijing and certainly have the capability of being a thorn in anyone's side. More consistent performances in the league will be their goal, with a finish in the top six not out of the question. New coach Davide Ballardini has a solid squad, even if depth could be a problem. Mauro Zarate remains the explosive threat upfront.
Good Start
| Rocchi's lob decided the Supercup
Livorno
Coach: Vittorio Russo
Star player: Alessandro Diamanti
Youngster to watch: Antonio Candreva
Top signing: Cristiano Lucarelli
Objective: Survival
The second of the promoted sides, Livorno will be hopeful of staying in Serie A after just one year in the second division. The biggest boost is the return of forward Cristiano Lucarelli, a hero at the club, who scored plenty of goals from 2003-2007 in Amaranto colours. Watch out for Alessandro Diamanti, one of the top strikers in Serie B last season, as well as Antonio Candreva, who took part in the Under-21 European Championships this past summer.
Milan
Coach: Leonardo
Star player: Ronaldinho
Youngster to watch: Alexandre Pato
Top signing: Klaas-Jan Huntelaar
Objective: Scudetto
You can say it's the beginning of a new era for Milan. Kaka is gone to Real Madrid, Carlo Ancelotti is now coaching Chelsea, Paolo Maldini has retired and success has been hard to come by the past couple of seasons. Klaas-Jan Huntelaar will try and be the goal-scorer the club have been yearning for, while the return of Alessandro Nesta will hopefully solve some of the defensive frailties. Ronaldinho's aim is to fill the void left by his compatriot. New boss Leonardo has admitted his inaugural coaching job is a huge challenge, but a first place finish is what everyone at the Rossoneri is counting on.
Napoli
Coach: Roberto Donadoni
Star player: Ezequiel Lavezzi
Youngster to watch: Luca Cigarini
Top signing: Fabio Quagliarella
Objective: Europa League Qualification
Impressively, Napoli managed to strengthen their squad while also holding onto crown jewels Marek Hamsik and Ezequiel Lavezzi. Italian trio Fabio Quagliarella, Luca Cigarini, and Morgan De Sanctis have arrived along with the impressive Juan Zuniga to bolster their ranks all over the pitch. Failure will not be tolerated from the demanding president after his significant investments or by the die-hard fans.
Palermo
Coach: Walter Zenga
Star player: Fabrizio Miccoli
Youngster to watch: Javier Pastore
Top signing: Dorin Goian
Objective: Europa League Qualification
It's never a dull moment with Palermo president Maurizio Zamparini – who engineered the shock appointment of coach Walter Zenga from Sicilian rivals Catania. 'Zampa' always demands quick results, the addition of Romanian international Dorin Goian will add character to the defence, while young signing Javier Pastore is known to produce some magic on the field and should be a crowd pleaser.
Parma
Coach: Francesco Guidolin
Star player: Valeri Bojinov
Youngster to watch: McDonald Mariga
Top signing: Christian Panucci
Objective: Survival
Francesco Guildolin finally re-established himself after his on-again-off-again love affair with Palermo by helping the Gialloblu to promotion into Serie A. At Parma, he has a wealth of young talent at his disposal like Alberto Paloschi, Davide Lanzafame, McDonald Mariga, and Jonathan Bianbiany among others. The performance of two off-season additions will be crucial – former Fiorentina and Manchester City striker Valeri Bojinov will be counted on for goals, while the experience of journey-man Christian Panucci will be needed at the back. Survival is the name of the game at this club.
Roma
Coach: Luciano Spalletti
Star player: Francesco Totti
Youngster to watch: Marco Motta
Top signing: Stefano Guberti
Objective: Champions League Qualification
Make no mistake – Roma have something to prove. Many feel after last season's disappointing sixth place finish, the Giallorossi are no longer contenders. However, 'Er Pupone' and co. always have a few tricks up their sleeve. An underwhelming summer (due to financial difficulties) saw Alberto Aquilani leave and Stefano Guberti join, while promising right-back Marco Motta's stay was secured. Entrance back into the Champions League would probably satisfy both club management and fans alike.
Up, Up & Away
| Totti and co. want to be back on top
Sampdoria
Coach: Luigi Del Neri
Star player: Antonio Cassano
Youngster to watch: Vincenzo Fiorillo
Top signing: Daniele Mannini
Objective: Mid-table
The man who makes Sampdoria tick is Antonio Cassano – one of the stars of the last two seasons in Italy, who will be even more fired up, in order to prove himself ahead of the 2010 World Cup. Within a whisker of winning last year's Coppa Italia, Luigi Del Neri will hope to bring the club to the next level, but a mid-table finish would seem to be on the cards once more, despite some impressive players like Angelo Palombo, Daniele Dessena, and Giampaolo Pazzini.
Siena
Coach: Marco Giampolo
Star player: Massimo Maccarrone
Youngster to watch: Albin Ekdal
Top signing: Reginaldo
Objective: Survival
Siena first arrived in Serie A in 2003 and although often tipped to be relegated, have always found a way to avoid the drop, last year very convincingly. Few changes have been made to Marco Giampaolo's squad and if there is no change in how they performed last season the fans will be pleased to avoid the drop once more. Nonetheless, being involved in the relegation battle is a strong possibility.
Udinese
Coach: Pasquale Marino
Star player: Antonio Di Natale
Youngster to watch: Alexis Sanchez
Top signing: Bernardo Corradi
Objective: Upper Mid-Table
President Giampaolo Pozzo's high price-tags ensured he kept hold of impressive midfield trio Gateano D'Agostino, Gokhan Inler, and Kwadwo Asamoah, who were all critical to the side's seventh place finish in 2008-09. Italian international Fabio Quagliarella left for Napoli and the Zebrette have filled the target-man void with veteran striker Bernardo Corradi. Continental football is the dream, but the reality could be another finish just outside that European zone.