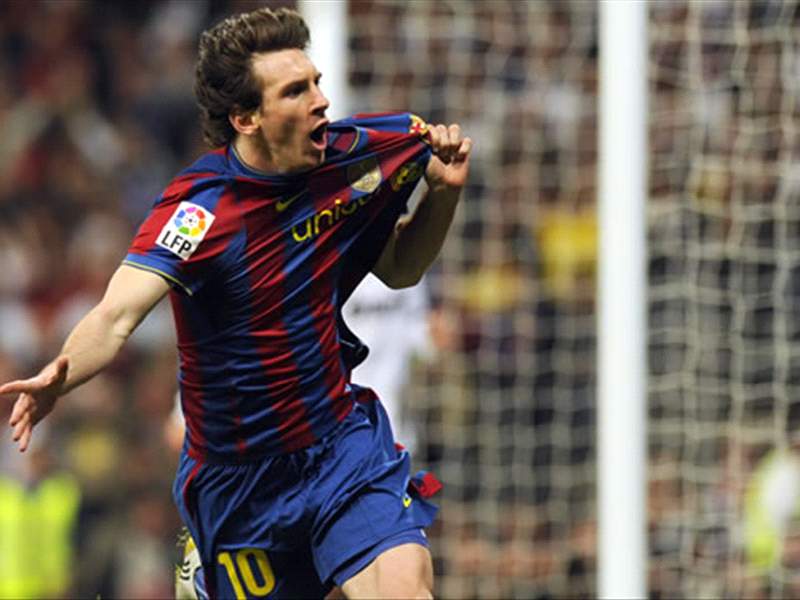 REAL MADRID
Casillas – 7: Dashed off his line to try and close down the angle on Messi, but was beaten by a clinical strike. Try to do likewise to stop Pedro, but his defenders left him exposed. Made two superb saves to deny Leo a hat-trick.
Sergio Ramos – 6: Surged forward constantly as usual but never had the confidence to take on players. Had to run tireless to backtrack to make sure the Blaurgana didn't have too much space to exploit.
Albiol – 6.5: Charged with the main task of shadowing Messi but was twisted inside out by the Argentine for the first goal. Had a few intriguing tussles with his uncompromising tackles. The best of the lot at the back for Madrid.
Garay – 5.5: Deployed to close down space rather than to mark a specific player. But went asleep when Barca and Xavi in particularly played in the decisive through balls.
Arbeloa – 5: Had a solid first half and extremely relieved he didn't have to face Messi one-on-one. But he was cruelly exposed at the back by Pedro for the second goal.
Van der Vaart – 5: Started brightly but disappeared from the game completely. Presented with the best scoring chance in the second half but could only shoot tamely at Valdes. Withdrawn after 70 minutes as he became more anonymous.
Gago – 5: Like Garay, he was used in midfield to plug the holes and to do the dirty work. A very quiet first half performance but got more involved in attack in the second.
Xabi Alonso – 6: An industrious performance at best to hold down the fort in midfield but rarely afforded a chance to leave his own half. His attacking influence was almost non-existent.
Marcelo – 7: Madrid's best attacking player in midfield. Put his pace to good use when he ran at and beat the Barca defense on several occasions. But the final pass often let him down and that is perhaps the reason why he was replaced by Guti.
Ronaldo – 7: Worked tirelessly when recovering lost possession. Never looked comfortable after picking up a slight knock midway through the first half. Had a couple of decent free kick chances as well as one-on-one's but didn't trouble Valdes enough.
Higuain – 4: Barely had a touch of the ball in the opening 30 minutes. Had his team's best chance in the first half but blazed his shot wildly over. Had another opportunity in the second but fired wide.
Substitutes:
Guti – 6: Took a while to get into the game, but started pulling the strings in midfield once he settled in. Tried his best to create openings for his side, but was often hassled off the ball.
Raul – 5: The only Madrid player to ripple the back of the net, but the whistle had already gone.
Benzema – 5: A clumsy handball from Ronaldo's lead to the cancellation of Raul's goal. Sent a free header wide in injury time.
BARCELONA
Valdes – 8: Hardly tested in the first half but pulled off at least three crucial saves after the restart to keep his side ahead.
Puyol – 7: Deployed as a right-back in the first half but spent most of his time in midfield and left the rearguard stretched. Looked more comfortable at left-back in the second half.
Milito – 7: Surprisingly never looked troubled in the heart of defense as he easily kept Higuain quiet. Read the game and had good positioning and never needed to make too many desperate tackles.
Pique – 7.5: Covered for Puyol frequently by peeling out wide to the right and did well to keep pace with Ronaldo. Had a slip up while dealing with a long ball which allowed Higuain in late in the first half, but otherwise, a flawless evening.
Maxwell – 6: Didn't attack at all in the first half. Given more freedom to roam upfield in the second when he was moved up to midfield but still didn't have much to show.
Xavi – 9: Another magisterial display in midfield. Set up Messi's goal with a delicious chip before threading in a delicate through ball to assist Pedro. Put through Leo on two other occasions but the Argentine couldn't finish.
Busquets – 7: Like all good defensive midfielders, he did his job without much fuss. Had to constantly drop deep to win back possession. Not a commanding performance, but he was there to make up the numbers.
Keita – 7: Collaborated well with Busquets and like his midfield team-mate, worked hard to frustrate and hassle the 'Men In White' off the ball. Did well to win possession and distribute it to Xavi to instigate an attack.
Dani Alves – 7: The right-back started all the way up in attack but contributed almost nothing significant other than drawing a few fouls. Moved back into defence in the second half when he was able to use his explosive pace. Still, didn't offer to much offensively but solid enough in dealing with Ronaldo.
Messi – 8: Superb movement off the ball to receive Xavi's return pass en route to scoring the opener. Had to constantly move about to create space for himself and ghosted in... Could have had yet another hat-trick.
Pedro – 7: Troubled Sergio Ramos with his pace, something that Arbeloa was not able to handle. Other than his well-taken goal, Pedro had a quiet outing.
Substitutes:
Iniesta – 5.5: Showed some great touches on the ball.
Rafa Marquez – N/A
Become a fan of Goal.com USA's Facebook fan page for all the latest news and insight into everything related to the beautiful game