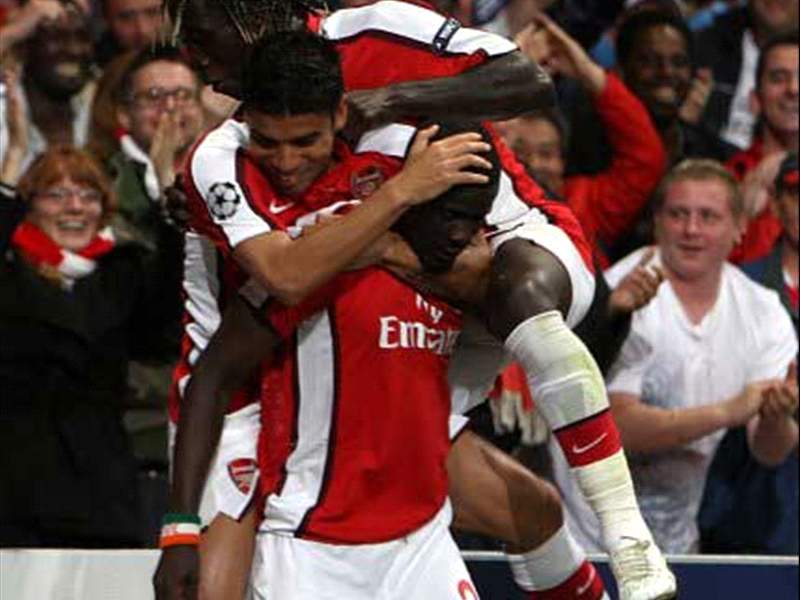 ARSENAL

Almunia – 6.0 –
In the first leg, the Spanish 'keeper had incredibly little to do, and it was much the same at the Emirates. Could not be faulted with the concession of the goal.

Sagna – 7.5 –
Made some thrilling bursts during the first period, combining consistently well with the likes of Diaby in the midfield. Crossing was generally dangerous, with Eduardo unlucky not to benefit more from the Frenchman's centers.

Gallas – 8.5 –
A virtuoso performance in the heart of the Arsenal defence. Even found time to pop up on a couple of occasions on the right wing, where he made excellent progress. Walked this game.

Vermaelen – 7.5 –
Certainly not as thrilling as his central defensive counterpart, but does the dirty work quite well. His commitment was summed up with a superb stoppage time block from a McDonald shot.

Clichy – 7.5 –
Some excellent raids down the left hand side during the first half, before presumably being restrained in the second period in order to conserve energy. Early break forward created a chance for Bendtner.

Eboue – 8.5 –
An excellent performance from the Ivorian, who capped an all-action showing with a goal. He could frequently be found terrorizing the Celtic back line, and deserves a great deal of credit for the cool manner with which he scored.

Song – 7.5 –
Largely went unnoticed throughout the game, but the midfielder's sound form continued with a performance that showed his tough tackling side.

Diaby – 7.5 –
Prominent in the first half as Arsenal made ground frequently through the French international. His presence was not so obvious during the second half, though he did play his part in Eboue's strike.

Denilson – 7.5 –
Some flicks and touches produced by the Brazilian were excellent, most notably a cheeky through ball to Vermaelen in the second half that very nearly came off. Helped setup the Gunners' third by winning possession and finding Arshavin.

Bendtner – 7.5 –
Not always hailed as an Arsenal quality player, the Danish star's backheel to trigger the second goal, which killed the tie off, was a neat touch that any of Arsenal's flair men would have been proud of.

Eduardo – 7.0 –
Best described as professional in winning the penalty kick in the first half - the east-end of Glasgow is best avoided by the Brazilian from now on - he then took the kick calmly, opening the scoring. Had a great effort saved by Boruc, but will look back at another couple of missed chances ruefully.
Substitutes

Ramsay – 6.0 –
The young Welshman came onto the field during a period when Arsenal were slightly slack, and he gifted away possession on more than one occasion. Still, at other times he looked a threat.

Wilshere – 7.0 –
Would ultimately limp off injured after a lively cameo in which he threatened to unbutton the Celtic rearguard on a handful of occasions.

Arshavin – 7.5 –
Brought on the pitch when Arsenal were flat and immediately produced a goal. What more do you want?

CELTIC

Boruc – 7.5 –
Aside from a moment of comedy when he failed to clear a corner-bound ball, the Polish goalkeeper can be very pleased with his showing. Exposed badly on the goals, he produced top drawer saves to deny Bendtner and Eduardo in the first half. Great block in the second to deny the Dane again.

Hinkle – 5.5 –
Overrun in periods, particularly in the first half, when a great deal seemed to come down his right flank. Was not aided by the defensively-shy McGeady. Produced a fine late cross to assist Donati's goal.

Caldwell – 5.0 –
The miserable start to the season for the Celtic captain continues. He would be replaced at half-time by O'Dea, having endured a torrid first half at the hands of Arsenal's mobile forwards.

Loovens – 6.0 –
Stood up pretty well to the challenges posed to him, particularly when the ball was delivered into the Celtic box in the air.

Fox – 4.5 –
Showed on a couple of occasions that he possesses a really great delivery, but the former Coventry City man could do little to stop countless Arsenal raids being conducted down his side.

McGeady – 6.5 –
When in possession, the Republic of Ireland international was Celtic's one true hope. Great effort early in the second half, but could have done with improving his industry and tracking Clichy harder. Withdrawn early to save his legs.

Brown – 5.0 –
Ever combative, Brown's lack of technique showed at times, with possession gifted away too easily. Never shy to back down from a confrontation, the Scottish international perhaps needs to restrain himself just a little in certain situations.

Donati – 5.0 –
Scored a terrific goal at the death but was strangely wasteful in possession at times. Brutally punished by Arsenal, who pounced upon his stray pass to score their third.

Maloney – 4.0 –
Replaced by Willo Flood after an hour, the left-sided midfielder would have been as well staying in the dressing room at half-time for all the influence he had. An early free kick crashed straight into the Arsenal wall rather summed up his evening.

McDonald – 6.0 –
The waspish presence in the bee-like strip, Aussie McDonald could not be faulted for his work-rate, but he was given precious little to feed off in attack. First half goal disallowed for offside.

Fortune – 5.5 –
Was expected to provide more of an outlet for Celtic. His job was to hold the ball up and bring others into play, something he never really accomplished on a regular basis.

Substitutes

O'Dea – 5.0 –
Came on for Caldwell and did not really fare any better than the substituted captain.

Naylor – 6.0 –
Generally used as a defender, the Englishman was pushed into a left-sided midfield role, where he did pretty well. One fine volley just wide and also had a headed chance.

Flood – 5.0 –
Like the rest of the midfield, Flood struggled to make an impression, though he certainly expended a great deal of energy.

Robin Bairner, Goal.com
For more news on England, visit Goal.com's England section