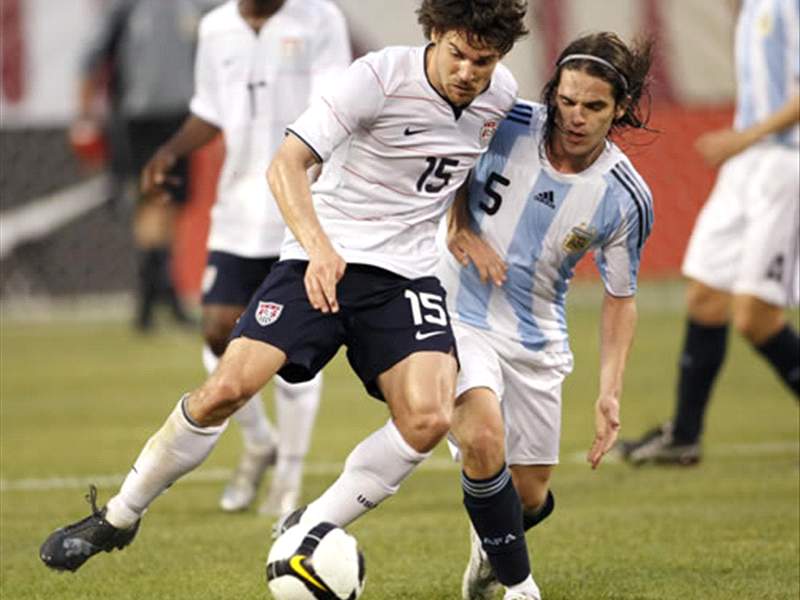 By Kyle McCarthy
A gaggle of MLS standouts attempted to stake a claim for a place in the U.S. World Cup squad over the past two months. Only three of those players earned a place in Bob Bradley's squad for today's friendly against the Netherlands.
Other MLS players will no doubt enter Bradley's thoughts for a spot in the delegation heading to South Africa – Los Angeles and Everton midfielder Landon Donovan will play in this friendly and remains integral to the American hopes this summer, while Brian Ching and Conor Casey also merit consideration up front – but only Jonathan Bornstein, Robbie Findley and Heath Pearce will have the chance to bolster their cases for World Cup inclusion on the field in Amsterdam.
While only one of the three players (Bornstein at left back) projects as a likely starter for the contest, all three squad members will hope to have an opportunity to impress in the last friendly before Bradley selects his squad for the World Cup in May.
Here's how the current landscape looks for each of the three MLS World Cup hopefuls in Amsterdam:

Jonathan Bornstein
: No player has improved his stock more than Bornstein has in the two U.S. friendlies in 2010. When placed among the domestic group featured in those two matches, the Chivas USA defender and U.S. regular stuck out as a potential contributor for Bradley's side in South Africa this summer. Bornstein adds versatility to the squad – in a desperate situation, he could slide into the central role he played in the second half of 2009 with his club and in the El Salvador friendly with his country – and represents exactly the type of fast, flexible and young option coaches crave when selecting a 23-man roster for a grueling tournament.
With a spot in the squad all but assured barring injury, the question for Bornstein now is whether he can carve out a spot in the U.S. starting XI. Bradley's projected first-choice lineup – Jonathan Spector on the right, Jay DeMerit and Oguchi Onyewu in the middle and Carlos Bocanegra on the left – doesn't include Bornstein at the moment. Strong form for club and country could see Bornstein force his way into the first-choice back four by allowing Bradley to shift Bocanegra back into the middle to cover for the injured Onyewu or press DeMerit for his starting berth.

Robbie Findley
: Findley's World Cup future changed from the moment Charlie Davies nearly lost his career in a car accident last summer. Bradley doesn't possess a multitude of speedy striking options to employ in Davies' absence and turned to Findley and FC Dallas striker Jeff Cunningham in an attempt to inject some pace up top. Neither player has particularly impressed with his performances, but it appears Findley has edged ahead of Cunningham in the pecking order after earning the starting nod against El Salvador and winning a place in this squad.
In order to book his place on the plane, Findley will need considerable help and improved form at the international level. Findley's current case for inclusion rests solely on the fact he is the most viable option with pace in a wafer-thin pool. Other options – Davies if he completes his stunning recovery and regains his fitness and form for Sochaux and Eddie Johnson if he can stand out against the Dutch and manage consistent first-team action with Aris – could emerge to knock Findley out of the running if he continues to spurn opportunities to establish himself as a fixture in the squad. A competent and dangerous performance against the Dutch could go a long way to dispelling some of those lingering doubts.
Heath Pearce
: The former Hansa Rostock left back returned to MLS at the tail end of 2009 with the World Cup in mind. Pearce featured consistently for the U.S. national team during 2008, but fell out of the starting XI as his club situation deteriorated in Germany. Pearce's form with FC Dallas encouraged Bradley to hand him a call-up for the January camp, though the 25-year-old had slipped considerably down the pecking order at left back. Steady performances as a substitute against Honduras and in a starting role against El Salvador earned Pearce a place in the squad to face the Dutch.
Although Pearce has done well to return to the fold as a potential option, he faces long odds to book a trip to South Africa. At the moment, Pearce ranks third on the depth chart at left back behind Bocanegra and Bornstein. One could even argue that Spector, who has filled in on the left for West Ham in recent weeks, would earn the start at left back before Pearce. With all of that said, Pearce provides some versatility – FC Dallas coach Schellas Hyndman deployed him at right back last season – and possesses a decent level of experience with the national team. It will take a unique confluence of events to keep Pearce in the mix – a couple of injuries on the back line or Bradley expressing a strong desire to sacrifice a midfielder to select an extra defensive option, for example – but stranger things have happened.
Kyle McCarthy writes the Monday MLS Breakdown and frequently writes opinion pieces during the week for Goal.com. He also covers the New England Revolution for the Boston Herald and MLSnet.com. Contact him with your questions or comments at kyle.mccarthy@goal.com and follow him on Twitter by clicking here.
For more on Major League Soccer, visit Goal.com's MLS page.