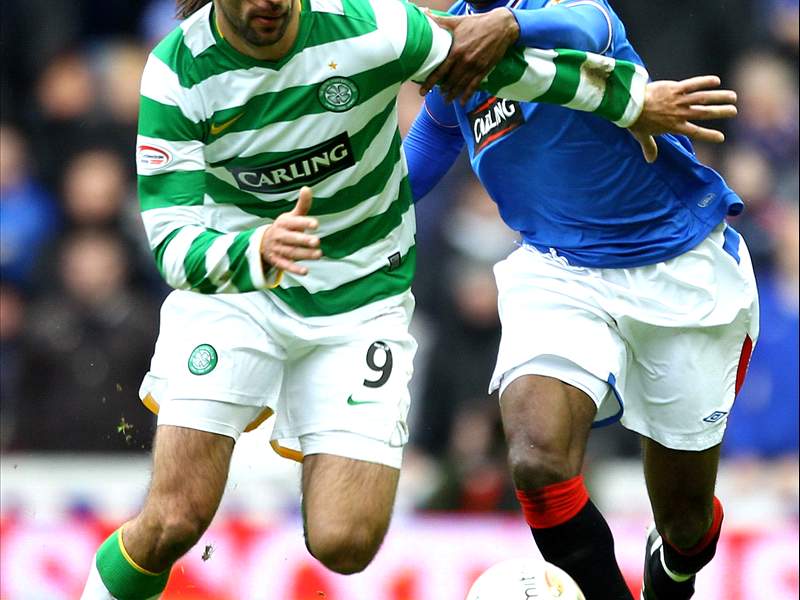 Rangers moved one step closer to sewing up the Scottish Premier League title on Sunday when they defeated Celtic 1-0 at Ibrox Stadium. An injury time corner piece created a scramble in the box and Maurice Edu was there to punch in the vital winner.
Edu came on in the 26th minute after Lee McCulloch limped off the pitch and made an immediate impact, striking the ball into the net moments after strolling on. However, the goal was ruled no good due to an infringement inside the area. In the 82nd minute, Edu nearly put one in but his effort flew just over the bar. Finally, during injury time, the California native earned his stripes by smashing in his first goal of the year against Rangers biggest rival.
Rangers are now 10 points clear of second place Celtic and barring a collapse, look likely to repeat as SPL champions. Edu has only played in a handful of games this season after returning from injury but has certainly looked sharp recently. He definitely earned more playing time after Sunday's virtuoso performance.

Premiership:

Tim Howard and Landon Donovan, Everton
Vs. Sporting Lisbon, 3-0, (Howard: 90 minutes, 3 goals conceded, 6 saves. Donovan: 73 minutes)
Vs. Tottenham, 2-1, (Howard: 90 minutes, 2 goals conceded, 6 saves. Donovan: 90 minutes)

Everton dropped a devastating match in Portugal Thursday, giving up three second half goals to Sporting Lisbon, dropping out of the Europa League. Howard was very sharp for most of the match, making some fine saves including a tough stop off the foot of Marat Izmailov. The Toffees were blitzed by goals late and found themselves down 4-2 on aggregate after the full-time whistle. Donovan was relatively quiet and was removed after 73 minutes. On Sunday, Everton once again saw a loss, this time at White Hart Lane. Spurs got ahead of Everton 2-0 early on and the Toffees could only halve the lead before losing 2-1. Howard was beaten early after Sylvain Distin failed to hold off an aggressive Jermain Defoe, allowing the striker to find his partner Roman Pavlyuchenko for the opener 11 minutes in. Luka Modric then doubled the lead with a skillful finish in the 28th minute. The Toffees should have at least earned a draw but Donovan missed a golden opportunity late.
Up Next: Sunday, home for Hull City.
Brad Friedel and Brad Guzan, Aston Villa

Vs. Crystal Palace, 3-1, (Guzan: 90 minutes, 3 saves, 1 goal conceded)
Vs. Manchester United, 1-2, (Friedel: 90 minutes, 8 saves, 2 goals conceded)
Aston Villa progressed into the quarterfinals of the FA Cup for the first time in ten years when they defeated Crystal Palace 3-1 on Wednesday. Guzan only allowed a penalty goal as he continues his strong cup play for the Villains. John Carew won and converted two late penalty kicks for Villa to help them progress. One cup conquest was offset with a cup heartbreak as the club fell to Manchester United on Sunday in the Carling Cup final. James Milner put the Villains in from early but Michael Owen put one past Friedel minutes later to level the score. Wayne Rooney came on as a substitute and headed in the winning goal just 16 minutes from time. Friedel was brilliant at times, stopping eight shots and keeping the underdogs in it. However, in the end United retained their Carling Cup title.
Up Next: Saturday, home for Sunderland.
Clint Dempsey, Fulham
Vs. Shahktar Donetsk, 1-1, (DNP)
Vs. Sunderland, 0-0, (DNP)
Dempsey declared that he'd be
back from his injury by mid-March
, giving him plenty of time to help Fulham contend for a European place. The crafty Texan should also be in good form leading up to the World Cup this summer. Fulham progressed in the Europa League after drawing with Shahktar Donetsk on Thursday. Brede Hangeland struck in the first half to give Fulham a 3-1 aggregate advantage and while the hosts tallied in the second half, the London club hung on and advances to the final 16.
Up Next: Saturday, home for Stoke City.

Jonathan Spector, West Ham
Vs. Manchester United, 3-0, (90 minutes)
The Hammers were simply outclassed on Tuesday, losing 3-0 at Old Tafford. Wayne Rooney notched a double while Michael Owen added a third to bury West Ham. Spector wasn't too sharp as he was part of a sloppy defense torn apart by United.
Up Next: Saturday, home for Bolton.
Marcus Hahnemann, Wolverhampton
Vs. Bolton, 1-0, (90 minutes, 6 saves, 1 goal conceded)
Hahnemann had a solid Saturday, halting Bolton on several occasions but he could not stop Zat Knight's 45th minute winner.
Up Next: Saturday, home for Manchester United.
Jozy Altidore, Hull City
With no league fixtures scheduled last week, Hull played a friendly against Galway United on Friday night, winning 1-0. Altidore played 76 minutes.
Up Next: Sunday, 3/7 away to Everton.
Stuart Holden, Bolton Wanderers
Vs. Tottenham, 4-0, (90 minutes)
Vs. Wolverhampton, 1-0, (90 minutes)
On Wednesday, Holden made his first English appearance, however it was not a pleasant one, as Wanderers were routed 4-0 at the hands of Spurs, crashing out of the FA Cup. Holden played okay but was much better on Saturday against Wolves. Zat Knight grabbed the winner for Bolton but Holden was very active and quietly clever with his play, threading threatening balls and creating overall havoc on the offensive end.
Up Next: Saturday, away to West Ham.

Championship Round-Up:

Jay DeMerit, Watford
Watford fell 1-2 at home against Newcastle on Saturday as DeMerit was not in his best form. The defender was responsible for the second goal when he failed to hold off Andrew Carroll, allowing Newcastle to double their lead.
Up Next: Saturday, home for Newcastle.
Frank Simek, Sheffield Wednesday
Simek was relegated to the bench on Saturday but the defensive change did not help the Owls as Reading destroyed Wednesday 5-0.
Up Next: Saturday, home to Leicester City.

Kenny Cooper, Plymouth

Cooper did not get on Saturday as Sheffield United defeated Plymouth in a wild affair, edging the visitors 4-3.
Up Next: Saturday, home for Preston North End.

League One:

Jemal Johnson, Stockport County
Johnson played 90 minutes on Tuesday but Stockport got obliterated 4-1 by Swindon Town. On Saturday, Johnson scored the third goal for Stockport as they defeated Wycombe 4-3. The goal was an impressive one as he launched a whirling left-footed rocket into the net.
Up Next: Tuesday, away to Bristol Rovers, and Saturday, away to Charlton Athletic.
Mike Grella, Leeds United
Leeds got two goals from Luciano Becchio as they defeated Oldham Athletic 2-0. Grella came on for the final seven minutes. The striker did not play on Saturday when Leeds drew 2-2 with Huddersfield Town.
Up Next: Saturday, home for Brentford.

Jon-Paul Pittman, Wycombe Wanderers
Pittman played the full 90 minutes on Tuesday as Wycombe ground out a 0-0 stalemate with Southampton. On Saturday, Wanderers fell 4-3 at Stockport with Pittman once again going the full 90. His wicked cross was deflected in by a County player but that wasn't enough to stop the eventual loss.
Up Next: Saturday, home for Carlisle United.

Zak Whitbread, Norwich City
Whitbread, still hobbled by a calf injury, did not suit up last week. Oli Johnson scored three times last week as Norwich City defeated Southend United 2-1 and Oldham Athletic 0-1.
Up Next: Saturday, home for Yeovil Town.

Meanwhile Up In Scotland…

DaMarcus Beasley and Maurice Edu, Rangers
See above. Beasley did not get on during the contest.
Up Next: Saturday, home for St. Mirren.
Extra Time:
**Neither
Devann Yao
of Ipswich Town nor
Ian Joyce
of Southend United suited up for their respective clubs last week.
Matthew Braine writes the Americans in the UK piece every Monday. Contact him with your questions or comments at matthew.braine@hotmail.com or follow him on Twitter @MatthewBraine


For more on Americans abroad, visit Goal.com's dedicated page