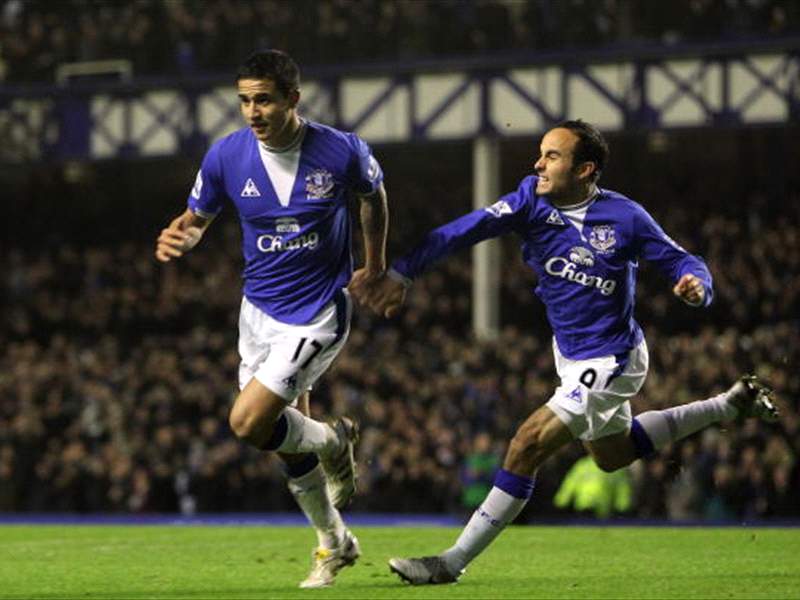 The Toffees have dropped just one of their last 11 Premiership fixtures as their climb up the league table continues.
Everton earned a vital 2-1 victory over Chelsea on Wednesday courtesy of Louis Saha's double and Landon Donovan's tenacious attacking play.
Florent Malouda opened the scoring for the visitors in the 17th minute when he drilled a low shot past Tim Howard, but the American was steady for the remainder of the match, saving the other two on-target attempts from Chelsea.
The score was knotted in the 33rd when Donovan's cross was met by Saha's head. The speedy American winger then drew a foul in the box, earning a penalty for Everton. Saha missed the ensuing try. Finally, in the 75th, Saha unleashed a brilliant solo effort to earn three points for the hosts. Howard also stopped a late attempt from Frank Lampard to ensure the win.
The Liverpool outfit now sits just eight points out of the sixth spot with 13 matches remaining. They have finished inside the top six for the last three years, so history is certainly on their side to make a late European position push.

Premiership:

Tim Howard and Landon Donovan, Everton

Vs. Chelsea, 2-1, (Howard: 90 minutes, 2 saves, 1 goal conceded. Donovan: 90 minutes, 1 assist.)
See above.

Up Next: Tuesday, home for Sporting Lisbon (Europa League), and Saturday, home for Manchester United.

Brad Friedel, Aston Villa

Vs. Manchester United, 1-1, (90 minutes, 3 saves, 1 goal conceded)
Vs. Crystal Palace, 2-2, (90 minutes, 3 saves, 2 goals conceded)
Villa played well on Wednesday and earned a valuable draw against Manchester United. Carlos Cuellar opened the scoring for the Villains but Ryan Giggs disrupted the party minutes later when his cross was deflected in by Villa's James Collins. Despite Nani's dismissal for a red card in the 29th minute, the Villains could not take advantage and ultimately settled for the draw. On Sunday, Friedel was undone a bit by Crystal Palace as the Championship squad pressed hard against the Villain defense. Despite having a 2-1 lead with less than five minutes to play, the hosts could not hold on, allowing Stiliyan Petrov to equalize for Villa. The FA Cup affair will now move to a replay at Villa Park.
Up Next: Sunday, home for Burnley.
Clint Dempsey, Fulham

Vs. Burnley, 3-0, (DNP)
Vs. Notts County, 4-0, (DNP)
Dempsey, still down with a knee injury, did not play last week. Fulham grabbed a win over Burnley in league play and easily blasted pasty Notts County 4-0 in the FA Cup.

Up Next: Thursday, home for Shakhtar Donetsk (Europa League), and Sunday, home for Birmingham.
Jonathan Spector, West Ham
Vs. Birmingham, 2-0, (45 minutes)
Spector came on for the second half and helped the Hammers lock down a 2-0 win. Carlton Cole followed up Alessandro Diamanti's first half strike with one of his own as West Ham moved up to 14th place in the table.

Up Next: Saturday, home for Hull City.
Marcus Hahnemann, Wolverhampton

Vs. Tottenham, 1-0, (90 minutes, 3 saves, 0 goals conceded)
Hahnemann was quite good on Wednesday when Wolves blanked Spurs 1-0 at Molineux Stadium. The keeper earned his fourth clean sheet of the season as the club moved up to 15th position in the table.
Up Next: Saturday, home for Chelsea.

Jozy Altidore, Hull City

Vs. Blackburn, 1-0, (90 minutes)
Altidore started on Wednesday but was relatively quiet in his 90 minutes. Blackburn took the victory thanks to an own goal from Hull's Boaz Myhill. Over the weekend the striker hinted that he'd like to remain in England after his loan expires at season's end. Hull has a $10.1 million buying option on Altidore but the chances of him remaining with the club likely rests upon their Premiership survival.
Up Next: Saturday, away to West Ham.
Stuart Holden, Bolton Wanderers

Vs. Manchester City, 2-0, (DNP)
Vs. Tottenham, 1-1, (DNP)
On Tuesday, Manchester City defeated Bolton 2-0 but Holden was not dressed for the affair. Holden was on the substitutes list on Sunday against Spurs but did not get on, as the clubs battled to a draw in their FA Cup tie. A replay will decide who progresses.

Up Next: Wednesday, away to Wigan Athletic.

Championship Round-Up:

Jay DeMerit, Watford
On Tuesday, Watford played extremely well to earn a 2-0 win over Bristol City. DeMerit helped in the effort toward the second goal. He earned a free kick after an aggressive attack and the ensuing set piece led to Watford's second goal of the match.
Up Next: Tuesday, away to QPR, and Saturday, away to Scunthorpe.
Frank Simek, Sheffield Wednesday
Simek started for the second game running and this time the Owls got the 2-0 victory after a solid performance.
Up Next: Tuesday, home for Doncaster Rovers, and Saturday, home for Ipswich Town.

Kenny Cooper, Plymouth

Kenny Cooper came on at the start of the second half on Tuesday and helped create the only goal of the match for Plymouth. His strong shot was stopped but not controlled and teammate Carl Fletcher was there to put it in. Unfortunately, Reading conceded a late penalty strike to Shane Long in the 90th minute to sink Plymouth 2-1. On Saturday, Plymouth got a valuable 1-3 win over Barnsley, but Cooper did not get off the bench.
Up Next: Tuesday, home for Swansea City, and Saturday, home for Leicester City.
Devann Yao, Ipswich Town
Yao played a Reserves fixture on Wednesday, helping Ipswich defeat Norwich 1-0. In league play, Ipswich defeated QPR 1-2.

Up Next: Tuesday, away to Peterborough, and Saturday, away to Sheffield Wednesday.

League One:

Jemal Johnson, Stockport County
On Tuesday, Johnson played the first 75 minutes but Stockport could only muster a 2-2 draw against Colchester United.
Up Next: Saturday, away to Exeter City.
Mike Grella, Leeds United
Grella came on in the 79th minute on Tuesday and scored a crucial late goal in the 86th minute to send the game against Carlisle into penalties. A Johnstone's Paint Trophy Final appearance was on the line, and although Grella converted his penalty, Leeds fell 6-5 in the shootout. Grella came on for the final 15 minutes on Saturday and helped create a goal-mouth scramble which led to an own goal from Leyton Orient. The match ended in a 1-1 draw. Despite his limited playing time this season, Grella has still managed five goals in all competitions.
Up Next: Tuesday, home for Walsall, and Saturday, home for Brighton.
Jon-Paul Pittman, Wycombe Wanderers
Pittman came on for the final nine minutes on Saturday as Wycombe drew 1-1 with Brentford.
Up Next: Saturday, home for Millwall.
Zak Whitbread, Norwich City
Whitbread was nursing a tricky calf injury and was not included in the side that defeated Brighton 1-2 on Saturday.
Up Next: Saturday, home for Southampton.

Meanwhile Up In Scotland…

DaMarcus Beasley and Maurice Edu, Rangers
Rangers drew 1-1 with Motherwell on Wednesday and overcame a funky first half on Sunday to defeat Hibernian 3-0. Beasley returned to the squad on Sunday, playing the first game since December and made a few nice runs before being replaced early in the second half. It may take a few games before Beasley gets back into form but he looked solid early on. Edu was also on the bench for the contest and he could see some action now that he's fit.
Up Next: Wednesday, home for Hibernian (Scottish Cup), and Saturday, away to St. Johnstone.
Extra Time:
* Everton midfielder Anton Peterlin played the full 90 minutes in a Reserves fixture on Monday, helping the squad defeat Bootle 4-2.
*St. Pats FC striker Ryan Guy notched a goal as the squad defeated Longford Town in a pre-season friendly. The League of Ireland Premiere Division season gets underway in less than a month.
Matthew Braine writes the Americans in the UK piece every Monday. Contact him with your questions or comments at matthew.braine@hotmail.com or follow him on Twitter @MatthewBraine


For more on Americans abroad, visit Goal.com's dedicated page