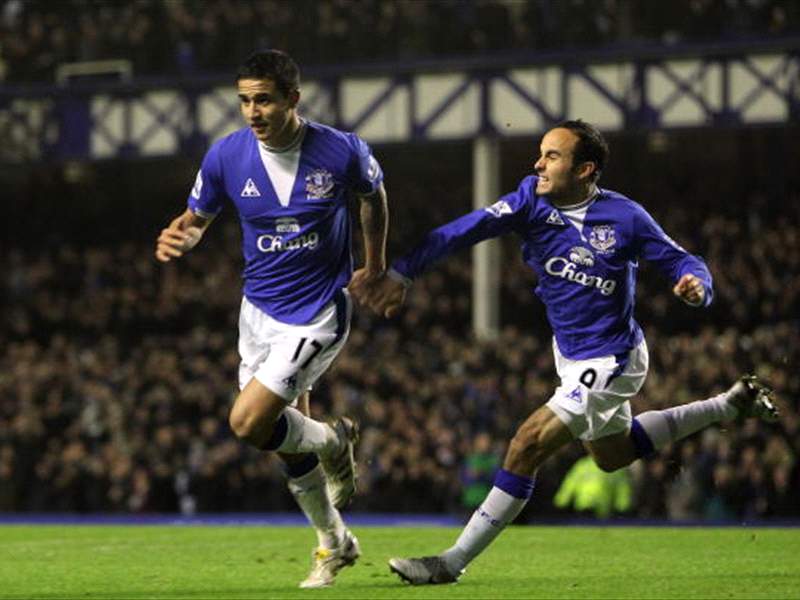 By Matthew Braine
Tim Howard picked up two clean sheets last week, blanking both Sunderland and Wigan Athletic. Tim Cahill notched the opening goal on Wednesday and Donovan added the second in the 19th minute to put away the Black Cats. The on-loan Galaxy star opened his English scoring account when Cahill headed on a ball for the American who controlled nicely with his chest, took on his defender, and fired a strong left-footed shot past the keeper. For Howard, the stopper kept out a late attempt from Boudewijn Zenden and preserved the clean sheet.
On Saturday, Cahill grabbed a late winner for Everton against Wigan. Howard stopped a tough Hugo Rodallega effort to keep things equal as the Toffees held on. The clean sheet brought Howard's total to ten on the season in all competitions.
Everton have hit a nice run of play recently, winning their last three league fixtures while managing to stay undefeated within league play since early December. The Toffees last felt defeat in the Premiership on November 29 against Liverpool, the team they'll face on Saturday. Donovan will get his first taste of the Merseyside derby, a rivalry that Howard is very familiar with.

Premiership:

Tim Howard and Landon Donovan, Everton.

Vs. Sunderland, 2-0, (Howard: 90 minutes, 3 saves, 0 goals conceded, Donovan: 76 minutes, 1 goal)
Vs. Wigan, 0-1, (Howard: 90 minutes, 2 saves, 0 goals conceded, Donovan: 75 minutes)

(See above.)
Up Next: Saturday, away to Liverpool.
Brad Friedel and Brad Guzan, Aston Villa

Vs. Arsenal, 0-0, (90 minutes, 3 saves, 0 goals conceded) (Guzan DNP)
Vs. Fulham, 0-2, (90 minutes, 4 saves, 0 goals conceded)(Guzan DNP)

Friedel played well on Wednesday, holding the Gunners to a tough 0-0 draw. The burly American made nice stops on shots from Denilson and Andrei Arshavin en route to a clean sheet. It was more of the same on Saturday as Friedel shut down Fulham for his tenth clean sheet in the Premiership. Gabriel Agbonlahor notched two strikes just before halftime to settle the score.
Up Next: Saturday, away to Tottenham.
Clint Dempsey, Fulham

Vs. Tottenham, 2-0, (DNP)
Vs. Aston Villa, 0-2, (DNP)
Dempsey, still down with a knee injury, did not play last week. Fulham dropped both games 2-0.
Up Next: Wednesday, home for Portsmouth, and Saturday, away to Bolton.
Jonathan Spector, West Ham

Vs. Portsmouth, 1-1, (90 minutes)
Vs. Blackburn, 0-0, (90 minutes)
Spector started both games last week. On Tuesday, West Ham had to settle for a draw against Pompey as Danny Weber equalized in the 76th minute to snatch two points away from the Hammers. On Saturday, the Hammers got a solid 0-0 draw against Blackburn. With the London club in a potential relegation race, they'll need all the points they can get, however, they sit just one point out of the 18th spot.
Up Next: Tuesday, home for Wolverhampton, and Saturday, away to Burnley.
Marcus Hahnemann, Wolverhampton

Vs. Liverpool, 0-0, (90 minutes, 1 saves, 0 goals conceded)
Vs. Hull City, 2-2, (90 minutes, 3 saves, 2 goals conceded)
Hahnemann held Liverpool goalless last week as the Reds simply could not find the target, unleashing just one shot on goal which was stopped by the American. The match was important for both sides and Wolves certainly got the better end as they strive for Premiership survival. On Saturday, the visitors struggled at Hull, falling behind 2-1 before grabbing a vital equalizer in the 67th minute through Matthew Jarvis. Hahnemann was undone by fellow American Jozy Altidore twice. First, Altidore delivered an assist on the opening goal and later, the striker earned a penalty kick for his team.
Up Next: Tuesday, away to Crystal Palace (FA CUP), and Sunday, away to Birmingham.

Jozy Altidore, Hull City
Vs. Wolverhampton, 2-2, (68 minutes, 1 assist)
Altidore, returning from compassionate leave due to the Haiti disaster, got a surprise start and played one of his best games of the season. First, Altidore fed a nice ball to striking partner Jan Vennegoor for the opening goal. After Wolves equalized, Altidore drew a penalty when he was brought down by Ronald Zubar, allowing Stephen Hunt to put one in.
Up Next: Tuesday, home for Chelsea, and Saturday, home for Manchester City.
Stuart Holden, Bolton Wanderers
U.S. international Stuart Holden has joined Bolton for the remainder of the season. The former Houston Dynamo star previously signed with Sunderland five years ago but an eye injury prevented him ever playing in England. The 24-year-old has scored two goals for the United States senior squad. Holden could get some solid time for Bolton but it's going to be tough to break into the squad at first.
Up Next: Saturday, home for Fulham.

Championship Round-Up:

Jay DeMerit, Watford
Watford's match against Swansea was postponed due to a frozen pitch.
Up Next: Tuesday, home for Sheffield United, and Saturday, away to Barnsley.
Frank Simek, Sheffield Wednesday
Simek came on for the final 24 minutes on Saturday as the Owls defeated Plymouth 2-1. He did not get on during the 2-0 at Scunthorpe on Wednesday.
Up Next: Saturday, away to Nottingham Forest.
Kenny Cooper, Plymouth
1860 Munich forward Kenny Cooper has been loaned to Plymouth for the rest of the season. Plymouth is buried in a relegation rut so Cooper could see some solid minutes going forward.
Up Next: Saturday, home for West Brom.

League One:

Jemal Johnson, Stockport County
Jemal Johnson played 79 minutes on Tuesday as Stockport drew 1-1 with Brighton. On Saturday, Johnson logged 90 minutes but the visitors couldn't get anything going, falling 2-0 at Southampton.
Up Next: Tuesday, home for Oldham Athletic, and Saturday, home for MK Dons.
Mike Grella, Leeds United
Swindon Town destroyed Leeds 3-0 on Tuesday, while Colchester United grabbed the brunt of their anger on Saturday as Leeds won 2-0. Grella did not feature in either contest.
Up Next: Wednesday, home for Tottenham (FA Cup), and Saturday, away to Hartlepool United.
Jon-Paul Pittman, Wycombe Wanderers
Pittman came on for the final nine minutes as Wycombe fought back to defeat Bristol Rovers 2-3.
Up Next: Saturday, home for Yeovil Town.

Meanwhile Up In Scotland…

DaMarcus Beasley and Maurice Edu, Rangers
Beasley, still out with a thigh strain, did not play last week while Edu was absent as well. Rangers defeated both St. Mirren and Falkirk rather convincingly.
Up Next: Wednesday, home for St. Johnstone (CIS Insurance Cup), and Saturday, away to St. Mirren (Scottish Cup). Matthew Braine writes the Americans in the UK piece every Monday. Contact him with your questions or comments at matthew.braine@hotmail.com or follow him on Twitter @MatthewBraine
For more on Americans abroad, visit Goal.com's dedicated page