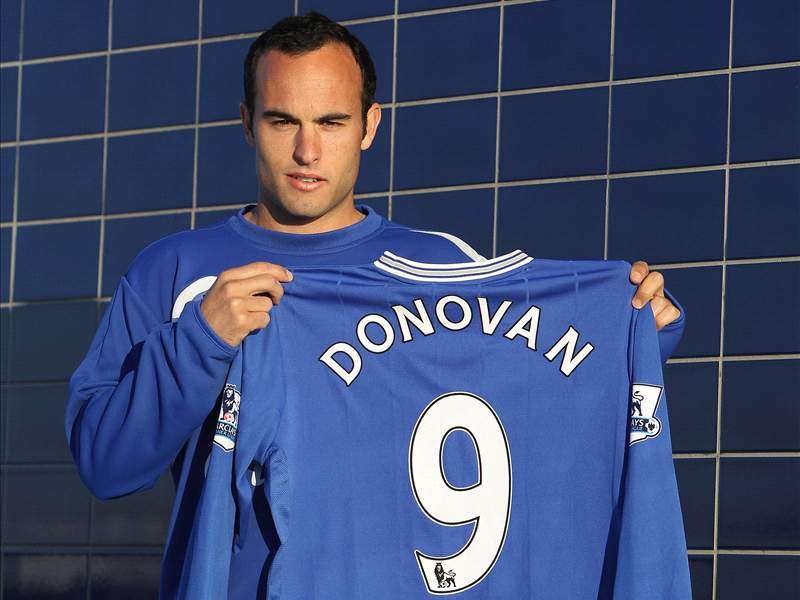 By Matthew Braine
Just two of the nine English Premier League fixtures were played over the weekend as heavy snow and cold weather made most pitches unplayable. In the Championship, only four matches were played while League One got just two off the ground. League Two was completely wiped out.
Given the horrid conditions, only a handful of Americans suited up. Fortunately, one of those Americans was new Everton forward Landon Donovan. The crafty Californian not only started the match in near freezing temperatures but looked very comfortable on English soil. The former Galaxy member made an impact just 12 minutes into the match, threading a nice corner into the box which Leon Osman deposited into the net. After nearly 70 minutes, Donovan, who hadn't played in 11 weeks, cramped up and had to be replaced. Although the Toffees settled for a draw, the experiment can only be deemed a success thus far.

Premiership:

Tim Howard, Everton.
vs. Arsenal, 2-2, (90 minutes, 0 saves, 2 goals conceded)
Howard was beaten twice on Saturday as Everton squandered a late 2-1 lead against the Gunners. The first goal against Howard came when Denilson struck from just outside the 18-yard box. The shot took a slight deflection and skidded past Howard to tie the score at 1-1. Steven Pienaar chipped in a goal with just nine minutes left to give the Toffees the lead, but Tomas Rosicky slammed in a close range shot which took a slight deflection off defender Lucas Neill in injury time. Although the Toffees were undone late, a draw against a top four club is usually a good result.
Up Next: Saturday, home against Manchester City.
Landon Donovan, Everton
Vs. Arsenal, 2-2, (69 minutes, 1 assist)
(See above)
Up Next: Saturday, home against Manchester City.
Anton Peterlin and Cody Arnoux, Everton.
The Reserves fixture against Hull was postponed.
Brad Friedel and Brad Guzan, Aston Villa
Aston Villa had both of their matches postponed last week. They'll play their Carling Cup tie this week, while the match against Wigan will be rescheduled.
Up Next: Thursday, away to Blackburn (Carling Cup), and Saturday, home for West Ham.
Clint Dempsey, Fulham
vs. Stoke, 3-2, (36 minutes, 1 goal, 1 assist)
The Cottagers got off to a tough start on Tuesday, going down 3-0 in the first half at Stoke. However, Dempsey provided some magic to make a game of it in the second half. Coming on in the 54th minute, the rousing American was obviously pumped as his play was vibrant. First, in the 61st minute, the winger set up Damien Duff for a 15-yard effort. Then, in the 85th minute, a seemingly simple play turned into a wonder strike as Dempsey uncorked a goal from 35 yards out to give Fulham hope. It was shades of Benny Feilhaber in the Gold Cup a few years back as the ball was hit very hard and looped just over the 'keeper's head. Unfortunately for Fulham, they could not grab an equalizer and fell 3-2. Saturday's fixture with Portsmouth was called off due to the aforementioned weather conditions.
Up Next: Sunday, away to Blackburn.
Jonathan Spector, West Ham
Match against Wolves postponed.
Up Next: Sunday, away to Aston Villa.

Marcus Hahnemann, Wolverhampton
Match against West Ham postponed.

Up Next: Saturday, home against Wigan.
Jozy Altidore, Hull City
Match against Chelsea postponed.
Up Next: Saturday, away to Tottenham.

Championship Round-Up:

Jay DeMerit, Watford
Match against Sheffield United postponed.
Up Next: Saturday, away to Doncaster Rovers.
Frank Simek, Sheffield Wednesday
Match against Peterborough United postponed.
Up Next: Saturday, away to Barnsley.

League One:

Jemal Johnson, Milton Keynes Dons
Match against Swindon Town postponed
Up Next: Saturday, away to Hartlepool United.

Mike Grella, Leeds United
Grella came on for the final six minutes but could not grab a winner as Leeds drew with lowly Wycombe 1-1. Leeds hadn't drawn since December 12, going 3-0 in league play since then. They are likely headed for a top two finish in League One, but Wycombe has played them well both times this year, as Leeds won the first meeting by a single goal.
Up Next: Saturday, away to Exeter City.

Jon-Paul Pittman, Wycombe Wanderers

Jonathan Howson gave Leeds a 1-0 lead in the fourth minute but Wycombe were the more aggressive side, hitting the woodwork a few times before finally grabbing the equalizer in the 63rd minute. Pittman, who nearly scored earlier in the match but was robbed by the post, cut in from the left side and powered one in past 'keeper Casper Ankergren. He was guarded tightly and actually hit a very tough shot to notch his eighth goal of the season.

Up Next: Saturday, home for Charlton Athletic.


Ian Joyce, Southend United
Match against Walsall postponed.
Up Next: Saturday, away to Huddersfield Town.

League Two:

Eric Lichaj, Lincoln City
Match against Accrington Stanley postponed.
Up Next: Tuesday, away to Burton Albion, and Saturday, away to Barnet.
Seb Harris, Northampton Town
Match against Chesterfield postponed.
Up Next: Saturday, away to Macclesfield Town.

Meanwhile Up In Scotland…

DaMarcus Beasley and Maurice Edu, Rangers
Beasley, still out with an injury, was held out of action last week, but Edu was dressed and on the bench for Sunday's Scottish Cup fixture with Hamilton Academical. Rangers coughed up an early two goal lead as the hosts scored three straight to take command early into the second half but Kenny Miller drilled a penalty shot in the 63rd minute to earn a replay.
Up Next: Saturday, away to Hamilton Academical. Matthew Braine writes the Americans in the UK piece every Monday. Contact him with your questions or comments at matthew.braine@hotmail.com or follow him on Twitter @MatthewBraine
For more on Americans abroad, visit Goal.com's dedicated page