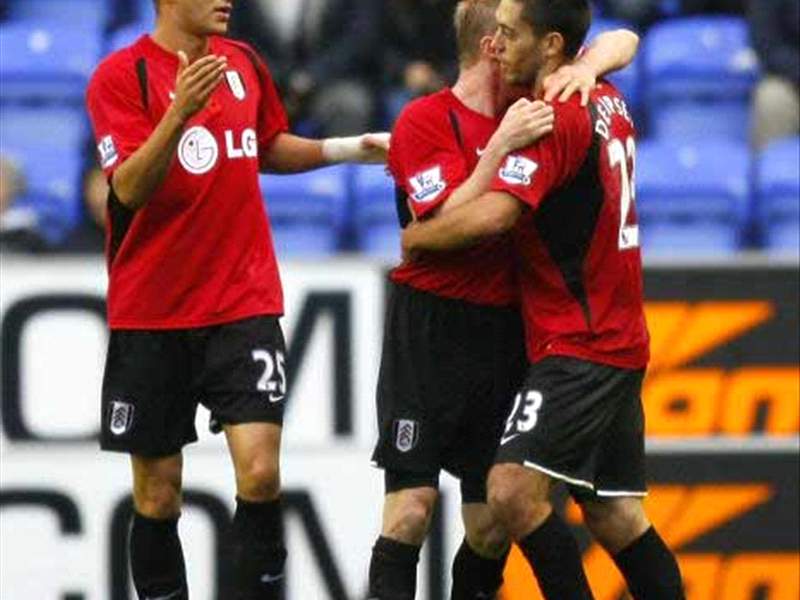 By Matthew Braine
Clint Dempsey scored his third goal in as many league games on Sunday, putting one in from the penalty spot to earn Fulham a draw on the road. The Texas native has been on a tear as of late and looks to be on pace to surpass his goal total from last season.
Two other Americans scored over the weekend, as Mike Grella and John-Paul Pittman tallied for Leeds and Wycombe respectively. Grella's goal came in an FA Cup win over Oldham Athletic, while Pittman's came in a thrilling 4-4 FA Cup draw with Brighton.

Premiership:

Tim Howard, Everton

Vs. Benfica, 0-2, (90 minutes, 9 saves, 2 goals conceded)
Vs. West Ham, 1-2, (90 minutes, 4 saves, 1 goal conceded)
Everton got thoroughly outclassed on Thursday, losing to Benfica at home. Howard made some great saves but, ultimately, the Toffees just got beat. Their hopes of progressing in the Europa League just got a bit bleaker, although they still remain in the top two of their group. On Sunday, Everton got their first league win in five matches as they defeated West Ham. Howard played well and only allowed an own goal from Tony Hibbert past him. Louis Saha and Dan Gosling assured the win, and Howard made a great stop late when Alessandro Diamanti unleashed a strong free kick.
Up Next: Saturday, 11/21 away to Manchester United.
Anton Peterlin and Cody Arnoux, Everton.
Vs. Liverpool, 0-1, (Peterlin, 56 minutes, Arnoux, 23 minutes)
Both American reserves played on Tuesday as they barely lost to the Reds Reserves. Nathan Eccleston netted a penalty strike just before halftime.
Up Next: Tuesday, away to Wigan Athletic.
Brad Friedel, Aston Villa

Vs. West Ham, 2-1, (90 minutes, 5 saves, 2 goals conceded)
Vs. Bolton, 5-1, (90 minutes, 5 saves, 1 goal conceded)
On Wednesday, the Villains were shocked at Upton Park as the Hammers grabbed a late winner to steal three points. Zavon Hines nipped one past Friedel in the waning moments, sending the home crowd into frenzy. Friedel wasn't bad on the day, however. Mark Noble got a spot kick past him after Hines was brought down inside the box. Ashley Young missed penalty kick but equalized for the visitors three minutes later before Hines did damage late. Villa thoroughly dominated Bolton on Saturday, cruising to a 5-1 victory. Friedel allowed one goal to Johan Elmander but otherwise played a solid match. Villa's attack was in full force on the afternoon and, thus, they dominated possession and shots on goal.
Up Next: Saturday, 11/21 away to Burnley.

Brad Guzan, Aston Villa
Guzan backed up Friedel in both of last week's contests.
Clint Dempsey, Fulham
Vs. Roma, 2-1, (90 minutes)
Vs. Wigan Athletic, 1-1, (90 minutes, 1 goal)