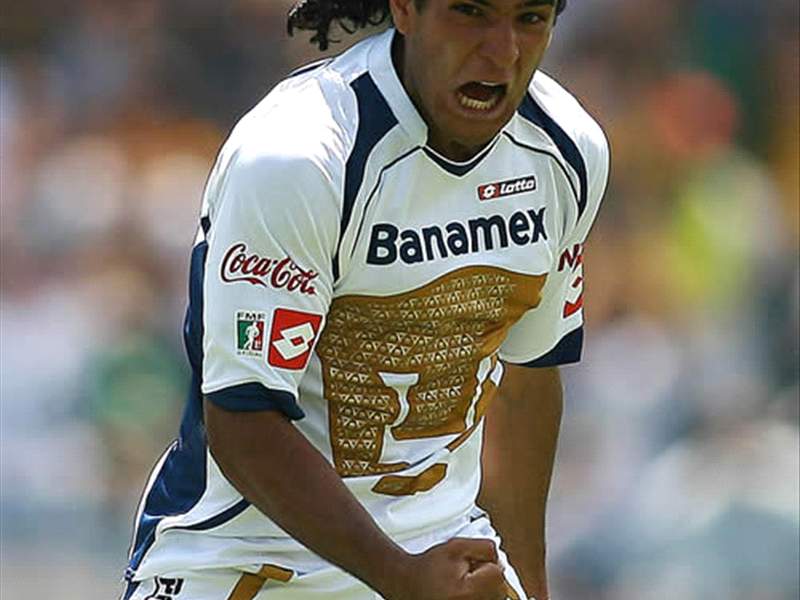 Clausura 2009 record: 8 (1 Liguilla)-5 (1) -4, 28 points. Goals scored 23 (3 Liguilla). Goals allowed: 17 (2 Liguilla). Leading scorer: Martin Bravo, 6 goals. Primera Division titles: 5. Last League title: Apertura 2004. Last playoff appearance: Apertura 2008. Went out in the quarter finals to Cruz Azul.
Regular Season Recap:
Pumas came out on top of the "Group of Death." The defense was the best in the league and only let in 17 goals. However, only 10 goals were allowed by Sergio Bernal, while the other bulk came in 3 games for Odino Patiño. Pumas' offense wasn't as spectacular and they shared the small amount of 23 goals amongst themselves. The team had its ups and downs, winning a game then losing one, but towards the end of the season they found their rhythm of winning.
Quarterfinals
: Pumas had a thrilling time in the quarterfinals losing the first game to Tecos 2-0. A comeback seemed difficult, but two goals would have been enough to see Pumas through because of their higher position on the table. In the second leg Pumas did not score until the second half. In the first minute of the complimentary half Dante Lopez gave a glimmer of hope to Pumas. All looked lost until the 85th minute when Palencia blasted a shot from far out, putting the team through. Finally, to further seal the deal David Toledo added a third to secure Pumas' place in the semifinals.
Semifinal Outlook:
Pumas had the best defense all season, but that didn't show in the first game against Tecos. For the semifinal against Puebla they will have to tighten their defense as Puebla showed that they could put 5 goals past Monterrey. If they tighten up defensively, that would get them a large part through. Pumas showed that they could get their goals (although a little late), and they could repeat that feat. The felines could extend their run and appear in the finals with their superior skills over Puebla's heart.
Andrea Martinez, Goal.com

For more coverage of Mexican football, visit Goal.com's Mexican Football section.