Balotelli's 10 most iconic moments at Inter
Dons a Milan shirt on TV show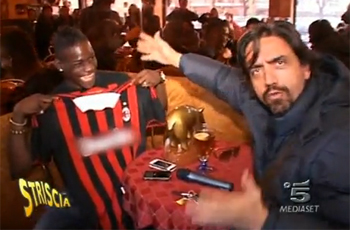 Many of Italian TV's current affairs shows are an acquired taste, but one that always seems to get people watching is 'Striscia La Notizia'. In early 2010, the Canale 5 show had everybody talking when one of its correspondents handed Inter star Balotelli an AC Milan shirt in response to him having been a big Rossonero as a youngster.

The garment had Balotelli's name and number 45 on the back, and when Mario was passed the shirt in a city restaurant, he responded by laughing and holding it up to his chest. Cue the freeze frame that would stir the ire of Interisti.

However, it did not stop there. After the initial chat, the cameras continued to roll as Balotelli pulled the shirt on and sat wearing it for a number of minutes. From that moment it was clear that his days at Inter would be numbered, while he was always likely to wear the Milan shirt for real at some point in his career.
Balotelli's 10 most iconic moments at Inter