Manchester United
Zlatan should have been banned for 12 matches for vicious elbow as FA bottles it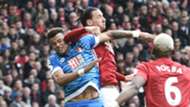 ---
COMMENT
---
As Zlatan Ibrahimovic ponders his three-game ban for a vicious, premeditated elbow on Bournemouth defender Tyrone Mings he should thank his lucky stars that he was not suspended for 12 matches or more.
The Sweden international was not sent off during Manchester United's 1-1 draw with the plucky Cherries last Saturday, despite fighting a running battle with Mings that culminated in a horrific act of violence in Bournemouth's penalty area.
Context, here, is key. Ibrahimovic was also, allegedly, a victim on the day.
After a tussle in the middle of the pitch, Ibrahimovic fell to the floor under the challenge of Mings, and the defender stamped on his face while attempting – or not attempting – to jump over the Swede.
The defender, after the game, claimed it was not deliberate. "No not at all," he said when asked if the stamp was purposeful. "I would never do that. That's not in my game. Hard and fair is how I like to tackle but off the ball, stuff like that isn't part of my game.
"He is who he is, he's a good player, I knew what I was going to be in for, coming here and playing against him."
However, it is hard to put this all down to the rough-and-tumble of the Premier League. Ibrahimovic knew exactly what he was doing in that penalty area; as he rose to head the ball he swung his elbow with vicious intent, and Mings was fortunate that he was not seriously injured.
Single punches have been known to kill, and had Ibrahimovic caught his opponent in the temple then there could have been a danger to Mings' life. That he didn't even draw blood is, in this case, quite amazing.
There was premeditation here, a clear desire on Ibrahimovic's part to get Mings back and right a perceived wrong.
The Football Association had a chance, in this week of all weeks, to make an example of Ibrahimovic and bring players' safety to the forefront of everyone's mind.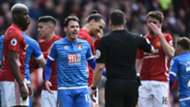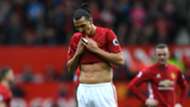 After Atletico Madrid veteran Fernando Torres was the victim of a quite sickening injury – after merely jumping for a header – Ibrahimovic should have been made an example of, with players subsequently made aware that such behaviour holds no place on a football pitch.
The FA is yet to decide on Mings' ban, and is understood to be deliberating exceptional circumstances, much like the incident last season where Tottenham's Mousa Dembele was incredibly banned for six games for gouging Diego Costa's eye.
This is not to excuse Mings' behaviour and he may well have intended to hurt Ibrahimovic But the sheer viciousness of the Swede's assault – for that is what it is – should have seen a much longer ban, certainly longer than the one handed to the Tottenham midfielder, who was unfortunate not be given a standard suspension.
History shows that the FA can get this right, when it choose to pay attention.
Rochdale striker Calvin Andrew was suspended for 12 matches in 2016 after footage emerged of him smashing Oldham defender Peter Clarke with his elbow during a League One encounter.
The ban was correct, and took into account the premeditation involved. That the FA has chosen to mete out the meekest punishment possible shows that they simply cannot be trusted.
Had Mings been seriously injured then maybe the case would have been taken for what it is; a common assault by a premeditated assailant.
Instead, Ibrahimovic will be back in three games, and could well fire United to Champions League qualification.
Put simply, he is lucky to be returning to a pitch this season at all.