CECAFA Senior Challenge Cup
Zimbabwe, The Warriors target Cecafa title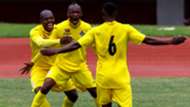 Six years after their last feature in Cecafa Challenge Cup, Zimbabwe's national soccer team, Warriors, will be back at the East African tournament when they take part at the competition in Kenya next month as a guest nation.
The Warriors, who won the Cosafa Cup for a record fifth time in South Africa in July, have been invited to participate at the Cecafa in Kenya from November 25 to December 9.
Zimbabwe's invitation was contained in a letter sent to ZIFA president Philip Chiyangwa by the Cecafa secretary-general, Nicholas Musonye, last week.
It also cements the strengthening ties between the Cosafa and Cecafa regions as well as the North African zone.
Chiyangwa, who doubles as the Cosafa president, also chairs the coalition of Cecafa, Cosafa and the North, which is commonly known as CNN, which is working to enhance the development of the game in the three zones.
The Harare businessman attended the Cecafa annual meeting in Khartoum, Sudan earlier this month, according to The Herald of Zimbabwe.
"Greetings from Kenya and the Cecafa family. As you recall during our meeting in Khartoum we did inform you that we would like to continue exchanging invitations within our zones," reads Cecafa's letter to the Cosafa.
"In this regard, we wish to invite Zimbabwe national team to participate in the Cecafa Challenge Cup in Kenya between November 25 and December 9.
"Cecafa and the host nation will cover full board accommodation of 25 persons and provide local transport for your delegation.
"We kindly ask you to pay the air transport for your delegation because of the limited resources at our disposal. We would be glad to receive your commitment latest October 10 (tomorrow) to enable us to make early preparations.
"I will liaise with Sue as we have always done to ensure our activities run smoothly,'' the letter signed by Musonye reads.
Chiyangwa also revealed that his association was lining up a number of matches for the various national teams in the next three months.
"There will be a number of matches between now and end of year for our various national teams from Under-15, Under-17, Under-20 and the senior team," he was quoted by the Zimbabwe newspaper as saying from Harare yesterday.
"And this is for both men and women and these will be at regional and international levels and they will include our players who are in the Diaspora.