China PR
Zhang Linpeng: Cooling technology at Khalifa was impressive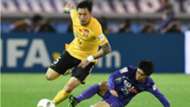 Qatar launched the state of the art cooling technology earlier this year amid much fanfare. China experienced it first hand when they downed Qatar at the Khalifa International Stadium during the last international break.
Zhang Linpeng, the experienced Chinese defender, stated that the cooling technology would go a long way to improve the performance of the players.
"The cooling technology used in the game was very impressive. In most AFC (Asian Football Confederation) countries, top-level football matches are played during the warm months of the year, so the use of cooling technology will help AFC players to raise their standards on the pitch."
"The training facilities in the stadium are very advanced and the pitch is of good quality. The design of the redeveloped stadium is very nice and it was exciting to play an important World Cup qualifier. I look forward to coming back again when the stadium is filled to capacity," he told Supreme Committee for Delivery and Legacy.