Super League
Zahasmi not giving up yet on staying in Super League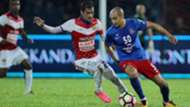 Kelantan suffered their second straight loss after being handed a 3-0 beating by newly-crowned Super League champions Johor Darul Ta'zim (JDT) on Wednesday. This came after they had been beaten 2-0 by Kedah in their last match in the Malaysia Cup.
Qayyum Marjoni conceded a penalty early on but Khairul Fahmi came to the rescue with a superb save against former team mate, Mohammed Ghaddar. However, the Red Warriors only went on to suffer later as goals rained in from S. Kunanlan, Gonzalo Cabrera and Safiq Rahim.
After the match, Zahasmi Ismail paid compliment to their champions but rued the mistakes that his team made in allowing their opponent to have an easy run-out at Tan Sri Dato' Haji Hassan Yunos Stadium.
"We lost to a good team, a team who is complete from every side. It's hard for any team to come here and play."
"We made mistakes to give them easy goals and allowed them too much time on the ball. The fight and the will to win were with JDT tonight [Wednesday]," said Zahasmi.
With the defeat, Kelantan now sit in 10th place, just one spot above the relegation zone with one point separating them and 11th place, Sarawak.
Only two rounds of matches remains for Kelantan to ensure that they stay in the top flight and Zahasmi vowed that his team will fight until the very end despite continued poor performances from his imports.
"We can only use what we can [Kelantan's imports] and I accept that but of course it's disappointing to see such performances."
"But we have to try until the end, whatever happens. Anything can happen in football," added Zahasmi.
Kelantan's next match will be a home match against PKNS on 30th September.