Benjamin Woodburn
Woodburn happy to let Klopp decide his Liverpool future this summer
Ben Woodburn puffs his cheeks out and smiles. It's Saturday afternoon in Charlotte, and it's hot. Very hot.
Liverpool's players have just been put through their paces in a training session at the city's Bank of America Stadium, a 75,000-seater arena usually occupied by the Carolina Panthers NFL team. On Sunday, it will host the Reds as they take on Borussia Dortmund in their first International Champions Cup tie of the summer.
Woodburn will hope to be involved, and with Jurgen Klopp set to field two different XIs in the game he is expected to get at least 45 minutes to impress.
These could be crucial opportunities for the 18-year-old. A bright future is predicted for the Welsh international, who already has first-team games and a senior goal for club and country to reflect upon, but the short-term is less clear.
Liverpool have a dilemma over what to do with him. They would ideally like him around, but know that senior football would make a big difference to his development. Last season, Woodburn played just 52 minutes for the Reds' first-team, though he performed with distinction at U23 and U19 level, it should be added.
He would have no shortage of suitors were he to be loaned out. A host of Championship clubs, led by Sheffield United, have made enquiries, but while Harry Wilson has left and Ryan Kent looks set to, Woodburn remains. He is on tour, with a decision over his future to be made at a later date. For now, he has a chance.
So what does the man himself make of it all?
"The manager is still thinking about what's best for me," he says. "I'll agree with whatever he thinks.
"I'll trust his decision and do what he wants me to do."
Physically, Woodburn's development is clear to see. He looks bulkier, stronger this summer. Klopp, a huge fan of his, has used him in each of the Reds' pre-season games so far, as a deep-lying midfielder, as a wide attacker and as a No.10. At this age, his versatility is an asset.
"I think when you're young playing lots of different positions is going to help," Woodburn says.
"Obviously there will be a stage where I need to think about which position I do want to play. I think that will come in the next few years. It hasn't yet!
"I've grown up a bit in the past few seasons, but I've been doing a lot of stuff in the gym with the lads and it's definitely filled me out and I feel a lot bigger and like I have more of a presence as a player."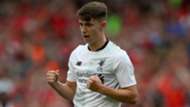 Woodburn has a reputation, which followed from Liverpool's Academy, as a level-headed but deeply competitive character, the kind who hates losing as much as he loves winning, and who loves being out on the field.
It must have been hard, then, to sit on the sidelines last season – particularly while Trent Alexander-Arnold, one of his closest friends, played such a starring role for the senior side.
"I think it will improve me as a player," he insists. "I think training with all the players that we have made me a better player.
"Even though I didn't get too much game time, I think the experiences I got with the Champions League was definitely a good thing for me."
One of those experiences sticks in the memory. It involved Woodburn, Alexander-Arnold and Curtis Jones, another prodigiously talented teenager from the Academy, celebrating with fans after the Champions League semi-final, second leg in Rome. The videos, posted on Woodburn's social media accounts, provide memories to last a lifetime.
"The fans last year were unbelievable and they helped the team a lot to get to the final," Woodburn smiles. "That day in Rome was crazy - I've never experienced anything like it!
"It was good to see Trent play in the game and he did well. But afterwards it was just… crazy!"
Woodburn is smiling as he remembers, and he does so again when he is asked about Pep Lijnders, who returned to Klopp's coaching staff this summer after a five-month spell away from the club at NEC Nijmegen.
Lijnders has been a big influence on Woodburn. He was the first person to alert Klopp to his talents, having previously worked with him at U16 level. His return to the club can only be a good thing for the lad from Tarporley, near Chester.
"Definitely," Woodburn says. "He was the link to the first team when I was at the academy. That season we had with him as coach at U16 level, he's stayed the same and he's helped me a lot.
"He's so enthusiastic and his football brain is crazy. He knows so much about football that I think none of the players now even know. You can see on the pitch how much he wants to be there and I think it pays off and shows with the squad on the pitch."
For now, then, Woodburn's task is simple; to show Klopp he is developing, to do the simple things well and to continue to grow as a player. That may happen away from Anfield this season, but in the next week, with games against Dortmund, Manchester City and Manchester United to come, there will be high-profile opportunities for this gifted youngster.
"Every game is a chance to impress the manager," he says. "And especially against top teams like Dortmund, United and City. It will be a good test."