World Cup
Wimbledon men's final not moving if England reach World Cup showpiece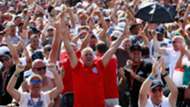 The All England Club insists the scheduled time for the Wimbledon men's singles final will not change if England reach the FIFA World Cup final.
After Gareth Southgate's side booked a semi-final tie against Croatia, which will take place in Moscow on Wednesday, calls have grown for Wimbledon to adjust the start time for the men's final.
The Centre Court showpiece is currently slated for 2pm GMT on Sunday, meaning it would be highly likely to clash with the World Cup final, which will also feature one of France or Belgium, who contest the other last-four tie, kicking off at 4pm.
"We have said for a couple of years that the final will be played at 2pm, as it is every year," Richard Lewis, the chief executive of the All England Club, told BBC Sport.
Lewis has also said that Wimbledon will not screen the final, insisting that the television on 'Henman Hill' is "reserved for tennis".
However, he claims that supporters are able to watch the game on their personal devices, provided they are respectful.
"We are a sold-out event and there's massive interest. There are absolutely no plans to change anything," he added.
"We are very excited about England's success in the World Cup. We think it's fantastic for the spirit of the nation and there was a very good atmosphere here on Saturday when England beat Sweden.
"We didn't have one single complaint of anybody here feeling that the football interfered with their enjoyment of Wimbledon. We have free public Wi-Fi in many areas, so if people want to watch quietly on their phone or tablet they are able to do so."
Yorkshire County Cricket Club have rearranged their Vitality Blast T20 fixture against Derbyshire, which was scheduled to clash with England's last-four tie against Croatia.
In a statement, Yorkshire said "the decision has taken into consideration travel advice for the Headingley area on Wednesday night."
Viewing figures for England matches in the UK have soared, with the nation hopeful of a first tournament victory since 1966.
A total of 19.64 million people watched the Three Lions' victory over Sweden, with an audience share of 87.7 per cent.