African All Stars
Will the Ayews haunt Ghana in Kampala?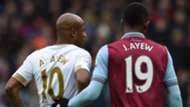 ---
COMMENT    By Prince Narkortu Teye     

Follow on Twitter
---
Kwesi Appiah has never been best friends with the Ayew brothers, and if ever he had plans to get rid of them, there could have never be a better time to launch the sucker punch.
However, ignoring any kind of personal vendetta, the truth is that the Ayews' snub from the Black Stars' squad to face Uganda this weekend is a step in the right direction for the national side.
The Ayews are as loved as they are hated.
One minute, they are the best thing that ever happened to Ghanaian football, and the next, they're nothing but a curse on the Black Stars.
Even the biggest Ayew fans will not remember when Andre last had a 'good' game for the Black Stars – I say good because 'outstanding' would be asking for too much - that's how low his stock has plummeted.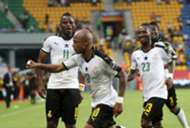 The 27-year-old's last batch of good games came at the 2014 World Cup in Brazil, and that's not just because he netted twice in the tournament.
His presence was felt regularly in games, with the tackles, the tracking back, the forays upfront, and his de facto captaincy.
With eight goals in the national shirt since Brazil 2014, one would be tempted to think he's still as influential as he was during the tournament, but in truth, there's been a decline.
He's now a stranded man in Ghana games, completely lost, unidentified, wandering on a pitch with 21 other men.
Of his eight goals, five have come from the spot, leaving him with just three in normal play in three years. This is an attacker whose place in Ghana's XI was as assured as has his invitation for national duty.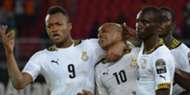 Andre is in that cadre of player that tends to get lost in games and occasionally springs up with something beautiful.
That's nothing new, but at 27, the privilege of being the kind of player who can go missing and then conjure something out of the blue is no longer acceptable.
An encouraging campaign at Swansea City prompted a club-record move to West Ham United in 2016, but he's yet to truly demonstrate his qualities to Hammers fans, even if injuries had—admittedly—limited his progress.
Recently, he's struggled to secure a first-team berth, and his nondescript outing on his return to Slaven Bilic's XI on Saturday prompted visible disappointment from Irons supporters on social media.
Jordan, on the other hand, has had a topsy-turvy campaign in Swansea colours thus far, with inconsistency rife.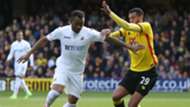 One good performance follows a bad one, and his showing in Saturday's league defeat at Andre's West Ham ranks among his poorer outings.
At international level, he's more hated than loved, a dislike that perhaps stems from the World Cup, when he won many enemies when he infamously opted against setting up Asamoah Gyan to put Ghana 3-1 up against future world champions Germany.
At times during the 2015 Africa Cup of Nations, he lost his starting place to former Crystal Palace striker Kwesi Appiah, who then played in the fourth tier of English football.
The latest Afcon was also disappointing, and the striker's relief when he scored in the 2-1 victory over the Democratic Republic of Congo was palpable.
After another underwhelming showing in the 1-1 home draw with Congo in World Cup qualifying last month, Jordan's exclusion became a question of 'when' and not 'how'.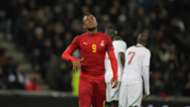 Subsequently, the Ayew debate moved onto the topic of commitment following the duo's controversial withdrawal from the return fixture against the Congo, with fitness concerns cited as the official reason for their absences. 
Without them, the Black Stars put up a five-star performance, smashing Red Devils in Brazzaville during an exceptional display.
This contest was as refreshing for Ghanaians as it was bad for the Ayews; in their absence, there was a rare glimmer of hope that all may not be over for the Black Stars as far as World Cup qualifying is concerned.
Appiah ought to be commended for keeping faith with 'committed' and 'in-form' players, and while it would be despotic to blacklist the brothers completely, there's nothing wrong in excusing them until they find their rhythm again.
Appiah made a bold call in the interest of the nation, and ought to be commended for his bravery, regardless of the result in Kampala on Saturday.