NPFL
Wikki Tourists' Auwal Baba Jada thumbs-up decision to end NPFL season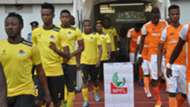 Wikki Tourists chairman, Auwal Baba Jada has welcomed the decision of the joint consultative meeting which recommended an end to the 2017-18 Nigeria Professional Football League season and also made other important decisions last week.
In a meeting attended by the League Management Company (LMC), Club Owners Association and representatives of the Nigeria Football Federation (NFF) it was unanimously agreed that the time remaining was short for the current league season to end and to meet up with the October 15 CAF deadline for the registration of teams for CAF Inter-Club competitions if Nigeria is to participate.
It was agreed that Lobi Stars should be declared as the representatives of Nigeria in the Caf Champions League but silent on the winners of the league for the current campaign as there are still 14 matches to be played before the team embarked on the World Cup break and the NFF leadership tussle that hijacked it thereafter.
The second of the six-point resolution of the meeting was that none of the 20 NPFL clubs shall be relegated to the lower league and that four clubs shall be promoted from the Nigeria National League (NNL) to bring the number of the NPFL clubs for the 2018/19 season to 24.
Speaking on the development, Baba Jada said that it was important that the physical wellbeing of the players was put into perspective and that other reasons given for the league season to end were in order.
"I will say it was the right decision taken to end the league season and pick a team that will represent us in the Caf Champions League," he told Goal.
"It won't have been easy to get things in place before the CAF deadline. There are other issues too that are not meant for public space that made the decision to be the best."