Manchester United
Why Zlatan may leave Manchester United this summer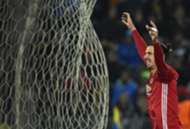 ---
COMMENT
---
The reasons why Manchester United would want Zlatan Ibrahimovic to stay beyond the 2016-17 season are clear and numerous.
Netherlands want Van Gaal again
There are 26 fairly obvious plus points in his goals column already. But while the club, led by manager Jose Mourinho, insist they want the Swede to stay they are still waiting on the player's final decision.
Ibrahimovic said after scoring twice in United's 3-2 EFL Cup final win over Southampton in February that it was his two sons who persuaded him to have a whirl at life in the Premier League, and few could claim the experiment has been a failure. His 26 goals have helped to secure two pieces of silverware and put them in the last eight of the Europa League as well as teeing them up for a late tilt at the top four.
But Zlatan also warned his employers that "this time I'm the boss!"  - with the one-year extension option in his expiring deal still to be re-negotiated. And there are some signs that he could yet walk away from the club in the summer.
For a super-club which has horribly lacked a talisman since the retirement of Sir Alex Ferguson in 2013, Zlatan has been a godsend. He has not just been a goalscorer, he has also been a leader. Mourinho has spent the last four months insisting he wants a second year out of Ibrahimovic but has so far received no assurances that the Swede is ready to sign up for more.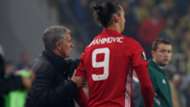 Only Ibra himself knows whether his ageing body is still up for another year of Premier League blood and thunder. However fit and toned he might be for his age, he will turn 36 in October and he hasn't been shy about the fact a decision might soon have to be made about his ability to keep being the Zlatan we know.
Meet Chelsea target Billy Gilmour
"I will not play one game by being Ibrahimovic from what I did before," he said after the EFL Cup triumph. "If I don't perform, if I don't bring the results, I go, because I will not be like other players playing because they had a great career and because they are who they are."
The intimation that Zlatan can only be Zlatan by being a regular member of the first team could be a grave issue, especially given his general opinion of the game in the Premier League.
"The game is back and front and I don't think any team controls the game in the way other top teams [in other leagues] control most of the game and they win with their control," he said in November and has reiterated since. "Here anything can happen… you can be winning a game 2-0 and then at the end crazy things can happen and it goes 2-2 or you can lose 3-2."
The cup final success was a case in point. Ibrahimovic had scored the first and Jesse Lingard soon doubled the advantage, but United allowed Southampton back into the game. It was a scenario he will have witnessed rarely in his seven years in Serie A, while four titles in four seasons with PSG were won on the back of a dominance from winning positions. Even in his single campaign with Barcelona there was little sign of the Catalans losing well-earned leads.
NxGn: The best 50 Under-19 talents
That often-chaotic nature of the Premier League does not appear to sit well with Ibra. His reliance on a sense of natural order has been upset more than his goal return might suggest, and that will be one more thing for him to weigh up as he prepares to make a final decision on 2017-18.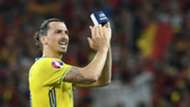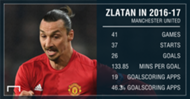 Can he continue to deliver at the top at 36? Can he truly predict what state he and United will be in 12 months from now, and if not is it worth the risk? Perhaps the 19th-century US politician P.T. Barnum said it best: "Always leave them wanting more." Zlatan's insistence that he wants to go out while he remains a force could precipitate an early exit.
United are not exactly overloaded with striker options should Ibrahimovic call time, but they should be well set-up to live without him all the same. Indeed, they could revel in his absence. Their performance at an albeit-struggling Middlesbrough in their last Premier League game showed they have the ability to stretch defences better when speed rather than guile is the modus operandi of their figurehead striker. Marcus Rashford's performance certainly caused a few to question the dependence on Ibra, and can the teenager really be kept waiting for a whole year more?
And with defences asked different questions, the midfield might be given greater room in which to make hay. Paul Pogba has certainly been hampered by the lack of space during his first season back at Old Trafford and might benefit from not having Zlatan around.
The clear assertion in Mourinho's office is that Ibrahimovic remains a key part of the plan for Year Two in the great Manchester United rebuild. But perhaps there are enough signs beginning to appear for the Swede to question whether it might not be better to quit while he's ahead.
He cannot be certain that he will perform at the same level again next term, nor that Mourinho will give him quite the same long leash for a second year if United start to fall adrift of the title race once more. There is no guarantee, either, that he will not run into further disciplinary trouble or fall foul of the kind of injury he has managed to steer clear of this term – especially with the potential added demands of Champions League football.
Yet if he says this summer that enough is enough, he will do so in the knowledge he will leave Old Trafford a hero. His impact has been phenomenal, and the thought of sticking around too long and sullying the perception of him in M16 might be too much for him to bear.
The prospect of sticking around to win a league crown in a fifth different country will be tantalising, but the lack of control – both over his own body and in the unpredictable Premier League – could be key in his decision-making.
Don't believe for a second that it is a foregone conclusion Zlatan will still be a Manchester United player next season.