A-League
Why Oliver Bozanic couldn't say no to Melbourne City after J-League spell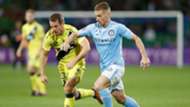 Blink, and you may have missed him.
Oliver Bozanic has slotted so seamlessly into the Melbourne City squad that the former Socceroo has well and truly gone under the radar since returning from Japan. 
Arriving at the club mid-season after a spell with J-League club Ventforet Kofu, the 29-year-old midfielder has somehow found a way into a very talented City squad. 
Officially joining City in February, Bozanic hit the ground running playing seven straight games for the club and only being subbed off once.
A fact that is made all the more impressive considering the swift nature of his move back to Australia. 
"I was extremely happy to slot right in," Bozanic told Goal.
"I had come off a season in Japan and was actually in my off season but worked really hard with a fitness trainer back on the Central Coast."
Those hard yards have obviously paid off with the talented midfielder bringing some stability to City's midfield in their run to the finals.
With a pass accuracy of 83% and winning 70% of aerial duels, Bozanic has been a vital cork in the middle of the park for his side as they won three of their final four regular season games. 
A Melbourne Victory player prior to his move to Japan, the Aussie admits his decision to join the former rivals was a surprisingly simple one. 
"They (City) were in a very good position and they gave me the opportunity to come straight into a team and to really fight for a position and to play in the finals," Bozanic said.
"Funny the way it happened, but I'm very happy to have joined City and it was all about the football for me.
"I feel like City are moving in the right direction and looking to be the best team in the league.
"Both clubs are trying to achieve at the top level in the league. They're quite similar in some ways."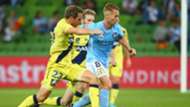 Between his time with both Melbourne clubs, Bozanic made 10 appearances for Japanese side Kofu and embraced the challenge of a different style of football.
"It was a great experience for me, an amazing league in Japan and it was great to experience another culture, another league," he said.
"The J-League is very technical and fast. They're very good passers of the ball and they like to keep everything short and sharp.
"It's a very good league."
This time four years ago Bozanic was about to get a call up to the Socceroos squad for the 2014 World Cup in Brazil and having cherished that experience is hopeful of getting another shot in the green and gold.
"It was an amazing experience to play in the World Cup," he said.
"It's the absolute top level of football.
"A new challenge with a new coach and obviously places up for grabs…
"I'm always hopeful to be involved in the national team and I'd love to represent my country again."