Zlatan Ibrahimović
Why Manchester United should NOT be tempted into keeping Ibrahimovic for another season
---
COMMENT
---
All of the talk following Zlatan Ibrahimovic's two goals against Southampton in the EFL Cup final has been about the importance of Manchester United signing him up for another season - no matter his age.  
Zlatan and United are currently very much enjoying life together and his signing being rightly hailed as a success story. He has scored 26 times in only 38 games – the same number of goals he managed for Juventus in 92 games more than a decade ago.
Raiola refuses to confirm Ibra stay
There is no questioning his ability or his work-rate, or even the atmosphere of success he promotes by his very presence. There is a key fault with Zlatan though. The long-term signs for United are not good so long as they are reliant on him.
Indebted to a 35- year-old striker with no more than 18 months left at the top level is not where United need to be. The EFL Cup win is a boost to their self-esteem but they should not lose sight of the scale of the rebuilding task in front of them; a task Zlatan's success is obscuring.
Right now he is helping Mourinho boost results in the short term at the expense of sustainable long-term development. That is a characteristic of the Special One at every club he's worked.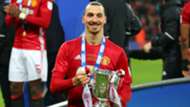 Zlatan has played every available minute in the Premier League; the only game he's missed – against Arsenal in November - was as a result of suspension.
He's hoovering up the minutes that could otherwise have gone to an emerging young talent like Marcus Rashford. It's fundamental - not only for Rashford's own development but for the very future of Manchester United - that he's given the opportunity to lead the line and learn the role.
When Rashford is in the team it's usually on one wing or another, far from the box where he's already emerged as a consistent marksman. That potential damage to his growth has all been done in order to indulge Ibrahimovic.
Zlatan the boss over Man Utd renewal
United are happy with how things are transpiring but all this is doing is kicking down the road the time when the squad will need to be overhauled and a new system of play established.
Paris St-Germain opted against renewing his contract last summer; they decided to rid themselves of their Zlatan-dependency in favour of a more collective style of play under new coach Unai Emery.
To facilitate their barge to the top of the French game – and to the list of the top 10 clubs in Europe – they needed a figure like Zlatan. He gave them clear visibility for a start and he became as emblematic of the city of Paris as the Eiffel Tower during his time there.
PSG were content to indulge Zlatan to a certain extent until he took them where they needed to go. Now there are mechanisms in place to ensure the team can succeed without him. That is where United need to be next season – with Rashford afforded the time to flourish.
Ibrahimovic was top dog at Paris – as he is at United - but he had to be catered to. Like at United, the number of goals he scored for the Parisians was not testament solely to his work as a finisher but to the extent the rest of the team was expected to supply him.
'Ibra running Man Utd dressing room'
Witness the metamorphosis of Edinson Cavani this season in his absence. In his three seasons playing as subordinate to Zlatan at Parc des Princes he scored 25 goals, 31 goals and 25 goals. This year he's already hit 33.
That's because he's playing as the undisputed centre forward and is a much more rounded and energetic player than his striking predecessor.
Arguably PSG's success in beating Barcelona 4-0 in the first leg of the Champions League last 16 knock-out round would have been impossible with Zlatan in the team in place of Cavani. He is too static, too immobile and too selfish to submit to the collective will like that.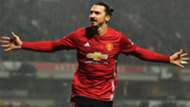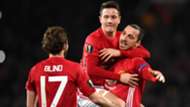 A team playing to the strengths of Zlatan when top of the league is one thing – as PSG were for the vast majority of the four seasons he spent there – it is another thing altogether when a team is scrapping for the lesser Champions League placings.
When Zlatan is playing well and he's happy, everything is good. But there's a lot riding on keeping him in form. When he malfunctions, United malfunction and there isn't a method to replace Mourinho's Plan A - which is simply getting goals from his talisman.
Mou salutes Ibra as Man Utd's best player
During his run of six scoreless Premier League games earlier this season for example, United won only once. Mourinho dared not drop him and their prospects for the top four diminished.
Zlatan is too old to play any meaningful part in the upcoming renewal process – just like Wayne Rooney and just like Michael Carrick. That is why the club should not be tempted into putting another year in front of him.