World Cup
Why do Uruguay have four stars on their jersey but only two World Cup wins?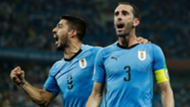 Uruguay have emerged as dark horses to win this summer's World Cup tournament in Russia following their emphatic 2-1 win over Portugal, and should they do so, they will add a momentous fifth star to their kit.
World Cup winners are able to print a star for each of their tournament victories above the crest on their shirt, with the likes of Brazil having five stars and Italy and Germany having four apiece.
La Celeste, however, sport four stars as well despite only winning the World Cup twice in history. So why don't they have just two stars above the crest?
---
Four stars: Uruguay as Olympic champions?
---
Uruguay are two-time World Cup winners in 1930 and 1950, which means that they are already entitled to two stars. In addition to their World Cup victories, however, they were also winners of two Olympic Games titles – in 1924 and 1928. But do these Olympic titles entitle you to print a star on your shirt?
This is where official Olympic rules come into effect. Before the 1924 Olympics held in Paris, no professional players were allowed to participate in the tournament. After the Olympic Games in Amsterdam in 1928, however, the rule was introduced that only players under the age of 23 were eligible to play.
The 1924 and 1928 Olympic Games are, therefore, the only exception regarding professional players and are therefore considered to be FIFA World Cup tournaments (the first World Cup tournament was held in 1930, which Uruguay won).
A rule introduced by FIFA in 2010, however, states that only official World Cup wins enable you to print a star on your shirt – which Uruguay have only done twice.
This is where the Uruguay football federation have outsmarted FIFA. Four stars were officially introduced to make up the coat of their arms as part of their football association. Therefore, four stars are an indirect reference to their four titles, but the official reasoning is that they form a part of their official coat of arms.
---
All past FIFA World Cup champions
---
| 1930 | 1934 | 1938 | 1950 |
| --- | --- | --- | --- |
| Uruguay | Italy | Italy | Uruguay |
| 1954 | 1958 | 1962 | 1966 |
| --- | --- | --- | --- |
| West Germany | Brazil | Brazil | England |
| 1970 | 1974 | 1978 | 1982 |
| --- | --- | --- | --- |
| Brazil | West Germany | Argentina | Italy |
| 1986 | 1990 | 1994 | 1998 |
| --- | --- | --- | --- |
| Argentina | West Germany | Brazil | France |
| 2002 | 2006 | 2010 | 2014 |
| --- | --- | --- | --- |
| Brazil | Italy | Spain | Germany |