FA Cup
Why all those laughing at Mertesacker may eat their words in FA Cup final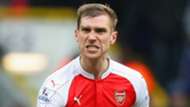 ---
COMMENT
---
Per Mertesacker looks set to start his first game of the season as Arsenal take on Chelsea in the FA Cup final on Saturday, but concerns over the German international's defensive vulnerabilities may be exaggerated.
The 32-year-old is Arsenal captain, a World Cup winner and the biggest leader in the Gunners squad both vocally and physically. The centre-back wasn't expected to make the first team squad for the cup final until injuries for Gabriel and Shkodran Mustafi plus a suspension for Laurent Koscielny paved the way for him to make his first competitive start in over a year.
Arsenal team news and likely line-up
Mertesacker's qualities are invaluable for a squad which has traditionally been lacking in leaders over the past few years. He is the fine collector at London Colney for those players who are late for training and it's testament to his character that Arsene Wenger made him captain when he was sidelined for months with a serious knee injury. His influence on and off the pitch makes him a vital cog in a team who have required more direction this season.
"When I came back in the new year, you want to give everything you can and try to support the team as much as you can," said Mertesacker. "Trying to lift them no matter what happens. We went through difficult periods throughout the season but everyone is eager now."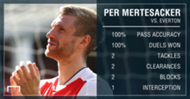 Arsenal's last Premier League game of the season against Everton represented a golden opportunity for Mertesacker and one he certainly wasn't expecting. He didn't put a foot wrong during his 43 minutes on the pitch and kept the likes of Romelu Lukaku at bay despite coming under severe pressure due to Koscielny's sending off. On Saturday, the attacking threat of Diego Costa, Eden Hazard and Willian poses a hugely difficult challenge for a player who hasn't played 90 minutes in over a year.
Although he has 150 Arsenal appearances, is an intelligent reader of the game and renowned for his organisational skills at the back, Mertesacker does indeed have his weaknesses. He isn't fast and is prone to being turned by tricky players such as Hazard. However, alongside Rob Holding and Nacho Monreal there could be a natural balance of youth and experience which shouldn't be written off - especially when you consider that Arsenal beat Manchester City to get where they are now.
"I haven't played this year," Mertesacker said. "But I have done this for 15 years so I expect myself to be absolutely ready no matter what comes.
"That is my mindset, no matter what happens or what is facing me on Saturday, I am going to go for it. I owe it to this team and to this club. I want to make sure I will be ready and my mindset is '120 minutes plus penalties'."
Oxlade-Chamberlain studying Alves
Although he has been fit since January, that he has less played for less than half of a game raises concerns. However, the adrenaline of a cup final should be enough to carry him through and his years of experience playing in every top competition in the world puts Mertesacker in a position where he won't be unnerved. Arsenal supporters should get behind their captain who clearly loves the club so much - and will do his utmost to bring back the trophy to the red side of London on Saturday.
"What are we looking at? A final where we have to turn up on that day. I think that's the best for a competitor to have such a game at the end of the season. No matter what the situation is with the manager and with the team, who's fit and who's not fit, I think this team needs to be ready.
"That's all I care about -- and what a fantastic game to have to finish the season."