UEFA Champions League
Who has a better record at Real Madrid - Zidane or Ancelotti?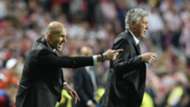 ---
STATS
---
They were working together not so long ago, but Wednesday night Carlo Ancelotti and Zinedine Zidane will be on opposite benches for the first time as the master meets the pupil at the Allianz Arena.
Zidane looking forward to facing Ancelotti
Before taking over as coach of Real Madrid's youth team, Castilla, Zidane was an assistant to Ancelotti for the senior side and the two men sat together on the bench for the Italian's first season in charge at the Santiago Bernabeu.
After a less successful second campaign, Ancelotti was ultimately given his marching orders and is now in charge at Bayern Munich following some time out, while Zidane took over at Real when the Italian's successor, Rafa Benitez, lasted only six months in the job.
So which of the two has the better record as coach of Madrid's senior side?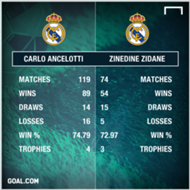 Ancelotti oversaw 119 matches in total, with 89 victories, 14 draws and 16 defeats, a win percentage of 74.79% and four trophies during his two years in charge: one Champions League, a Copa del Rey, a UEFA Super Cup and a Club World Cup.
'Ancelotti out to beat Madrid at all costs'
Zidane, meanwhile, is in his second season but is yet to be in charge for a full campaign after taking over in January last year. In his time as coach, Madrid have played 74 games, with 54 victories, 15 draws and just five defeats, while he has a win percentage of 72.97% and three trophies in total: one Champions League, a UEFA Super Cup and a Club World Cup.
So their respective records are actually similar, and although Ancelotti won four trophies and has a slightly superior win percentage, Zidane will have the edge if he can lead Madrid to a Liga title this term (something Carlo never achieved at Real) or a second successive Champions League crown in May.
The Italian, however, will have other ideas about that.