Primera División
Where are all the haters now? Luis Enrique has proved he is a Barcelona legend
---
COMMENT
---
Where are the critics now? Luis Enrique has had to deal with all sorts of hate and abuse during his Barcelona reign, but the Asturian came out smiling once again on Wednesday night. And it is time to accept that he is a legend at the Catalan club.
Barca make history with 6-1 win
He already was, of course - as a player and a coach. Luis Enrique led Barca to a treble in his first season at Camp Nou, emulating Pep Guardiola's great team from 2008-09, and after Wednesday night's incredible comeback against Paris Saint-Germain in the Champions League, he remains on course for all three titles this term. Not that you would know from some of the vitriol he has had to put up with.
Guardiola, among all the madness, has been a voice of reason. When Barca were struggling to get going in the Asturian's first season and the coach appeared on the brink of an exit, Pep said: "Everything takes time. Luis Enrique will triumph."
He has. After winning the treble, the former Spain midfielder led Barca to a domestic double in his second season and has won eight out of a possible 10 trophies so far as coach at the Catalan club — a haul that makes him the third-most successful trainer in the team's entire history.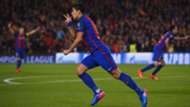 But even then, there were complaints from fans after Barca failed to make it beyond the last eight of the Champions League in 2015-16 and the ire intensified to unacceptable levels following the 4-0 loss at Paris Saint-Germain in February.
Pique hits back at Barca critics
But Guardiola warned the detractors once again. Asked about the defeat at the Parc des Princes, he said: "Don't criticise Barca or Luis [Enrique] too much - because they will end up proving you wrong."
Again he was right. Because Barca stormed back to win the second leg against PSG 6-1 in an epic encounter on Wednesday night which may be the greatest comeback in the history of football. And the win was masterminded by Luis Enrique.
The remuntada began in Paris. Because despite the pain and the anger after losing 4-0, Luis Enrique told the press: "The tie is extremely complicated, but it's only half way. There's another half to come at another stadium, in different circumstances. I won't lose hope that we can turn this around. Why not dream that we can do this ourselves?"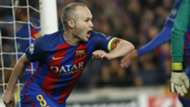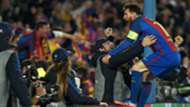 It was what he had to say really and few gave him or the team much hope. But behind the scenes, the Asturian began to think about solutions. In the second half in Paris, he had switched to 4-2-3-1, but after the full-backs were exposed at the Parc des Princes and the midfield strangled, he decided that 3-4-3 may be the answer.
He tried it out away to Atletico Madrid at the Vicente Calderon and although Barca took a while to adapt to the new system, the Blaugrana ended up taking all three points with a 2-1 win in the capital. Then came a 6-1 victory at home to Sporting Gijon and after that match, the coach surprised everyone by revealing he would be leaving at the end of the season.
Barca always believed in comeback - Luis Enrique
Hardly any of the players said anything. They were surprised, Ivan Rakitic admitted, but there were no tears. It seemed like the right time. But the team appeared liberated — it was a weight off the shoulders for the players and also the coach. Now they could get back to what really mattered.
A 5-0 win came next at home to Celta Vigo and by the end of that match, some of the fans were singing Luis Enrique's name. They also chanted "yes we can" as they looked ahead to the possibility of turning it around against PSG days later. Belief was building.
"If they scored four in Paris, we can score six," Luis Enrique said in the pre-match press conference. And he added: "I have spent more hours analysing this than any other match ever."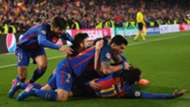 It paid dividends. The decision to announce his exit relieved tension and made the players keen to see him off on a high, while the change in formation caused all sorts of problems for PSG and ultimately, he was the architect of the greatest comeback in Barcelona's history. Not bad at all for a coach accused of tactical ineptitude and relying on his forwards to win games.
Rakitic signs new Barcelona contract
Many supporters would do well to remember that Luis Enrique was already a legend at Camp Nou for what he achieved as a player and also for leading the Catalan club to a treble triumph in his first season as coach. And following a period of criticism and abuse aimed his way, Wednesday was another reminder of his special status at Camp Nou.
"As a fan, I'm very sad because we're losing the perfect coach for Barcelona," Guardiola said upon hearing of Luis Enrique's decision to walk away.
When Pep speaks, Barcelona fans should listen. Because however the season ends for Luis Enrique and Barca, he will be an extremely tough act to follow next term. And even if the club do not go on to claim the Champions League, Wednesday's win was quite the leaving present.