Lionel Messi
'When you think you've seen it all, Messi still surprises you' – Digne hails Barcelona superstar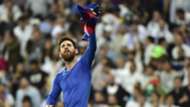 ---
EXCLUSIVE
---
Barcelona defender Lucas Digne has hailed the contribution of Lionel Messi, whose double in last Sunday's Clasico kept the Camp Nou side in the race to win La Liga.
Messi scored his 500th goal for Barca in a 3-2 win against Real Madrid at the Bernabeu, doing so in dramatic circumstances as he fired home in the final seconds of injury time to secure a priceless three points for his side.
Klopp: Barca & Madrid would find it tough in the PL
"Messi is like that: when you think you have seen it all, he surprises you," Digne told Goal. "It was a fantastic goal at a fantastic time - it simply could not be any more important than that. 
"Messi surprises me every day, and I am happy for the thought of one day telling my future children: 'I played with Messi'.
"He is from another planet, and it is amazing that he has already scored more than 500 goals for Barcelona – and that's not talking about all the assists that he has created for other players to score as well. It is truly incredible."
The 23-year-old has stressed, however, that the squad feel they still have a great deal of work to do in order to win the title, as Madrid still hold the upper hand due to the game in hand they have. He believes the thumping 7-1 win over Osasuna in midweek was evidence of this as they chase a domestic league and cup double.
"The atmosphere in the changing room after the win at the Bernabeu was great, and everybody was happy for the result, but we all know that we have a lot of hard work to do from now until the end of the season. 
"So, it was important to go out and win the next game after El Clasico as well. Now we will play five finals to win two trophies.
Luis Enrique will not rely on Malaga
"We will play every league game like it is a cup final where only winning counts. 
"We must win every game for sure, and we will do exactly that. It is a close race in the best league in the world, but we want to win the Spanish title again - like Barca have done so many times in recent years. And then of course we also have the real final in the Copa del Rey."
While Barcelona's attack is often lauded, having once again become the first team in Europe's big five leagues to score 100 goals, the France international believes their defensive strength is often unfairly overshadowed.
VAMOS #ViscaBarca #trabajo pic.twitter.com/hxvbKOHlkg

— Lucas Digne (@LucasDigne) April 26, 2017
"Our attacking game is amazing and by far the best in the world. Our fantastic number of goals proves that," he said. "In many games, we score goals for fun. But please note that we also have better defensive stats than the team we are in the title race with - I mean that we have both more clean sheets and fewer goals against us."
He also added that playing with the Catalans offers a different challenge to many clubs.
As it stands: Primera Division table
"We dominate most matches so massively that as a defender you often play one on one with your opponent in their counter attacks, and that is a great challenge for every defender in the world, but we are Barcelona, so of course we can manage that," he explained, having become accustomed to defending in such a manner at Roma, where he featured on loan last term.
"I am happy to have the confidence of my coach, Luis Enrique. For me it is a question of always working hard at training, keeping completely fit and ready to play - and to have the right mental balance, when my team needs me. 
"And I felt that I showed that kind of performance against Osasuna. I also showed that I feel comfortable in a three-man defence - and not only in my normal position as a left-back."
The France international might have seen his game time reduced in recent weeks following Luis Enrique's decision to switch to a 3-4-3 formation, but he is content to be patient and to wait for his chance.
"I have always been in the match squad, and I have played 24 matches in my first season in Barcelona," he said. "I was only 22 when I signed last summer, and of course my stats of minutes on the pitch looked even better two months ago, but I know that I play for the biggest club in the world, so of course we all have to serve the team and play the role that our manager wants us to do. I do that with pleasure, and I believe that I will be part of a great Barca future."