African All Stars
What will Gernot Rohr & Nigeria miss following Moses Simon's injury?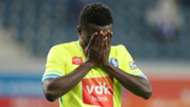 ---
COMMENT    By Solace Chukwu    

Follow on Twitter
---
Asked to name the key players within the Nigeria setup, with the World Cup less than a fortnight away, names like Victor Moses, John Obi Mikel and Alex Iwobi roll off the tongue pretty readily.
Yet, it is the peculiar nature of football that a team's best players are not always its most important.
Real Madrid have woven a tapestry out of threads that, at first glance, seem incoherent by having the limited but willing Casemiro doing grunt work at the base of midfield.
This allows Toni Kroos and Luka Modric free rein to take control and even venture into advanced zones. However lofty the ideal, there is usually a concession to the pragmatic.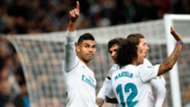 It is this which perhaps best explains why the loss of winger Moses Simon is such a big one for the Super Eagles ahead of this summer's showpiece.
The Gent man, after a third scan in London, now has his absence confirmed; what is remarkable is that he needed that many.
While his appeal to the coaching crew was ultimately the instigator, it is unlikely that just anyone would have got that concession.
Gernot Rohr trimmed the fat after the draw against the Democratic Republic of Congo, and would surely have resisted any requests had he not been inwardly hopeful.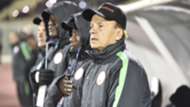 When one considers that Simon started four out of six World Cup qualifiers, it becomes clear just why he got as much rope as he did. For context, that's more starts than Iwobi, same number as Moses, and only one fewer than Mikel.
So, what is it exactly that makes the 22-year-old almost 'undroppable'?
In order to understand it, it is necessary to look at the way the team functions as a whole. That, in itself, illustrates his uniqueness; for the stars of the team, their inherent abilities are easy enough to reference even independent of the overall structure.
Which is not to say that Simon is a poor footballer, however, it is no shame to say that he is a notch below the most talented components of the side.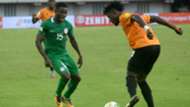 He however won his place by being one of the most adaptable players in Rohr's disciplined 4-2-3-1.
Since the German took the helm, Nigeria's identity has been defined by solidity out of possession and quick attacking transitions once the ball is won.
With Simon's speed and directness, he is evidently built for the latter function: a right-footed player playing on the right, he uses his mobility as an asset to get the team forward.
What has really won him a place in the side though is his work without the ball.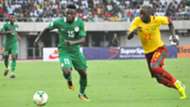 Diligent and almost premonitory in his sense of developing danger, Simon has made himself indispensable by simply working backwards, supporting the full-back and doubling up on wide threats.
That is not to the detriment of his attacking responsibility either - his stand-out performance in qualifying came in the draw against Cameroon in Yaounde, in which he opened the scoring.
Yet, he fulfilled his defensive duties thoroughly, allowing full-back Shehu Abdullahi to stick tight to Benjamin Moukandjo without fear of leaving the flank bare.
COMMENT: Moses Simon repays @SundayOOliseh loyalty as @NGSuperEagles advance [@TheOddSolace] https://t.co/fYKYROAzXM pic.twitter.com/sZW6xmnSb0

— Goal.com Nigeria (@GoalcomNigeria) November 19, 2015
It is a quality that is perhaps easier to appreciate when faced with superior opposition, and this best illustrates why it is such a shame he will miss out.
For all that the Super Eagles are in a resurgent phase, Nigeria is still the lowest-ranked team in Group D, meaning the other teams in the pool will likely fancy their chances.
This sets up perfectly for Rohr's approach, but with one of the vital cogs missing, one wonders just how effectively it will translate in Russia.