WTF
We're not the social media police – Bierhoff cool over Hummels balcony jump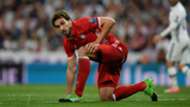 Germany manager Oliver Bierhoff has said that no action will be taken against Bayern Munich defender Mats Hummels after he posted a video of himself jumping off a balcony into a swimming pool earlier this week.
The former striker said that he will not act as "the social media" police but did indicate that he will be having words with the centre-back.
Hummels posted the footage on Tuesday, much to the amusement of his followers, but those responsible for him took a dimmer view.
"We already said it was good he did not dive head first," Bierhoff told the media. "That would have even been worse. 
"We are not the social media police for the players, and that's the case outside international breaks. But we have to tell them that with everything they say or do, they will be considered role models and you have to have responsibly with that. 
"Mats is a player who usually thinks a lot and I will not exaggerate. But we tell him that."
Hummels is in the Germany squad to face the Czech Republic on Friday in their latest World Cup qualifier.