Arsenal
Wenger's Arsenal achievements are immense - Neville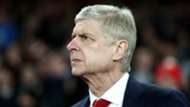 Gary Neville has hailed Arsene Wenger after it was announced that the Arsenal manager will step down at the end of the season.
Wenger has been Gunners manager since 1996, and the first decade of his reign was defined by a bitter rivalry with Sir Alex Ferguson's Manchester United team, which featured Neville at right-back. 
Neville has waxed lyrical about the Arsenal boss, insisting that the club's 1998 team, which won the double of the Premier League and the FA Cup, was the best that he faced.
"My initial reaction is one of warmth, really," Neville told Sky Sports News .
"Certainly the best English teams that I ever played against were built and managed by Arsene Wenger.
"The '98 team is the best team that I've ever played against.
"The biggest compliment that I can give Arsene Wenger is that he played a level of football and a quality of football that made us change the way we played."
Wenger has come in for criticism in recent years, despite winning two FA Cups, with a large portion of the club's fanbase wanting the Frenchman to leave the club.
Arsenal have not won the Premier League since 2003-04, but Neville insists that the club are in the most successful period of their history.
"He did very well, he came to England and I can't talk negatively today about Arsene Wenger," he added.
"What he's achieved at Arsenal and in English football is immense. 
"In terms of what happened, he continued to win trophies right until the very end – multiple FA Cups in the last few years – that are now being stoned upon as not being good enough. 
"The reality of it is, if you look back through Arsenal's history, they have always gone long periods without league titles. This is the most successful period in Arsenal's history, the last 20 years. 
"They've got the best stadium in this country, and he has achieved great success through that, not the largest in England but there is no negative at all."